They say music is the food of love, but you know what else is? Food. And this town's got more going on than just amazing tunes. Here, the tea is sweet, the chicken is hot, no meal is complete without at least one biscuit -- and very occasionally, our corn has the misfortune of becoming corn, and not being mashed for whiskey. These are Nashville's most iconic edible offerings, and the best places to get them...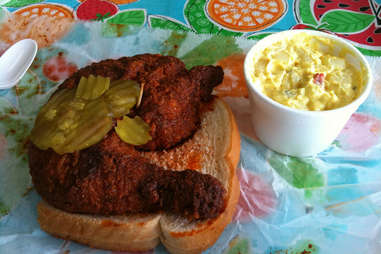 Hot Chicken
Prince's Hot Chicken Shack (address and info)
East Nashville
For decades, hot chicken has been as synonymous with Music City as, well, music. More recently, this stuff has gotten hot on a metaphorical level too -- the popularity of chicken (or fish) sauced in a cayenne paste and fried has spread beyond the South like wild fire, and there is an entire festival dedicated to the crispy phenomenon. But amongst the great places to find it, Prince's remains the original & best.
Meat & Three
Arnold's Country Kitchen (address and info)
8th Avenue South
Nashville staples like Arnold's Country Kitchen, Sylvan Park, Puckett's, or Monell's have been piling plates w/ the classic combo of meatloaf, brisket, country fried steak, or ham and up to three veggies like mashed potatoes, mac & cheese, black-eyed peas, or collard greens since time immemorial, and for good reason. Oh, and always make sure to top it off with biscuits or cornbread, wash it down with sweet tea, and finish with a homemade dessert.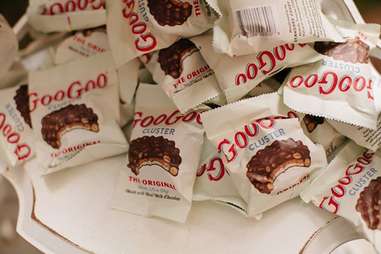 Goo Goo Clusters
Goo Goo Shop (address and info)
Downtown
Sure, we didn't invent candy, but Goo Goo Clusters were the world's first example of combining all the best candy ingredients into one unstoppably delicious treat. It's an orgy of caramel, marshmallow nougat, peanuts, and milk chocolate, and was a total game changer to the candy scene in the early 1900s. Today, we find any way to incorporate the mound of goodness into our meals from ice cream to pies to even donuts.
Biscuits
Loveless Cafe (address and info)
Highway 100
Growing up in Nashville, you come to expect them on the table regardless of the time of day and in mass, mass quantities. Smother them in gravy, jellies & jams, or naked, and two at a time; there is no wrong way to eat a biscuit. And at the Loveless, they've pretty much been making them to perfection for decades.
Belle Meade Bourbon
Husk (address and info)
SoBro
Charcoal-mellowed whiskey is signature to Tennessee, but there are several whiskeys made in Tennessee that don't go through the Lincoln County Process. In pre-Prohibition days, it was Charles Nelson's Greenbrier Distillery Nashvillians looked to for local flavor. His Grandsons, Charlie & Andy Nelson, have resurrected the name in Nashville and made Belle Meade Bourbon something this city can be proud to call theirs. Grab a glass neat at Husk, one of this town's finest whiskey bars.
Fruit Tea
Bread & Company (address and info)
Green Hills
The South has sweet tea, but Nashville is known for its fruit tea. From notable spots such as Bread & Company (as well as Calypso and The Picnic Café), tea is made sweet with a little orange, pineapple, and lemonade. Make it a punch by throwing in a little ginger ale like the folks at Puffy Muffin will do, or some cinnamon at the Loveless.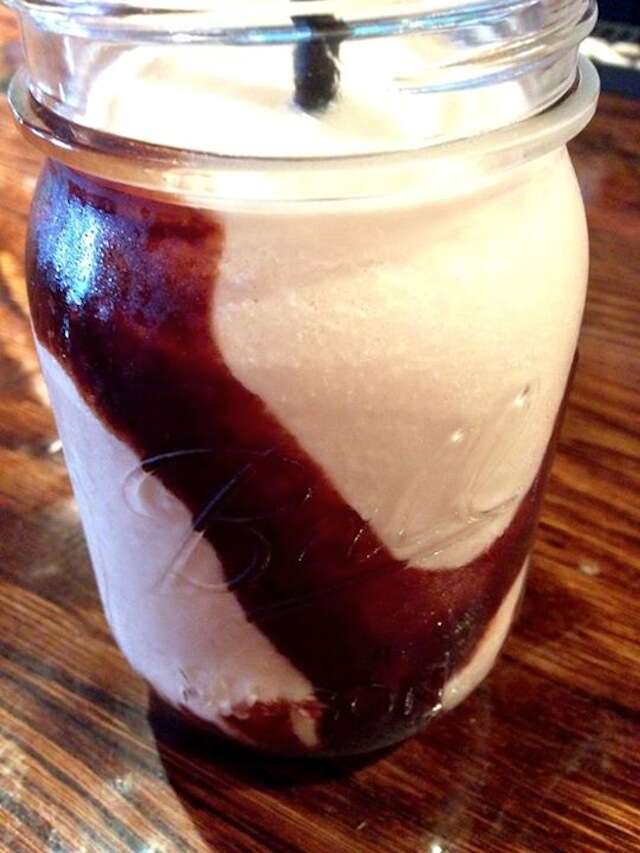 Bushwackers
Edley's (address and info)
12South
Despite the first bushwacker on record being served on Pensacola Beach, we tend to make enough from Brewhouse to Edley's to essentially claim this booze-laced frosty as a Nashville thing. Traditionally, it's made with rum, but drink it the Nashville way with whiskey and/or Whisper Creek.
Sign up here for our daily Nashville email and be the first to get all the food/drink/fun the Music City has to offer.