Nashville's Top Chefs Name Their Favorite Sandwich
The sandwich. It comes in many forms, both big and small. It's likely that you have strong opinions about what constitutes the perfectly constructed sandwich. The problem with the sandwich scene in Nashville is that new restaurants are opening up so quickly that it's difficult to keep up with them all. To aid in your culinary search for Nashville's most satisfying sandwiches, we asked 14 of Nashville's top chefs about their all-time favorites.

The Gulch
Picked by: Maneet Chauhan, co-owner and executive chef at Chauhan Ale & Masala House
To call Maneet Chauhan a "top Nashville chef" is a bit of an understatement. We're thrilled to include her on our list. Chef Chauhan named Biscuit Love as her favorite sandwich shop, with her top two picks being The Princess (Biscuit Love's version of a hot chicken sandwich in biscuit form) and the East Nasty (a fried chicken biscuit with aged cheddar and sausage gravy).
West Nashville
Picked by: Cory Untch, executive chef at Capitol Grille at the Hermitage Hotel
"When I'm not sampling my own latest creation in Capitol Grille, I love to indulge in a hearty roast beef sandwich. Porter Road Butcher West offers my favorite sandwich in Nashville -- the PRB Signature French Dip. This sandwich is piled high with braised onions & Swiss cheese, [and] dipped in a rich beef jus. Simply delicious. We also use Porter Road to cut all of our own meat we raise on Capitol Grille's farms, so I'm confident that the beef on this sandwich is ethically sourced and crafted with the highest quality, most flavorful cuts."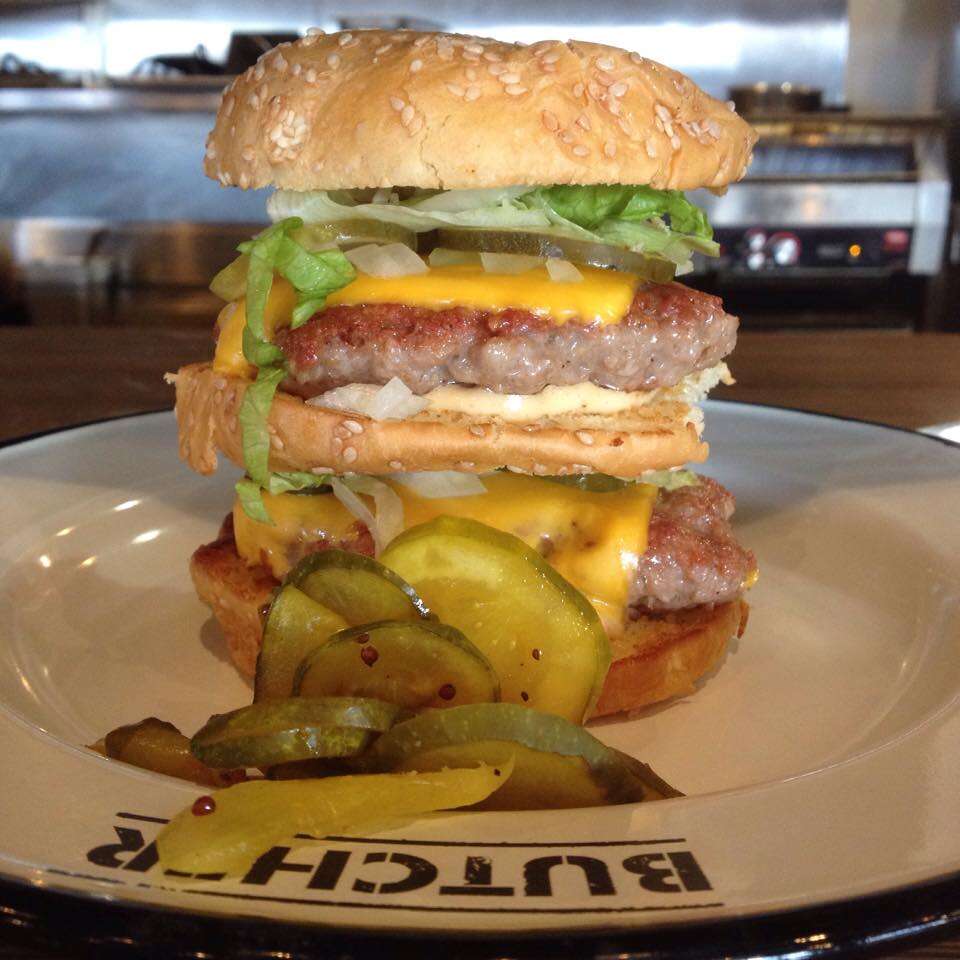 Germantown
Picked by: Daniel Herget, executive chef at Little Octopus
Chef Herget is one of many chefs who sings the praises of Cochon Butcher. His "guilty pleasure" sandwich is the Le Pig Mac sandwich from Cochon Butcher, which is basically everything you hope it to be based on the name. Le Pig Mac is two pork patties sandwiched between three fresh sesame buns and topped with special sauce, cheddar cheese, lettuce, and tomato.
SoBro
Picked by: Robert Grace, executive chef at Kayne Prime
Slow Hand is relatively new to the Nashville scene, but we hope it's here for a long time to come. It has some of the best pastries and homemade bread in town (and the coffee's pretty good, too). Chef Robert Grace from Kayne Prime named Slow Hand's Green Goddess, a chicken salad sandwich, as his favorite. "The chicken is always moist and never dry. Always been a big fan of green goddess dressing (forget you, ranch!). It has a little sweet from the grapes, and the smoked almonds give a nice crunch. It also doesn't hurt that they make the bread in-house."
Shiitake and Gouda Grilled Cheese from Etch
SoBro
Picked by: Chef Deb Paquette of Etch
Warning: what you're about to read will make you want to drop everything and go get this sandwich ASAP. When asked about her favorite sandwich in Nashville, chef Paquette responded: "I don't eat out much so I polled everyone in the restaurant and we kept coming back to our own grilled cheese sandwich. It's all about umami. I confit Tennessee shiitake mushrooms to make them buttery and add caramelized onions, a secret recipe for horseradish sauce, and two kinds of gouda. We finely grate the smoked gouda so it gets really creamy and keep the aged gouda in chunks for a little extra bite. The pumpernickel bread, which gets a healthy bath of butter before grilling, is made in-house with seeds in it for texture."
Germantown
Picked by: Chef Steven Robillio of Amerigo
Another vote for Cochon Butcher, but this time in the form of its Cubano sandwich, which is ham and smoked shoulder on bread that, according to chef Robillio is "so crispy on the outside, and so soft in the middle." We'll let him explain why it's his favorite: "For me, this sandwich has an unexpected depth of flavor. It comes from smoking the shoulder, with the addition of acidity in the pickles and mustard cutting through all the creaminess of the pork fat and cheese. Rounding out the whole sandwich is the ham, which lends an awesome textural difference to the inside of the sandwich."
The Gulch
Picked by: Andrew Whitney, executive chef at Virago
Biscuit Love seems to be another go-to sandwich joint for Nashville's top chefs. Chef Andrew Whitney named Biscuit Love's The Washpark as his favorite sandwich in Nashville, stating that, "It's always cooked perfectly, and the biscuit is always moist. Anything with bacon jam and pimento cheese is a win in my book, but throw in great sides and great people and it's an experience I want again and again."
Germantown
Picked by: Vasisht Ramasubramanian, chef at The Hook
One more vote for Cochon Butcher. Chef Ramasubramanian tells us why you need to add the Cochon Butcher Muffaletta to your arsenal of favorite Nashville sandwiches: "During my short time living in New Orleans, I got the taste of a true muffaletta from Central Grocery in the French Quarter, and made a habit of going there at least once a week. The Muffaletta at Cochon Butcher is one of my favorite sandwiches in Nashville. The toasty light sesame bread soaks in the olive oil from the olive salad. With the house-cured ham, salami, pastrami, and provolone cheese, it is one of the most satisfying sandwiches around."
Belmont (& other locations)
Picked by: Brian Baxter, chef de cuisine at Husk
Brian Baxter to the rescue with a good ol' brisket sandwich. We were worried for a minute that no one was going to mention a BBQ joint considering Nashville does have the best BBQ in the state. "My favorite sandwich in Nashville is the brisket sandwich from Martin's BBQ, but you have to get the coleslaw and pickled jalapeños on top. Also, it has to be dressed with the Devil's Nectar BBQ Sauce. I like going to Martin's for the brisket sandwich because everyone has a burger, a fried chicken sandwich, etc., but I just love barbecue, and Martin's has the best barbecue brisket in town."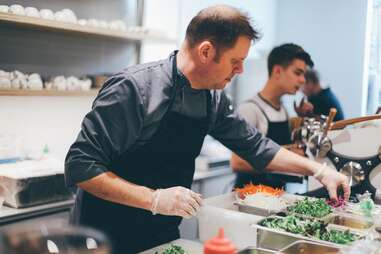 Nolensville Rd
Picked by: B.J. Lofback, chef/owner at Funk Seoul Brother
Because we all need new spots to get great Mexican food, chef Lofback tells us why El Amigo is not to be overlooked: "Some of the best food trucks in Nashville don't move around the city like mine does. While visiting taco trucks on Nolensville Rd, I found El Amigo, this former gas station that has now become my favorite place for Mexican eats in Nashville (even though it isn't a truck!). Their Torta Milanesa is a thing of beauty. It's a pork cutlet, pounded thin, breaded, and fried. Then it's topped with avocado, refried beans, grilled onions, lettuce, tomato and mayo. But then... it's pressed and griddled, so all that is held inside toasty bread. I love big flavors, and this adds big textures!"
Nolensville Pike
Picked by: Levon Wallace, executive chef at Cochon Butcher, and Jim Hagy, owner of Chef's Market
Another Nashville-wide favorite, we're happy to see InterAsian's banh mi make the list. And since so many of our other chefs mentioned Cochon Butcher as their favorite place to get a sandwich in Nashville, we're happy to have the executive chef from Cochon share his favorite sandwich in the city: "The banh mi at Interasian Market is the best in the city! The homemade pate and roasted pork belly just sets it off!"
Jim Hagy, from Chef's Market, says: "We stay busy prepping for dozens of events each week, so I most often find myself reaching for our Scuttlebutt Veggie Sandwich with provolone, bean sprouts, avocado, cucumber, tomato, red onion, lettuce, and basil mayo stacked on a locally baked bun. When I have the chance to get away, my favorite sandwich is the banh mi at the InterAsian Market & Deli. It's a phenomenal family-owned market on Nolensville Rd that serves a wide array of deli favorites, including the banh mi every day and a great pork belly banh mi on the weekends when you feel extra indulgent."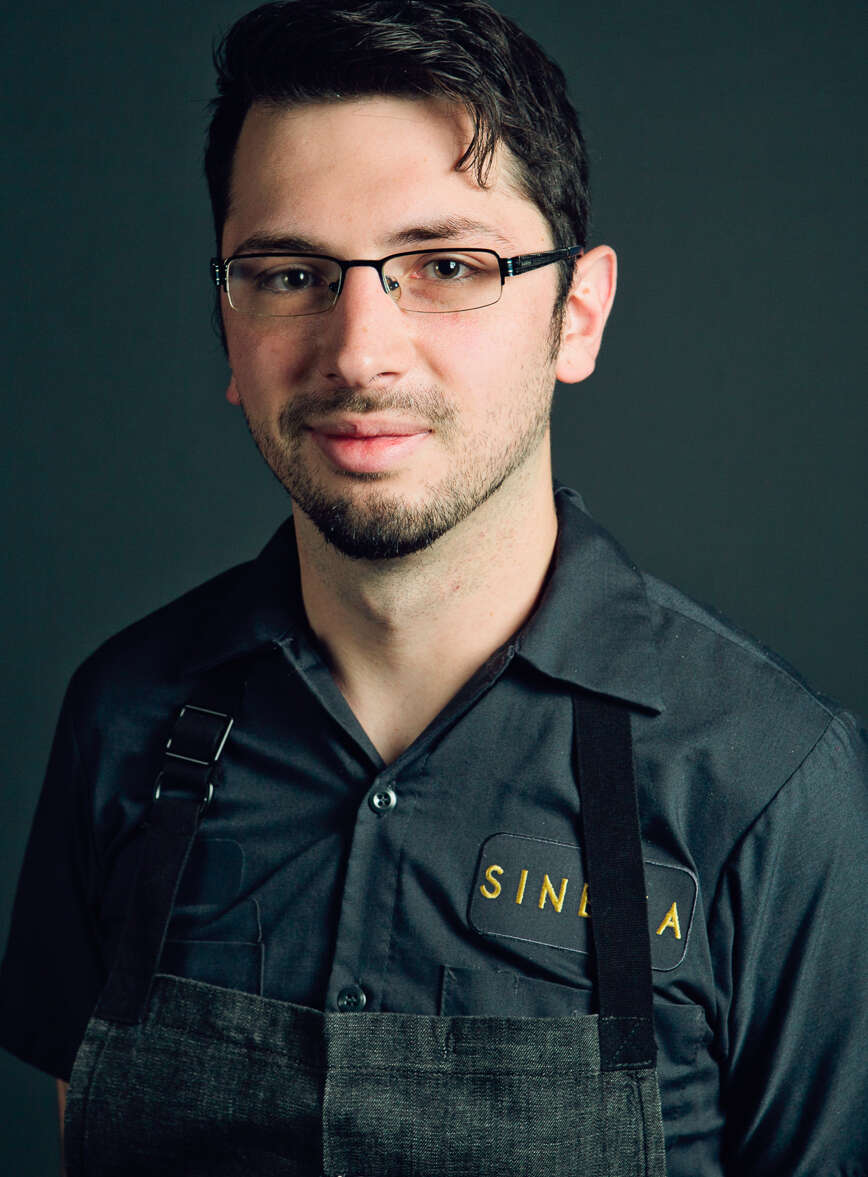 Melrose
Picked by: Kyle Patterson, chef de cuisine at Sinema
"The Italian Beef at The Hook takes me home every time I eat it. It's a mélange of flavors -- savory, salty, and spicy. It's a wonderful, soppy, sloppy, beefy mess. My go-to when I'm homesick for Chicago."
SoBro
Picked by: Jason Lalacona, chef de cuisine of Saffire
Chef Lalacona's pick is the Beef Tongue Reuben at Pinewood Social with all the fixin's. "I appreciate the risk taking. And there really is nothing riskier in the chef world than trying to reimagine a proven classic (especially one with so few components). But they knocked this one out of the park!"
Sign up here for our daily Nashville email and be the first to get all the food/drink/fun the Music City has to offer.
Brita Britnell is a Nashville native, food photographer, and writer who is on a new mission to try out every single sandwich on this list. You can find her @bbritnell.