It's Summertime in Nashville, the weather isn't quite soul-crushingly hot (yet), the Titans haven't disappointed us (yet), and there are a ton of new restaurants and bars ready to ruin the svelte physique you spent so long acquiring. Here are the best spots to cut the ribbon in Music City over the last few months...
Recommended Video
Win on New Year's Eve With This Raspberry Basil Champagne Cocktail
East Nashville
A new Japanese-inspired pub (they call them "izakayas"), Jack offers yakitori skewers, sushi, and kodawari ramen, which roughly translates to "pursuit of perfection", and involves pork broth & burnt garlic oil. After you've had your mind blown by how good ramen can actually be, wash it down with a sake, craft brew (incl. a New Belgium yuzu-infused number), or even a draught cocktail such as their tequila/lime/absinthe "no.2".
Germantown
Chicago deep dish pizza was sorely lacking in Nashville's food scene until 312 Pizza Company opened their doors -- and anyone who has spent time devouring pies in the Windy City can attest that this Germantown establishment is the real deal when it comes to Chicago-style pizza. You'll get toppings like the "sausage in every bite" Stockyard, but be warned: the wait times can be a little on the long side.
Vandy/Midtown
If it seems like this resto/bar/music venue/dance floor-hybrid brings a taste of New York to Nashville, that's because it's actually owned by the same people who run The Tippler in NYC's Chelsea Market, and they've brought pork belly fries, Reuben sandos, and 22 variations on the Mule cocktail with them.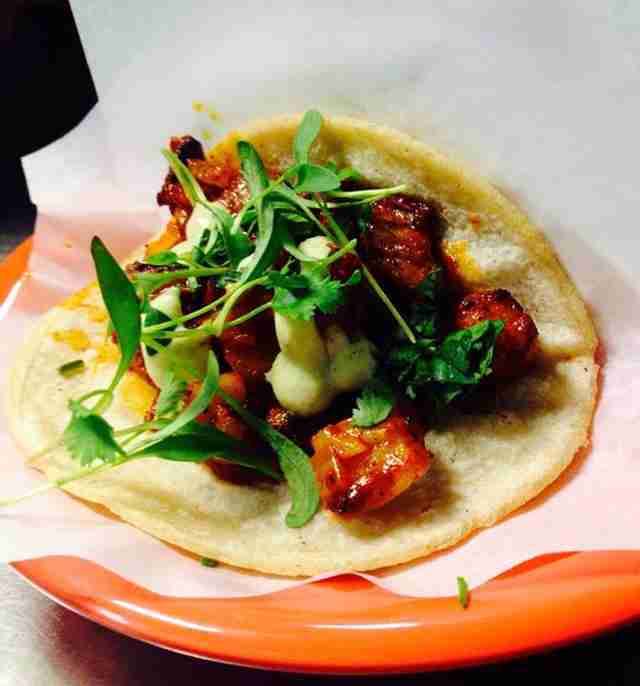 Hillsboro Village
Fun fact #1: you can never have too many places to eat tacos. Thankfully, Nashville is aware of that, and this Hillsboro Village spot offers up authentic Mexican mouthfuls of al pastor, ahi tuna, duck carnitas, and more. Also, like any self-respecting Mexican restaurant, they offer generous happy hour specials complete with beer, wine, and a wide assortment of tequila-based drinks. Fun fact #2: it's proven to be impossible to have a bad time while eating tacos and drinking margaritas.
Demonbreun
Part-bar, part-restaurant, part-arcade, all awesome. Two Bits not only gives you classic quarter-suckers like Pac-Man, Galaga, and Space Invaders, but also board games and even Playstation 4 and Xbox Ones. Their kitchen is helmed by Will Zuchman (a veteran of 15 kitchens), and's putting out charred octopus, lamb neck tacos, and Korean hot dogs, while the bar boasts 24 craft brews on draught.
Elliston Place
The newest addition to the list of fine drinking establishments on Elliston Place, HB's name is an homage to a long-standing convenience store that once stood at the very spot where the current bar is located. Nowadays, you'll find a wide selection of high-gravity beers that aren't available anywhere else in the city, including the likes of New Holland's 10% Dragon's Milk, or Brazil's 8% Colorado Guanabara.
East Nashville
Set in East Nashville, Antica's modern-looking spot offers a ton of unique "modern American tapas" that you've probably never seen in your life. Ever had Vietnamese Catfish Cakes? How about Togarashi-Deviled Quail Eggs with Mushroom Chip on Truffle Oil? No? Well, Antica has all of that and more, and the best part is that it's all reasonably priced.
Downtown
The newest addition to the M Street stable of eateries, Saint Añejo serves high-end Mexican cuisine (jalapeño rollenos w/ bacon aioli, smoked pork skillet nachos, etc.). What sets it apart from other Mexican restaurants, though, is its Tequila Library. Yes, it has a Tequila Library lounge, which is exactly what it sounds like: a private, rentable space full of 96 bottles of agave juice.
This list -- and all the rest -- look even sexier in our iPhone app. Get it now!