Nashville is a truly great place to eat these days, but the fact that the late-night half-pound dog vendors on Lower Broad are still in business is testament to the fact that not everyone makes the best restaurant decisions. Well, to help you avoid the pitfalls of Music City's restaurant scene, here are the worst decisions you can make...

1. Choosing the wrong heat level at Hattie B's
Be realistic about your heat tolerance. Southern = zero heat. Damn Hot = a fire has started in your mouth, and your tongue is kindling.

2. Waiting in line forever at the Pancake Pantry
Their pancakes are pretty good, but you can get equally as delicious pancakes at other awesome breakfast spots in Nashville.

3. Stepping foot inside of Margaritaville or Hard Rock Cafe on Lower Broadway
Just don't do it. Should you find yourself famished on Lower Broadway, take a break from your honky tonkin' for some BBQ at Rippy's or Jack's BBQ.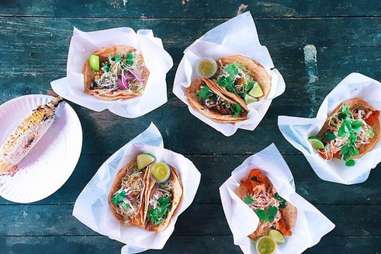 4. Going to dinner at Mas Tacos on a Saturday night
No, not because the line is out the door like you might have expected. Don't go on a Saturday night because they're CLOSED! Yeah, they have weird hours, so check 'em before you set your heart on Mas.

5. Bringing a vegan to Party Fowl
We suppose that they could order the chickpea hummus and call it a meal but that would just be wrong on many levels.

6. Not getting the "bonuts" to go with your meal at Biscuit Love restaurant
Part biscuit, part donut. You need these.
7. Overlooking the Nashville Farmers' Market food court
With so many great, authentic restaurants inside the food court, Bella Nashville is a great place to start. They cook their pizzas in a wood-fired oven right in front of your face.

8. Choosing any other food truck besides DegThai
And while you can't actually go wrong with a single thing on the menu, it would almost be a mistake to order something other than the massaman beef (with a Thai iced tea to go with it).

9. Expecting that you can grab a quick coffee at Barista Parlor (or really any of the other uber-hip coffee shops in Nashville)
Seriously, you're gonna wait in line for a while.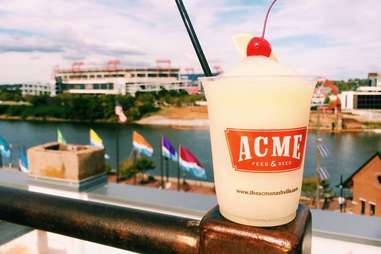 10. Not having brunch on the Acme Feed & Seed rooftop
Especially at this time of year when the weather is perfect. It overlooks the river and much of downtown. And, duh, the food is amazing.

11. Failing to partake in 2-for-1 mimosas during brunch at Suzy Wong's House of Yum
These mimosas should ideally be enjoyed on a Sunday during their weekly "Drag'n Brunch."

12. Not eating BBQ on a very regular basis
Nashville has no shortage of great BBQ joints. And since we can't pick just one favorite, do yourself a favor and just visit them all.
13. Biting into a Hoss' Loaded Burger the moment it's served
That cheese is MOLTEN. For the sake of your taste buds, just give it a minute. The burger will probably still be there.

14. Eating at Pinewood Social without taking a dip in the pool (or at least bowling one round)
Last summer Pinewood Social opened up two pools on their patio and it seems like a crime NOT to jump in while you're waiting on your food and drinks. The pool patio even has its own menu!
15. Not exploring the ramen scene in Nashville
Alright, so Nashville's ramen scene is still young. But Two Ten Jack and Otaku South are both a great start. Dive in.
Sign up here for our daily Nashville email and be the first to get all the food/drink/fun the Music City has to offer.