Bacon has always been delicious, but for some inexplicable reason, it languished next to scrambled eggs and nestled between lettuce, tomatoes, and two pieces of white bread for decades. Now, thanks mostly to the Internet, it has been set free, and deliciously unleashed upon drinks, apps, desserts, and sides. Here are the best places to get it...
The Gulch
What you're getting: House-made bacon
Kayne Prime is mostly known for its Wagyu beef, but its house-made bacon may be the top treat on the menu. Instead of thin strips, this bacon is practically a mini steak by itself, but it's the maple cotton candy topping that elevates this appetizer to an entirely new level.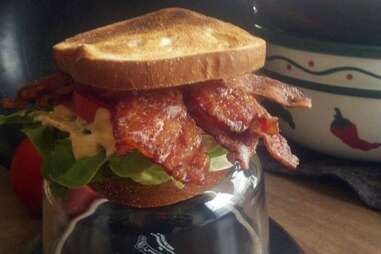 Multiple locations
What you're getting: The BLT
Bacon Nation is a Nashville-based food truck that, as you might be able to glean from the name, celebrates all things swine-strip. Its take on the classic BLT emphasizes why people order the sandwich in the first place (the porky goodness) by adding six beautiful and crispy strips to every order.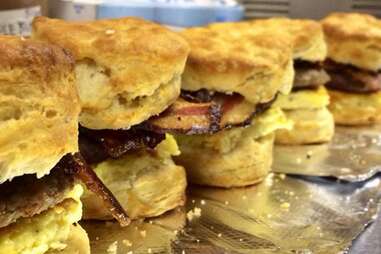 East Nashville
What you're getting: Sausage, bacon, egg, and cheese biscuit
Nashville's Porter Road Butcher is primarily a neighborhood meat market, but it also offers a full menu for breakfast and lunch. So if you're in the mood for a bacon, egg, and cheese biscuit in East Nashville or Charlotte, there's no better place to go in the city.
Melrose
What you're getting: Bacon cheeseburger
Adding bacon to cheeseburgers is undoubtedly one of mankind's greatest inventions, and M.L. Rose took that delicious formula and ran with it. Its bacon cheeseburger is pure Americana cuisine at its finest -- especially when you add extras like blue cheese, avocado, or a Willow Farms egg on top.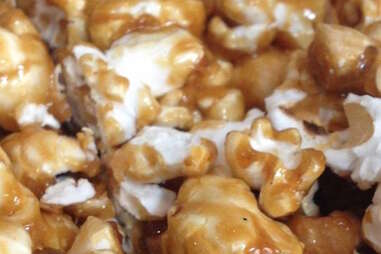 Germantown
What you're getting: Pot de crème with salted caramel-bacon popcorn
Popcorn may seem like an odd choice for a dessert, but Silo nails it. Pot de crème is a delicious dessert on its own, but it's really the salted caramel-bacon popcorn that makes this after-dinner treat stand out in Nashville's increasingly crowded culinary scene.
Bellevue
What you're getting: Bacon plate
The Loveless Cafe is a Nashville staple for breakfast and Southern cooking in general. While this Music City treasure is most famous for its biscuits and country ham, it also offers up some of the best bacon in the city. Whether you're a low-carb devotee or just a really big fan of enjoying bacon without any distractions, the Loveless Cafe has got you covered.
Midtown
What you're: Bacon Old Fashioned
Nashville's Patterson House is one of the most famous cocktails bars in the country, and the Bacon Old Fashioned is considered one of its signature drinks. What makes it different? For starters, you don't get ice cubes -- you get an ice sphere with maple syrup bacon-infused Four Roses bourbon poured over it topped off by an orange-rind garnish. And yes, the drink really tastes like bacon with a hint of bourbon -- or is it the other way around?

The Gulch
What you're getting: Ninja Bacon
Virago's Ninja Bacon consists of crispy pork belly, red curry, and coconut, and is one of the restaurant's best apps. But if thick cuts of pork aren't your thing, Virago also offers bacon-wrapped scallops in unagi sauce. Spoiler alert: no matter which bacon path you take, you win at the end.
Sign up here for our daily Nashville email and be the first to get all the food/drink/fun the Music City has to offer.