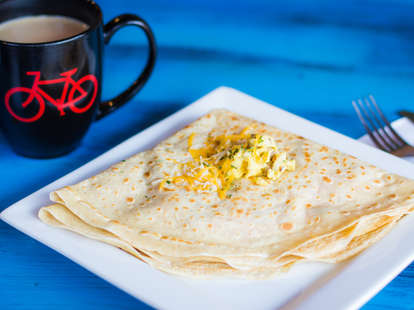 Breakfast is arguably the tastiest (and inarguably the most important) meal of the day. We already know that Nashville is on its game when it comes to great brunch spots, but what about the days that you're craving a great pre-brunch? These 12 Nashville breakfast spots will satisfy pretty much any culinary craving that you might have...
The Gulch
What you're getting:
The Princess
Biscuit Love is a delicious combination of 100% homemade biscuits and classic Southern food. And the Princess is a prime example: a good ol' piece of hot chicken sandwiched between a warm and buttery biscuit and drizzled with sweet honey. Another Biscuit Love must-try is its "Bonuts," which are part biscuit, part donut, and completely incredible.
Downtown
What you're getting:
The Southern Stack
What started out as a grocery store in the '50s is now one of Downtown Nashville's best spots for a great morning meal. Puckett's has some of the best pulled pork in all of Tennessee, so it's just natural (natural to a Tennessean, at least) to pile it on top of sweet potato pancakes and fried apples. For breakfast.
East Nashville
What you're getting:
Porter Road Sausage, Egg, & Cheese on a salt bagel
Sometimes all you need in the morning is a fresh, warm bagel sandwich loaded with egg, cheese, and sausage (or a bunch of stuff from a really varied menu) handed to you by the friendliest bagel staff you ever did meet. This is precisely what Bagel Face provides.
East Nashville & the Gulch
What you're getting:
Pop's Tarts (flavor depends on season)
If you want a cup of coffee crafted with the same delicate care that you might expect to get from a heart surgeon, look no further. These guys take coffee & baked goods very, very seriously. Neighborhood locals will evangelize about their sausage biscuits, but you can't go wrong with their fruit Pop's Tarts, either. And, as a cherry on top, you simply can't beat the laid-back, comfortable atmosphere here either.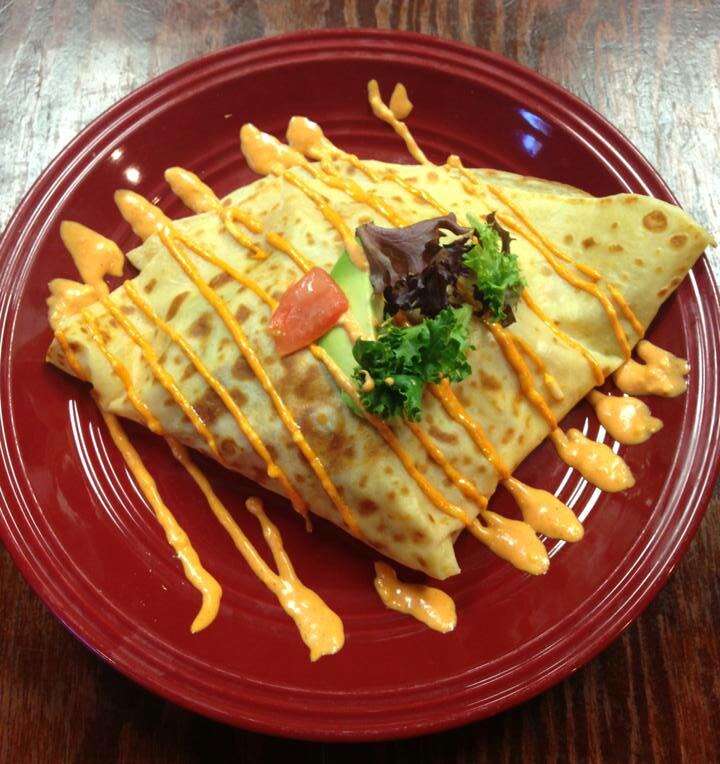 Germantown
What you're getting:
The Sunrise
Crêpes for breakfast? Um, yes. The Sunrise crêpe is its most popular breakfast crêpe as it's a classic morning meal: eggs, cheese, and your choice of meat served inside a deliciously light and fluffy pancake. But don't limit yourself. Its menu features a nice variety of both sweet and savory crêpes and even the option to "design your own."
Downtown
What you're getting:
The Highway
Sure, you knew the Southern was good for lunch and dinner, but the early bird gets way more than a worm here. You didn't think we were going to give you a Nashville breakfast round-up and forget the chicken and waffles, did you?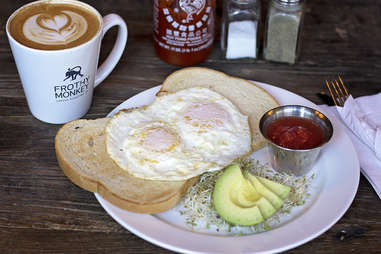 Various locations
What you're getting:
The California
Avocado is the hot breakfast food right now (not literally... unless you add Sriracha, which, let's face it, you probably will) and Frothy Monkey has got you covered. The California satisfies all of your avo needs by adding two pieces of sourdough, fried eggs, salsa, and sprouts. And if you go to the Downtown location, you can even order a Bloody to wash it all down.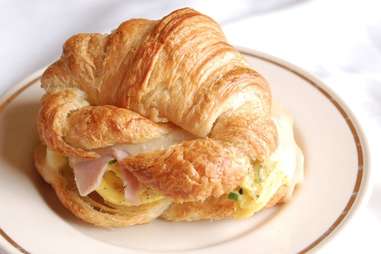 Various locations
What you're getting:
Croissant Sandwich
This Nashville original bakery is famous for its breads and pastries, but it makes a mean breakfast Croissant Sandwich, too. If you've never had one, you're missing out.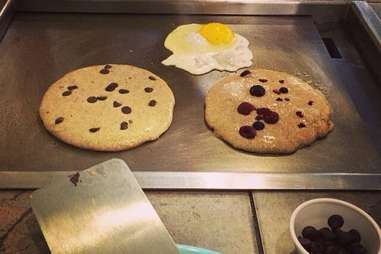 Berry Hill
What you're getting:
All-you-can-eat pancakes with pretty much any topping you can imagine
Wanna see your breakfast cooked right in front of you? Pfunky Griddle is the spot. Each table is equipped with a griddle in the middle where you can watch ingredients turn into food. And for just $5.99 (!) you can eat ALL of the fresh pancakes you want. And we highly encourage you to go a little crazy with the pancake toppings, considering that there are over 25 to choose from.
East Nashville
What you're getting:
The American Breakfast
If you've got a little time to sit down for a nice breakfast in the morning, this European-style eatery located right in 5 Points should be your go-to. It's tough to go wrong with the simple American Breakfast of scrambled eggs, cheddar grits, and smoked bacon (or, if you're feeling more adventurous, they amazingly make Croissant French Toast).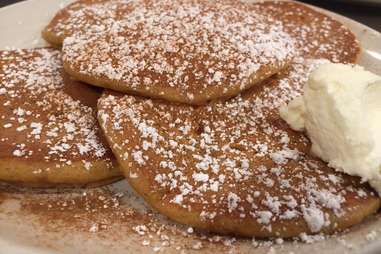 Hillsboro Village
What you're getting:
Sweet Potato Pancakes
Don't let the line out the door scare you away. Those people know exactly what they're doing, and these famous Nashville pancakes are worth waiting for. The Sweet Potato Pancakes are one of its most popular menu items (and for good reason), but there are 22 others beside them.
East Nashville
What you're getting:
Banana and Nutella Stuffed French Toast Pancakes
This breakfast spot may be rather small, but Sky Blue Cafe has a well-balanced breakfast menu (served ALL day) and a great coffee list. And with a breakfast like Banana and Nutella Stuffed French Toast Pancakes (yes, French toast AND pancakes), you've already eliminated one huge dilemma from your day.
Sign up here for our daily Nashville email and be the first to get all the food/drink/fun the Music City has to offer.