It's no secret that Nashville has a booming restaurant scene with hundreds of great places and thousands of great dishes. But sometime a single plate is all it takes to make the reputation of a rising chef and thrust them into the indigenous culinary firmament. So in that light, here are 11 local dishes that will never let you down...
Belly Ham Pizza
City House (address and info)
Germantown
For Chef Tandy Wilson's signature house pie, he tops a crust that is perfectly charred in his wood oven with mozzerella, Grana Padano, a sprinkle of oregano, and chilies in oil, and then finishes it off with slabs of crispy pork belly -- and while the egg is technically optional, you can't in all good conscience say no to it.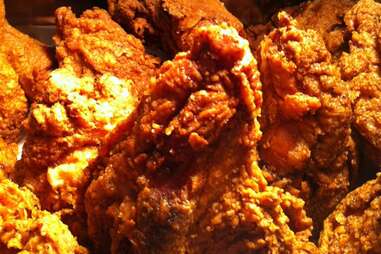 Fried chicken
Arnold's Country Kitchen (address and info)
The Gulch
There's almost always a line to get into this venerable meat-and-three diner in the Gulch, but on Mondays, the assembled masses shove a little harder to get in the door and closer to the steam table. That's because Monday is fried chicken day at Arnold's, where Kahlil Arnold is serving up twice-battered, perfectly crispy and golden yardbird that's about as good as any in the country.
Roasted Cauliflower
Etch (address and info)
SoBro
In the hands of an able chef like Deb Paquette of Etch, this pedestrian side dish takes center stage as she simply roasts florets seasoned with salt, pepper, and olive oil, and then serves them with rich accompaniments of feta cream and a truffled pea pesto. Even avowed carnivores have to admit that broccoli's little cousin can actually be delicious.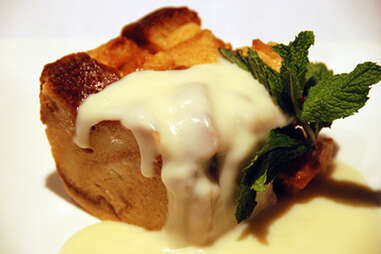 Butterscotch Habanero Bread Pudding
Midtown Cafe (address and info)
Midtown
When the sad word came out that venerable Hillsboro Village stalwart Sunset Grill was shutting down, many longtime fans selfishly wondered if some of their favorite dishes would migrate to one of Nashville restaurateur Randy Rayburn's other restaurants. Fortunately, many of the classics are making the trip down the street to Midtown Café, including, thank God, the sweet and spicy Butterscotch Habanero Bread Pudding, a dish that is just too damned good to die.
Grilled Hereford NY Strip with chimichurri
Lockeland Table (address and info)
East Nashville
When Lockeland Table Chef Hal Holden-Bache competed in the finals of the World Chef Challenge competition at last year's World Food Championships in Las Vegas, the challenge was to prepare signature dishes. While his competitors tried to wow the judges with all sorts of lame molecular gastronomy, Holden-Bache poured his heart out onto a plate; he grilled Hereford NY strip steak with roasted sweet tomato sauté, brilliant green chimichurri sauce, and green beans deglazed with house-made smoked vinegar. The dish will always be on the menu at any restaurant where Holden-Bache ever works, and he even has a deal with his partners to keep it on even in the event of his death.
Pozole Verde Soup
Mas Tacos Por Favor (address and info)
East Nashville
While ardent fans go on and on (and on and on) about the famous Chicken Tortilla Soup at Mas Tacos Por Favor, here's a little hint for you: it may not even be the best soup on its menu. The Pozole Verde is its take on a classic Mexican bowl of broth made with deep layers of flavors from a dark stock, fresh vegetables, and plenty of lime to tantalize your tongue.
Malaysian Style Noodles
Thai Esane (address and info)
The Gulch
Lots of places call themselves "pan-Asian," but at Thai Esane, it's more than just lip service. The menu features native dishes from Thailand, Laos, Singapore, and Malaysia, but the one thing they have in common is a dedication to bold flavors. The Malaysian Style Noodles feature wide rice noodles, sprouts, eggs, and addictive Chinese sausage, all tossed in a sweet sauce and stir fried.
AppleJack
Pepperfire (address and info)
East Nashville
Picture a pepper jack grilled cheese sandwich. Now take that picture and dump it in a deep fryer. Then top that gooey, crispy fried morsel with three infernally hot fried chicken tenders. Add a cooling swath of syrupy sweet apples that taste (intentionally) like they are straight from the apple pie filling can, and you've got a meal that's worth the trip out to East Nashville.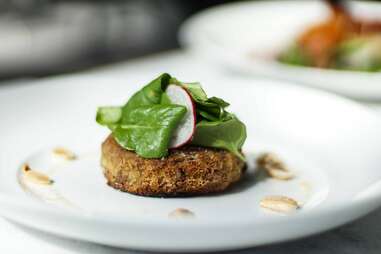 Scrapple
Josephine (address and info)
12 South
What is scrapple? Traditionally a breakfast item, scrapple could euphemistically be described as the parts of the pig that didn't even make it into the sausage. In Chef Andy Little's hands, this loaf of pork is crusted with cornmeal and served with toasted dried corn and a chow chow vinaigrette, and it is so much more than the sum of its parts.
Midtown Platter
Union Common (address and info)
Midtown
Sometimes it sucks to be a seafood lover in a landlocked state. But at Union Common, they serve a chilled platter of seafood that will make you believe you can smell the salt on the air, thanks to a half-dozen each of jumbo shrimp and seasonal oysters served on a bed of ice accompanied by a quarter-pound of jumbo crab meat, a Maine lobster tail, and a half-pound of some deliciously smoked mussels.
Redneck Taco
Martin's Bar-B-Que Joint (address and info)
Belmont
At Martin's, you can order a wide variety of smoked meats, from pulled whole hog to ribs to beef brisket to chicken. Get them in their natural form or as part of a sandwich, or, better, as part of pitmaster Pat Martin's novel Redneck Taco. Five ounces of your preferred meat are served atop a sweet corncake smothered with spicy sauce and a helping of creamy, crunchy slaw. The slaw is not an option, by the way. Expect an argument if you ask to leave it off.
Sign up here for our daily Nashville email and be the first to get all the food/drink/fun the Music City has to offer.