The Nashville food scene is moving fast these days, thanks in part to its exploding popularity and quality, and also due to the fact that some of its best restaurants literally have engines. Here are the eight best rolling kitchens in town, and the best thing on each of their menus...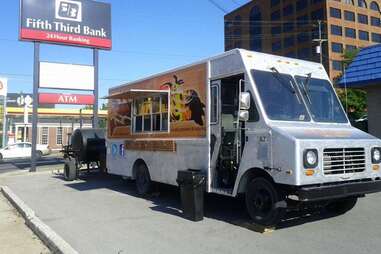 Smoke Et Al may have a clever name, but its food is all business. Barbecue is the specialty here, but this food truck offers options that go beyond the norm, including smoked veggie tacos and smoked chicken & sour cream baked biscuits.
What you're getting: The Noble Brisket Tacos -- smoked beef brisket, smoked corn red pepper salsa, and cilantro lime crema? Yes, please.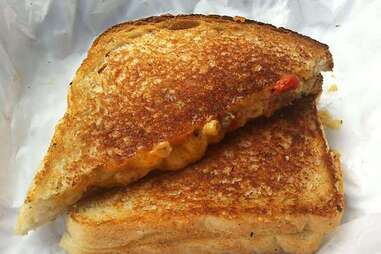 Your favorite meal as a kid (or adult -- no shame in that) is the focus of one of Nashville's best food trucks. Don't be fooled though, these grilled cheese sammies go far beyond the two pieces of white bread, butter, and Kraft Singles you grew up with, throwing in all manner of locally sourced ingredients, and prepping them with the help of a Cordon Bleu-trained chef.
What you're getting: The Buffalo South -- pepper jack cheese, pulled chicken, Buffalo sauce, and bleu cheese aioli on sourdough bread. Spicy and delicious.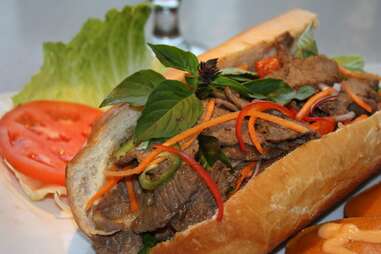 Self proclaimed "Thai with a twist", Deg's menu actually stays pretty traditional, sticking with favorites like pad Thai, and red curry -- but the execution is anything but standard, and it has the awards to prove it.
What you're getting: There are no wrong choices here, but The Signature is a must-have for first-timers. It's slow-cooked massaman beef on Asian flatbread.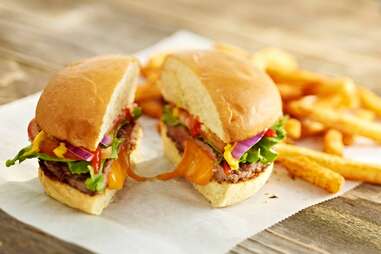 Cheese on burger -- great. Cheese inside burger -- even better. That's the premise behind Hoss' Loaded Burgers, where the cheese is grilled directly inside the patty, delivering a pocket of cheddar or dill Havarti flavor in every bite.
What you're getting: The Hoss. Stuffed with cheddar and polished with hickory smoke barbecue sauce, bacon, and onion crispers.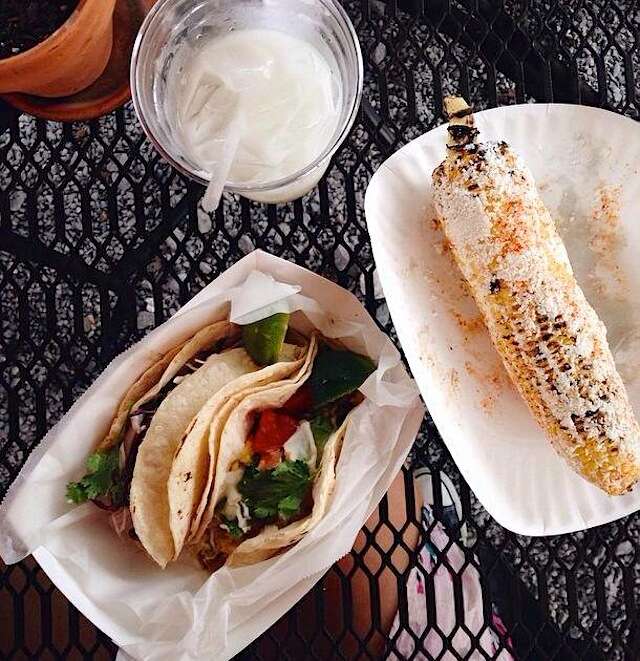 In case you need to brush up on your español, Mas Tacos Por Favor translates to "More Tacos Please", which is precisely what everyone says after eating here.
What you're getting: Yes, it's a taco restaurant, but the chicken tortilla soup is probably its most well-known dish on the menu -- and for good reason. Get a few tacos, get the soup, and enjoy East Nashville culinary heaven.
Retro Sno is pretty much exactly what you might imagine it to be -- a snow cone truck serving a ridiculous assortment of both common and completely off-the-wall flavors. Tres Leches? Peaches & Cream? Blackberry Pomegranate? Yes, yes, and yes.
What you're getting: Raspberry Wedding Cake. And unlike the snow cones you got as a kid, these are evenly flavored throughout and use actual cane sugar -- not high-fructose corn syrup.
Unlike many food trucks, Riffs Fine Street Food serves up a wide variety of dishes, from jerk chicken and mac & cheese to fish tacos and bánh mì. The best part about it is that it's surprisingly good at making all of them.
What you're getting: Korean BBQ tacos. There aren't many other choices when it comes to getting Korean BBQ in Nashville, but thankfully, Riffs absolutely does it justice.
Delta Bound specializes in all things Southern comfort food. Whether you're in the mood for Cajun, Creole, Delta, or regular barbecue, it's got you covered. It also happened to win the "Best of the Best" award in the 2014 Nashville Street Food Awards.
What you're getting: Delta Fried Catfish Tacos. A menu "fan favorite", these tacos feature fried catfish with cornmeal breading, creole slaw, and roasted sweet corn pico and comeback sauce.
Sign up here for our daily Nashville email and be the first to get all the food/drink/fun the Music City has to offer.