Now that the temperatures in Nashville have started to drop, it's time to start thinking seriously about ramen. Not those mouth-shredding bricks (you were supposed to cook them?) and packets of MSG that got you through college and the first few years in your own apartment -- we're talking about the expertly crafted bowls of noodles and deeply flavorful broths that often take days to make. If you're in search of the most comforting cold-weather dish known to humanity, you're in luck. Here are the best ramen spots in Nashville.
The Gulch
Otaku started out as a pop-up in East Nashville, however, its popularity took off quicker than it takes its pork broth to simmer. Since opening up a permanent location in The Gulch in 2015, the cozy little ramen shop has had frequent lines stretching out the door. The menu includes seven different delicious ramen options including pork, chicken, and vegetarian. And don't miss out on the hot chicken buns. They've also opened up a carry-out option in East Nashville called Otaku To-Go to service their fans across the river.
East Nashville
Two Ten Jack is easily a contender for the number-one ramen in Nashville (not that we're biased or anything). This Japanese-inspired pub puts great care into creating its ramen dishes, each of which is packed with flavor. The atmosphere at Two Ten Jack provides the perfect dark and romantic spot to slurp your noodles while enjoying a good cup of sake and a small plate of crispy brussels. While all of the ramen dishes are phenomenal, we're partial to the tonkotsu ramen with a bit of burnt garlic oil added on.
Franklin
One of the first local ventures to make the leap from food truck to brick-and-mortar, Funk Seoul Brother serves a melange of Korean and Japanese street food out of a space in The Factory at Franklin. The FSB menu is divided into rice and noodle dishes, and ramen fans need to pay special attention to their tonkatsu, a complex broth made from pork bones filled with pork belly, seaweed, bamboo shoots, mushrooms, scallions, and a perfectly-poached farm egg. The bowl is topped with black garlic oil for an exotic flair.
The Gulch
There's only one ramen dish on the menu, but it's good. Really good. Virago's ramen is on the menu as "Southern Ramen." It's a delightful mix of classic ramen (triple stock, a soft-boiled egg, and pork belly) and a little bit of what makes our home in the South so special (collard greens and Tabasco bean sprouts). If you're looking for a uniquely Southern take on this Japanese noodle dish, we highly recommend Virago.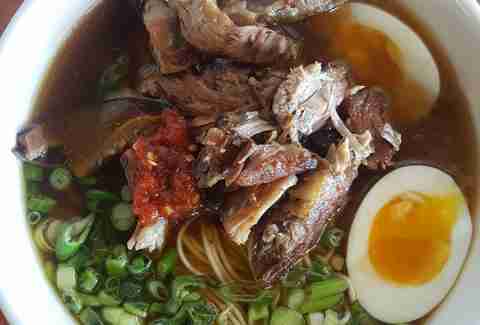 South Nashville
There's only one variety of ramen on the menu at this tiny strip mall restaurant that specializes in Latin fare prepared by a talented family of Chileans, but what a dish it is! Some scoffed when Subculture first announced their intention to create Hot Chicken Ramen and called it a Frankenstein-like melding of cultures and cuisine. The reality is that the kitchen will flat put a hurting on you if you ask for extra hot, and at any heat level, the spices from the infernal chicken flavor the rich broth to create a unique flavor experience.
SoBro
Nashville has been begging for more high-end Asian eateries for years, so when the talented wife/husband chef team behind Two Ten Jack announced their plans to open The Green Pheasant in a soaring stylish space on the ground floor of the new 222 Building in SoBro, expectations were high. And they were exceeded. In addition to a menu of elevated Japanese cuisine previously unseen in these parts, the menu offers three ramen options ranging from traditional Tantanmen chicken broth and Yasai Shoyu vegetable ramen to a novel Spicy Crab Noodle dish that has become a must-order for just about every table that sits down.
East Nashville
While this neighborhood sushi joint does serve some great inexpensive rolls and nigiri, the "Et Cetera" part of the name bears attention as well. Of the two types of ramen served at Nomzilla!, the vegetarian tofu miso version is quite good, but the Korean/Japanese hybrid of Spicy Pork Kimchi Ramen knocks it out of the park! The bowl of tonkotsu broth overflows with spicy bulgogi pork, onions, mushrooms, appropriately funky kimchi, and an umami bomb of a soy egg.
Sign up here for our daily Nashville email and be the first to get all the food/drink/fun the Music City has to offer.