We need comfort food now more than ever and we can't think of anything more soothing than a steaming bowl of ramen. The toothsome alkaline noodles in a proper serving of ramen must be able to stand up to the deeply complex character of the broth options, some of which can take days of preparation to impart the flavors that make ramen stand out from just, say, noodle soup. Here's a helping of Nashville's top ramen that isn't Top Ramen.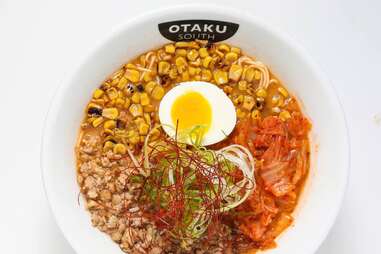 The Gulch
Otaku started out as a pop-up in East Nashville, however, its popularity took off quicker than it takes its pork broth to simmer. Since opening up a permanent location in The Gulch in 2015, the cozy little ramen shop has had frequent lines stretching out the door. The menu includes seven different delicious ramen options including pork, chicken, and vegetarian. And don't miss out on the hot chicken buns. The spot has also opened up carryout options in both East and West Nashville called
Otaku To-Go
to service their fans across town.
Belmont/Hillsboro Village
While the name of this tiny restaurant in the elbow bend of Belmont Boulevard is a dead giveaway that they focus on milk tea, Chatime also offers a novel ramen bar. Choose from a variety of affordable bowls ranging from traditional tonkatsu to the diabolical "Devil's Miso" spiced up with chili paste and marinated bamboo. Vegans can enjoy a pork-less broth with bamboo, tofu, mushrooms and seasonal vegetables.
SoBro
Tucked away in the back of the already hard-to-find
Bar Sovereign
, Black Dynasty Secret Ramen House has been a pop-up for much of its life as a restaurant, including serving lockdown-era carryout from the alley behind the bar. Now that at least a limited number of patrons can actually enter the bar, look for the red lantern hanging at the back of the main room. If it's lit, so is the ramen, and Black Dynasty is deadly serious about its noodles. The tight menu usually features a few varieties of inventive ramen bowls plus dumplings, a salad, and a dessert. That's plenty of choices to ensure you find something spectacular, because every dish is special.
Lenox Village
While most of the menu at this cozy little restaurant skews toward traditional and fusion Korean food, Umami does offer a few ramen options that are full of, well, umami. For an interesting texture and flavor combination, order up a bowl of pork shoyu ramen along with a half dozen of its shatteringly crispy Korean fried chicken wings. Now that's some KFC we can get behind.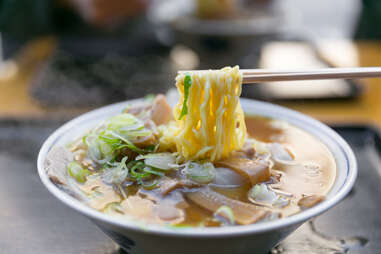 Nolensville Pike
Sriracha is one of those places that strives to please everyone, with a voluminous menu of sushi, bento boxes, classic Thai dishes, udon and soba noodle bowls, and Vietnamese pho. But eagle-eyed noodle lovers will discover four ramen dishes hidden among all the entrees. Each of them includes the word "spicy" in its name, and they're not kidding. In a town that loves its hot chicken, Sriracha turns up the heat in their broth to excellent effect.
East Nashville
Two Ten Jack is easily a contender for the number-one ramen in Nashville (not that we're biased or anything). This Japanese-inspired pub puts great care into creating its ramen dishes, each of which is packed with flavor. The atmosphere at Two Ten Jack provides the perfect dark and romantic spot to slurp your noodles while enjoying a good cup of sake and a small plate of crispy brussels. While all of the ramen dishes are phenomenal, we're partial to the tonkotsu ramen with a bit of burnt garlic oil added on.
South Nashville
There's only one variety of ramen on the menu at this tiny strip mall restaurant that specializes in Latin fare prepared by a talented family of Chileans, but what a dish it is! Some scoffed when Subculture first announced their intention to create Hot Chicken Ramen and called it a Frankenstein-like melding of cultures and cuisine. The reality is that the kitchen will flat put a hurting on you if you ask for extra hot, and at any heat level, the spices from the infernal chicken flavor the rich broth to create a unique flavor experience.
East Nashville
While this neighborhood sushi joint does serve some great inexpensive rolls and nigiri, the "Et Cetera" part of the name bears attention as well. Of the two types of ramen served at Nomzilla!, the vegetarian tofu miso version is quite good, but the Korean/Japanese hybrid of Spicy Pork Kimchi Ramen knocks it out of the park! The bowl of tonkotsu broth overflows with spicy bulgogi pork, onions, mushrooms, appropriately funky kimchi, and an umami bomb of a soy egg.
Sign up here for our daily Nashville email and be the first to get all the food/drink/fun the Music City has to offer.
Brita Britnell is Nashville-based food photographer and writer who has slurped her fair share of Nashville's finest ramen. Find her: @bbritnell.
Chris Chamberlain is a food, drink, and travel writer. He has a couple of old shirts he saves just for ramen-slurping session. Follow along on Twitter @CeeElCee.