Dig your bespoke bib out of the winter clothes storage, because it's slurping season. A bracing bowl of deeply flavorful broth to warm your bones and some artisan noodles to fill your belly is the perfect way to stave off a winter chill. While Nashville doesn't boast a boatload of ramen shops, many of them serve up some top-notch tonkatsu and some slammin' shoyu and shio. So choose your favorite, or one that's just geographically convenient, and restore your soul with some hot ramen.
East Nashville
When it comes to the food served in craft breweries, most places either practically ignore it by stocking a couple of frozen pizzas or Lean Cuisines to heat up or they offer some pretty decent grub from a limited menu. Only a few breweries put a real emphasis on a deep food menu, and Southern Grist Brewing Co. joins that short list with their new restaurant Lauter. The kitchen makes almost every ingredient from scratch, including the noodles in their ramen which they serve with roasted pork, scallions, sprouts, chili crisp, and a soy sauce boiled egg.
The Gulch and West Nashville
Otaku started out as a pop-up in East Nashville, however, its popularity took off quicker than it takes its pork broth to simmer. Since opening up a permanent location in The Gulch in 2015, the cozy little ramen shop has had frequent lines stretching out the door. The menu includes seven different delicious ramen options including pork, chicken, and vegetarian. And don't miss out on the hot chicken buns. They've also opened up a second location West Nashville called to introduce a new clientele to their innovative ramen.
Belmont and Hillsboro Village
While the name of this tiny restaurant in the elbow bend of Belmont Boulevard is a dead giveaway that they focus on milk tea, Chatime also offers a novel ramen bar. Choose from a variety of affordable bowls ranging from traditional tonkatsu to the diabolical "Devil's Miso" spiced up with chili paste and marinated bamboo. Vegans can enjoy a pork-less broth with bamboo, tofu, mushrooms and seasonal vegetables.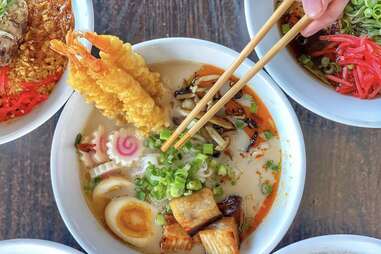 Hillsboro Village
This link of a small restaurant chain out of Vegas serves five different versions of broth that you can customize with your choice of protein and more than a dozen toppings. Patrons can also pick their spice level, but be forewarned about the shinigami level, clocking in at more than 4,000,000 scoville units. If you're not a pepper aficionado, that's crazy hot. Like Nashville hot chicken times two. If you're willing to sign a waiver and can down 24 ounces of broth and three pounds of these spicy noodles in less than eight minutes, your dish is free. Seriously, don't try it!
Melrose
While sushi and poke bowls are the specialties of the house (and in the name) at this fast casual restaurant, they also make some pretty respectable bowls of ramen. Zushi-Poke offers four varieties, including porky shoyu, creamy tonkotsu and a novel miso-based version with roasted pork belly. You can also fill out the empty space on your table with all sorts of side dishes and other specialty dishes.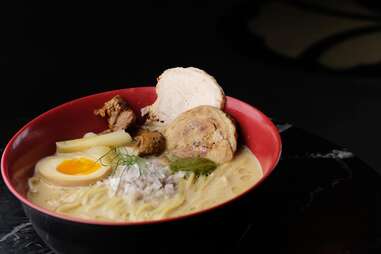 East Nashville
This peripatetic pop-up has served bowls at several different locations around town, and they've recently fired up the burners in West Nashville at Sylvan Supply. Their fans will follow them anywhere, because Black Dynasty is deadly serious about their noodles. Their tight menu usually features two to three varieties of inventive ramen bowls plus dumplings, a salad, and a dessert. That's plenty of choices to ensure you find something spectacular because every dish is special.
West End and Vanderbilt
There must be a lot of cooks in the kitchen at this neighborhood sushi joint, because the sheer volume of menu items they offer makes Cheesecake Factory look like a food truck. Among all those varieties of sushi are two legit ramen items.
Lenox Village
While most of the menu at this cozy little restaurant skews toward traditional and fusion Korean food, Umami does offer a few ramen options that are full of, well, umami. For an interesting texture and flavor combination, order up a bowl of pork shoyu ramen along with a half dozen of its shatteringly crispy Korean fried chicken wings. Now that's some KFC we can get behind.
East Nashville
Two Ten Jack is easily a contender for the number-one ramen in Nashville (not that we're biased or anything). This Japanese-inspired pub puts great care into creating its ramen dishes, each of which is packed with flavor. The atmosphere at Two Ten Jack provides the perfect dark and romantic spot to slurp your noodles while enjoying a good cup of sake and a small plate of crispy brussels. While all of the ramen dishes are phenomenal, we're partial to the tonkotsu ramen with a bit of burnt garlic oil added on.
South Nashville
There's only one variety of ramen on the menu at this tiny strip mall restaurant that specializes in Latin fare prepared by a talented family of Chileans, but what a dish it is! Some scoffed when Subculture first announced their intention to create Hot Chicken Ramen and called it a Frankenstein-like melding of cultures and cuisine. The reality is that the kitchen will flat put a hurting on you if you ask for extra hot, and at any heat level, the spices from the infernal chicken flavor the rich broth to create a unique flavor experience.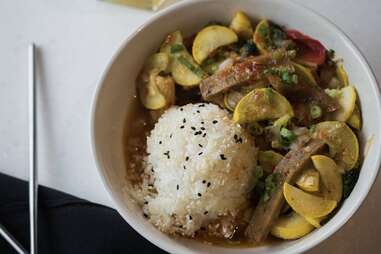 East Nashville
While this neighborhood sushi joint does serve some great inexpensive rolls and nigiri, the "Et Cetera" part of the name bears attention as well. Of the two types of ramen served at Nomzilla!, the vegetarian tofu miso version is quite good, but the Korean/Japanese hybrid of Spicy Pork Kimchi Ramen knocks it out of the park! The bowl of tonkotsu broth overflows with spicy bulgogi pork, onions, mushrooms, appropriately funky kimchi, and an umami bomb of a soy egg.
Chris Chamberlain is a food, drink, and travel writer. He has a couple of old shirts he saves just for ramen-slurping sessions. Follow along on Twitter @CeeElCee.