After years of being known mostly for its music and supposedly flattering similarity to the ruins of an ancient Greek city, Nashville is now truly coming into its own, and is fast becoming one of the country's finest culinary destinations. But while new spots are opening virtually every day, we thought we'd pay tribute to the dozen restaurants that form the delicious foundation of that newfound success...
Recommended Video
This Mojito Hot Toddy Is the Destroyer of Colds
SoBro
The 2012 opening of Deb Paquette's upscale dining project paved the way for SoBro (that's South of Broadway if you aren't from these parts) to morph into the latest dining destination in town. Paquette's cauliflower appetizer with truffled pea pesto, feta crema, and salted almonds is known far and wide, but don't discount her pork belly (w/ kimchi & ginger caramel) either. Entrees run the gamut of a Wagyu beef hot dog, Turkish-spiced cobia, a deviled egg sandwich, and a curry-like Thai chicken and quinoa. Also? They have Pastry Chef Megan Williams working solely on desserts, with her current frontrunner being a pretzel bar w/ dark chocolate ganache, chocolate caramel mousse, malted milk cream, and caramel sauce.
Hillsboro Village
This breezy café located smack in the middle of retail heaven Hillsboro Village is a favorite among Vanderbilt students, and with good reason: the specialty coffee drinks like the Local Latte or The Winnebago (brown sugar, Benton's bacon, Yazoo Hop Project, lemon, espresso, and milk) are some of the best in town, and the food likewise. Although the lines look long, thanks in part to its proximity to two college campuses, the space is large, spanning three connecting rooms, and the food arrives quickly (you'll order at the counter and a server will deliver your meal to the table when ready). The chef whips up one of the best, underrated burgers in town, and the daily specials are always on point. Local tip: skip breakfast at the over-hyped Pancake Pantry across the way and make a beeline for Fido instead.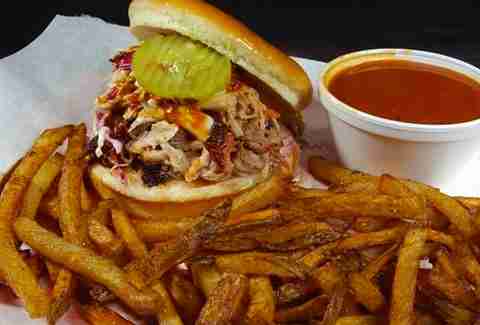 Belmont
There's no dearth of barbecue joints in town, but Martin's has taken the prize for the one most beloved by locals. The classic pulled pork BBQ sandwich drenched in the Sweet Dixie Sauce reigns supreme, but the brisket is mighty fine, as well. Not a fan of Southern-style barbecue? First of all, you need to take a long, hard look at your life, but second, there are plenty other items on the menu that might entice, like the Redneck Taco, turkey legs, or fried bologna sandwiches. Martin's original location is out in Nolensville and has expanded to include two additional locations in the 'burb of Mount Juliet and up in West Virginia.
Highway 100
Even if you've never been to Tennessee, you've still likely heard of this homegrown country diner out in the far reaches of West Nashville, on the fringe of town. Expect to leave 5lbs heavier, as the fare -- country ham, grits, okra, chicken biscuits, catfish, pork chops -- is mostly battered and fried and not for the light of heart, but it is worth it. Breakfast is the meal Loveless is most known for, but if you go for lunch or dinner, you can justify a pie tasting as the final course (we won't judge, though, should you order pie before noon). Visiting on a Saturday or Sunday? Prepare for a long wait; the best time to go is late morning during the week to avoid the weekend warriors, though you can always kill time in the general store.
SoBro
Charleston-based celeb chef Sean Brock elated many Nashvillians when he brought his highly acclaimed concept, Husk, to town in 2013. While the original location is dedicated to food from the sea, this newer outpost -- housed in an old, dressed-up Victorian home -- focuses more on dishes from the dirt (it's one of the rare places when ordering the vegetable platter is highly recommended), though the menu itself changes twice a day, so you never know what Southern-influenced dishes will make an appearance.
8th Avenue South
This classic meat-and-three has been keeping the masses fed for more than three decades. Catfish, chicken & dumplings, fried green tomatoes, cornbread -- Arnold's serves a little of everything, and it's all done cafeteria-style (and cheap at that, with meals topping out around $8). Don't miss the banana pudding, though the scratch-made chess or chocolate pies aren't shabby, either. Important note: the small, red restaurant is only open for lunch on weekdays so plan accordingly.
SoBro
Tom Morales was one of the city's original restaurateurs (he also owns the wildly successful movie and special events catering company TomKats), and his veteran experience showed when he opened his rustic chic Downtown eatery in Spring of 2012. A fusion of old recipes with modern touches, the menu combines down-home dishes like the Saffire Steak Biscuits with seafood delights like fried oysters, which are shucked in-house and served atop a mash of veggies. The bar -- kind of like a theater in the round plopped in the middle of the room -- only adds to the spot's charm, particularly as the generous happy hour runs from 3-6pm on weekdays.
East Nashville
There are few spots that will give you a more accurate feel for the creative, easy-going vibe that pulsates through this neighborhood (often called "the Williamsburg of Nashville") than the cozy nook that is The Silly Goose. With its reclaimed furniture, Mason jars for drinking, bandanas for napkins, and adorable hipster staff with their wacky hairdos and sailor-level tats, this eatery accurately represents this area of town in all aspects. But the food is what keeps the booths, bar, and communal tables packed: the couscous dishes are killer -- try out the Mexico City if you like your food a wee bit spicy or the King Kong if you're a seafood lover -- and there's not a bad sandwich on the menu.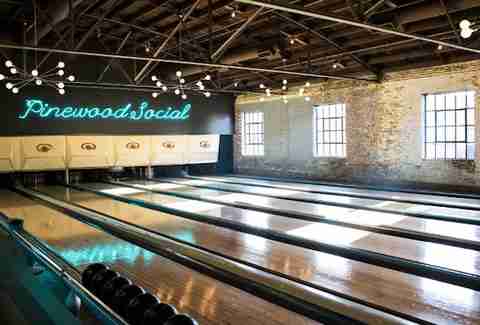 SoBro
The Goldberg brothers always stand at the forefront of the local F&B scene (think: The Patterson House, The Catbird Seat), and Pinewood Social is no exception. Never did a Nashville eatery debut to such national media buzz; after it opened in December 2013, you couldn't flip to the food section of a national magazine without seeing the dapper twosome grinning back at you. While the food is indeed tasty -- after all, Catbird Seat veteran Josh Habiger helms the kitchen -- people seem to gravitate to Pinewood for the social scene, because that's what happens when you put six bowling lanes in your resto, and because of the heavy-pour cocktails Bar Director Matt Tocco throws together. Keep an eye out for the outdoor space to debut late Summer, as eventually it will have a swimming pool, private cabanas, bocce ball, and other fun components. (Editor's note: The Catbird Seat would make our list, as well, if it weren't one of the hardest tables to book in town.)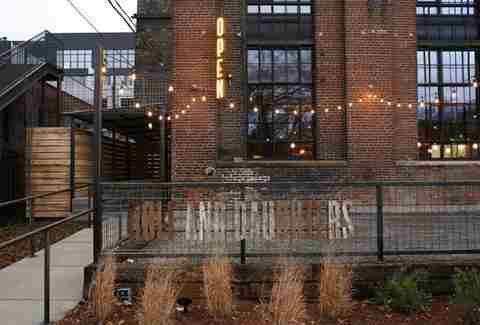 Germantown
Embracing the fertile farms surrounding Nashville, Rolf & Daughters harvests off the local community in the classic farm-to-table vein. Drawing from eclectic ingredients like "Happy Rich" (a broccoli variant) or guanciale (cured meat from pork jowl), the menu will have you asking your server "WTF?" in regards to most dishes. The Mediterranean-inspired menu uses what's available in the geographical area, so just take the staff's lucid recommendations and go with it, as Rolf serves nary a bad meal. The softly lit patio is absolutely glorious in warm months, but reservations are only taken for indoor seating so if you want to sit outside, get there early, or just make your base at the bar and watch the mustachioed mixologists in their element.
Downtown
In an era of buzzy joints helmed by celebrity chefs, the tried-and-true mainstays often get overlooked, which is why we feel the need to give a shout-out to Capitol Grille, housed in the historic Hermitage Hotel. It's a special occasion kind of place with fancy food and impeccable service. Be sure and have a drink in the Oak Bar, then take a peek in the men's bathroom (if you're a lady, we have to officially recommend you don't do that, but still, you totally should), which is pimped out in Art Deco décor and even includes a shoe shine stand.
Germantown
The James Beard-nominated City House has become a Nashville staple for its creative spin on Italian dishes. One permanent fixture, the belly ham pie w/ mozz, Grana Padano, oregano, and chilies, remains a perennial favorite, and the pasta dishes such as a cornbread gnocchi dressed up with squash, beans, garlic, and Pecorino hit the spot every time. The weekly Sunday Supper with its ever-changing lineup is always a hot event, but be sure to make reservations in advance. The acoustics are quite loud, so it's not the best spot for an intimate date, but City House is great for groups.
This list -- and all the rest -- look even sexier in our iPhone app. Get it now!