Nashville is the center of country music in the known world, so it's no surprise jealous outsiders sometimes refer to it as a "cow town." And that's fine, we'll own that. Especially if that cow is carved up, cooked under a broiler, and served sizzling hot on a platter in one of these fine restaurants. Here are the best spots to satiate your beef cravings in Nashville.
Recommended Video
Tuna Eyeball with Timothy DeLaGhetto and Ben Sinclair
The Gulch
If there was a sonnet about Nashville steaks, the couplet would go, "If you're dining on somebody's dime, make sure they take you to Kayne Prime." This pricy Gulch boutique steakhouse is a dead-sexy spot to enjoy the finest in buttery beef cooked over an infernal 1,200-degree flame and served in an ambiance of dark wood and leather furnishings while you ponder, "Who the hell are all these people who can afford this place?"
Belle Meade
This Belle Meade stalwart has been serving old-school prime rib and steak dishes to generations of Nashville's landed gentry for more than four decades. Be kind to the older gentleman who is standing next to you in line as he's ladling green goddess dressing onto his ice-cold salad plate. There's a decent chance he might own the bank that holds the mortgage on your house.
West End (& other locations)
Sure, it's a chain, but it's our chain, headquartered in Nashville and owned by the same group that owns your favorite casual chainlet, J. Alexander's. While they might have learned to cook their prime rib from their corporate cousins at J. Alex's, Stoney River's bone-in cowboy cut ribeye is almost a pound and a half of beautiful aged beef and worthy of signature dish status.
SoBro
Many folks abbreviate the name of this downtown favorite to "The Southern," but they are giving the short shrift to the excellent steaks that emerge from the busy kitchen. Their "South of Somewhere" T-Bone is a well-seasoned porterhouse cooked with an (un)healthy helping of black pepper butter and sides of garlic-whipped potatoes, sautéed brussels sprouts, and smoky bacon. Hey, if you wanted health food, go find a smoothie bowl or something.
Franklin
Cork & Cow features huge, expertly cooked hickory and oak wood-grilled cuts of beef and a curated list of fantastic accompanying wines. In fact, you should stop reading right now, make a reservation, and then come back and keep reading. Back? OK, we'll reward your persistence with the advice to consider an add-on of tempura lobster tail. Franklin's best just got even better.
SoBro
Located in Downtown's swanky Omni Hotel, Bob's brags, "Our steaks are prime, our portions big, and our drinks stiff." While hotel guests take up many of the tables in the lively dining room, discerning locals know that Bob's serves some of the biggest, baddest, and best steaks in town. They also serve a hot chicken dish because, y'know, it's the law now.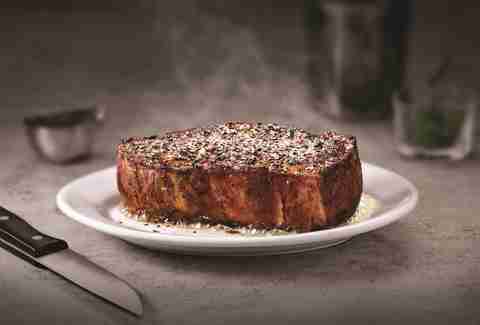 Midtown
Yeah, you probably don't say the name correctly, and you might not have even realized that Ruth's Chris moved into the basement of the Loews Vanderbilt on West End years ago. But if you've forgotten about how big a deal it was when the New Orleans-born restaurant group brought their brand of steaks served crackling on a sheen of sizzling butter on a 500° plate to Nashville, perhaps it's time to reacquaint yourself. Just don't wear a shirt that would disappoint you if it got ruined.
Donelson
Andrew Jackson, the presidential namesake of this restaurant in the Gaylord Opryland Resort, may have been known for being as tough as the trunk of a hickory tree, but their steaks are as tender as butter. As if dining in a recreated antebellum mansion wasn't dramatic enough, consider that the entire house is located under the towering roof of Gaylord's Delta pavilion. Steaks are served with the option to add sauces such as au poivre or Bearnaise or with topping preparations like Oscar with lump crab meat or foie gras butter.
Midtown
Thanks to its location in Nashville's version of the Flatiron building, where Division meets Broadway in Midtown, the effect of eating in the triangular dining room as cars stream by on both sides of the restaurant is like dinner in the luxurious dining car of a train. The art deco interior and cool jazz ambiance are the perfect backdrop for a creative menu designed for sharing with large format steaks served pre-sliced for easy distribution around the table. All you have to do is order up some small plates and sides for the entire table while you wait for the slab of meat to be expertly prepared.
Downtown
Once one of the most popular clubs in Printer's Alley, Skull's Rainbow Room was shuttered for 16 years until new management resurrected the classic burlesque club from mothballs. With the demise of Skull's, the concept of dinner and a show had pretty much disappeared in town -- along with slightly racy dance acts. Skull's new owners have revived the chophouse menu with featured dishes like the traditional prime rib, filet mignon, and a decidedly continental Boeuf en Croute ribeye dish wrapped with brie and puffed pastry.
West End (& other locations)
A favorite destination for hungry Vandy students during Parents Weekend when dad whips out the Amex, Fleming's is a smart choice the rest of the year as well. In addition to succulent steaks and fresh seafood, Fleming's differentiates themselves from other chain steakhouses by their extensive wine by the glass program. Add in a bar filled with top shelf spirits, man no longer has to live by meat alone. He can have booze, too.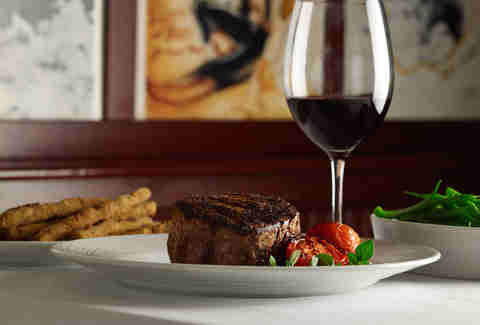 Downtown
Even if you're not enough of a local celeb to get your caricature drawn on the wall of this Downtown fixture, it doesn't matter. The servers at the Palm treat everyone like a celebrity. The same way that the menu rarely changes, the staff turnover is minimal, leading to a crew of real pros in a world where good help is damn hard to find. Heed their advice and get the surf & turf with a lobster that was older than you are when he stumbled into that trap.
Sign up here for our daily Nashville email and be the first to get all the food/drink/fun the Music City has to offer.
Chris Chamberlain has lived in Nashville his whole life except for four years in college in California where he learned to use chopsticks. He's a big fan of the red meat. Follow him: @CeeElCee