Mimi Kerbin
Mimi Kerbin
It's safe to say we know what a good meal looks like. So we've partnered with Coca-Cola to pair their timeless beverage with new twists on regional dishes -- a perfect chance to recognize the innovators who find the essence of beloved standards. The chefs below keep what everyone loves about local fare, while developing it into something new -- a true expression of how a society develops, and how it's reflected in the meals we enjoy. And with a bottle of Coca-Cola, it's a pairing of two American classics.
To see the complete map of luminary dishes, click here.
Considering that the American South offers up a bounty of produce unrivaled anywhere outside of California's Central Valley, it's no surprise that the region is also home to many of the country's most respected farm-to-table restaurants. After all, sometimes the farms are just down the street from the tables in the citified eateries. But even dedicated agri-centric chefs grow tired of cooking the same dishes over and over again and look for new ways to spice up the old saws while still focusing on fresh, seasonal ingredients. Here are the most innovative dishes popping up around the South and where to find them.
HOT CHICKEN BUNS
The nation-conquering fried chicken goes global
Otaku Ramen
Nashville, TN
It's no coincidence that some of the spiciest foods come from areas that swelter during the summers. Think Thai chilis, Mexican chilate de pollo, Indian mysore masala dosa, or Calabrian peppers. Nashville can get pretty steamy, and its indigenous hot chicken ranks among one of the most infernally punishing dishes served anywhere in the country. Chef/owner Sarah Gavigan of Otaku Ramen pays homage to her hometown while sharing her fascination with Japanese food culture through a mash-up she calls hot chicken buns. Gavigan explains, "The fact that Nashville and Tokyo are on the same latitude made it even more fun to make Japanese-style fried chicken 'hot' and serve it all in a steamed bao bun. It's simply the perfect vehicle for it all. I use Kewpie mayo for extra tang and dried smoked miso in our spice mix to add tons of umami." Even if you've sweated through the best hot chicken in the city, it seldom comes with so many flavors to play off of. All the elements combine to make a bracing appetizer, but nobody will judge you for ordering extra and making it the entree.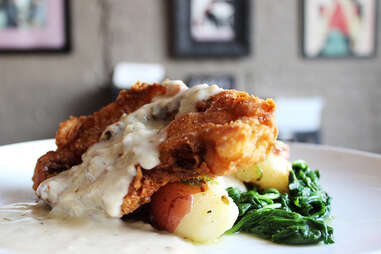 COUNTRY-FRIED CAULIFLOWER
A healthy twist for the country-fried crowd
South on Main
Little Rock, AR
As a traditional method of preparation for heavily battered and fried chicken or beef, "country-fried" usually has unhealthy connotations, but at South on Main in Little Rock, Chef Matt Bell wanted to take it in a new direction. The restaurant's landlord and neighbor is Oxford American magazine, which perhaps prompted Bell into his own nuanced take on Southern culture, via food. To that end, the chef has updated the dish for the vegetarian age by deep-frying cauliflower steaks and serving them with red potatoes, spinach, and onion gravy. "We love offering vegetarian items that go beyond pasta," Bell says. "I thought this would be a decadent dish to serve while keeping it vegetarian and uniquely Southern."
SOUTHERN BAKED OYSTERS
Virginia's signature mollusk parties with its other icons in one bite
Molasses
Halifax, VA
Oysters are so popular in Virginia they actually fought a war to defend them (against pirates!) from poaching. Whereas on land, nothing says Virginia like ham, and that means country ham. Pairing with its frequent buddy collard greens, the two pay a visit to the half-shell here for a surf and turf you can slurp in a tasting tour of the state. Hollandaise sauce gives it a surprisingly brunchy vibe, with the oyster's chewy, round resilience acting like an egg in an alternative Benedict. It's wondrously good, in that you'll wonder how this genius pairing hasn't been done before. But if you want to go even deeper with your Virginia oystering, Molasses also offers the shellfish hickory-grilled, so you can mix and match on your state pride.
'NANNER PUDDING
An appealing dessert turns on its head
Ellington's Mid Way Bar & Grill
Nashville, TN
When Chef Edgar Pendley was looking for a signature dessert to add to the opening menu at the new Ellington's Mid Way Bar & Grill in the hip new Fairlane Hotel in downtown Nashville, he found inspiration in the family tree. The haute cuisine 'Nanner Pudding recipe is an update of his Grandma Babs's showstopper. He blends a roasted banana custard with unsweetened 40% milk fat whipping cream for the base, which he tops with macerated bananas and candied 'Nilla wafers. ("Nabisco 'Nilla Wafers only," Pendley says, "Not that elf crap!") But where the traditional banana pudding resides under meringue that gently bakes in the oven, Pendley strengthens it in the flame. His toasted Italian meringue gets a much more intense sear, leading to a smokier caramelization that actually sits as the throne for the elegant update to a country classic. If that really was Grandma's recipe, she must have been mighty handy with the brulee torch.
A/M BREAKFAST
An iconic breakfast platter hones its ingredients to perfection
Andrew Michael Italian Kitchen
Memphis, TN
Chefs Andy Ticer and Michael Hudman grew up as high school friends in Memphis, each taking turns visiting the other's home on weekends to help out in the kitchen with the preparation of big traditional Italian post-church feasts. Now that they share the kitchen in several of their own restaurants in Memphis and New Orleans, the dynamic duo shows off the talents they learned from their forebears. Their original eatery, Andrew Michael Italian Kitchen, is still a favorite among Memphis gastronomes, in no small part because of their signature A/M breakfast dish. This updated version of bacon, eggs, and grits features smoky barbecued pork belly taking the bacon's place alongside a perfectly seasoned helping of creamy polenta topped with a 63° F egg, poached just softly enough to break open at a touch, releasing a silky yolk gravy over the entire dish. Oh, and it comes with a side of pork rinds because… Memphis.
HOT DAMN HOT BROWN
Southern specialties converge to refine a favorite sammie
freight house
Paducah, KY
Although the iconic Kentucky hot brown sandwich is basically a BLT covered in so much cheese sauce that it's completely hidden on the plate, at freight house, Chef Sara Bradley kicks it up another notch. "We take the classic Kentucky hot brown and make it hit the gym until it's bigger, badder, and sprinkled with a hint of damnation," Bradley says. "Our 'Hot Damn Hot Brown' starts with a thick slice of garlic toast from our local bakery, topped with a whole sweet tea-brined chicken breast that we butter poach, then douse it with tons of mornay sauce and a handful of Parmesan cheese." The entire concoction is tanned under a broiler and topped with a thick slice of locally-grown heirloom tomato and a huge helping of griddled pork belly. The chef brags, "It's the hot-damniest hot brown on either side of the Mississip'!"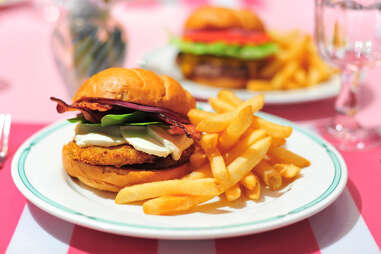 FRIED GREEN TOMATO SANDWICH
Elevated farm food for the golfer on the go
Draper's at The Greenbrier
White Sulfur Springs, WV
Ever since Fannie Flagg first put fried green tomatoes into the American vernacular with her 1987 novel, this traditional Southern side can now be found all over the country. But where most variations of the tart sandwich range from a simple grilled cheese melt to the equally simple BLT, Draper's creation elevates every single element of the latter -- befitting of a restaurant based out of an iconic Southern resort. Set upon a kaiser roll, the sandwich uses chevre goat cheese, applewood-smoked bacon with BBQ spices, and a fresh black pepper mayo. It's the perfect plate for the "ladies who lunch" set or as a quick refueling break for golfers looking to play another eighteen holes at one of the Greenbrier's championship courses after lunch. In fact, the quick and dirty version of Draper's FGT sammie that they serve during the PGA's annual Greenbrier Classic has quickly risen to iconic status among concessions at tour events, rivaled only by the Masters' famed pimento cheese.
NC SHRIMP A LA PLANCHA
A notoriously simple dish develops complexity and depth
Haymaker
Charlotte, NC
Shrimp and grits are so emblematic of the South it borders on hackneyed. But Chef William Dissen has earned a reputation for serving innovative fare made with fresh, seasonal ingredients at his Asheville restaurant, The Market Place. At his latest venture, Haymaker in downtown Charlotte, Dissen has taken the ubiquitous shrimp and grits to the next level of complexity and flavor. He sources heirloom grits from a North Carolina grain mill and cooks them with brown butter to lend rich, nutty flavors without sliding into greasiness. The addition of manchego cheese adds deep umami which is balanced by the acidic bite and heat of pickled chilis. Oh, and there are shrimp in the dish, too. They're also good.
GOOEY BUTTER CAKE
Hedonism expands to 70 flavors
Park Avenue Coffee
St. Louis, MO
Few dishes have more descriptive names than the St. Louis favorite, gooey butter cake. You can find a version of the dense, sweet, and fatty confection at just about any coffee shop in town, but you won't find more varieties of GBC than at Park View Coffee. Like The Cheesecake Factory of gooey butter cake, Park View offers more than 70 variations on the classic flour + butter + eggs + sugar recipe. Name a fruit or a flavor, and they probably have it on cake at Park View. Amaretto? Yep. Banana chocolate chip? You bet. Blackberry and blueberry? Yes and yes. Butter pecan? Roger that. Butterscotch? But of course, and we haven't even gotten to the "C's" yet. Sure, it's so sweet that it might make your teeth hurt, and it may not taste like it has been completely baked when you bite into the gooey mess, but damn, it sure goes well with a hot cuppa coffee.