In a city that has such an abundance of good burgers, you might not feel compelled to leave town in order to find a decent beefwich -- but as it turns out, there are many people in The Volunteer State who enjoy making damn-fine burgers almost as much as we do. Here are 10 you shouldn't miss...
Memphis
What you're getting: Dyer's Single with Cheese
So, as it turns out, when you deep-fry a hamburger, it tastes delicious (who knew?!). The folks at Dyer's take the beef, smash it paper-thin on a marble countertop, and drop it in a cast-iron skillet swimming in century-old beef tallow, before taking it out and adding cheese, mustard, and a pickle. That's right, there's no lettuce, and there's no tomato -- this is uncut, pure, mainlined hamburger, made the same way since 1912.
Clarksville
What you're getting: Double cheeseburger
A favorite of students at nearby Austin Peay State, Johnny's Big Burger serves up one of the best old-fashioned double cheeseburgers in Tennessee. No matter how big your appetite is walking in, ordering one with all the fixins (and yes -- that includes bacon) will knock it out in no time.
Murfreesboro
What you're getting: Cheeseburger
While a standard, fully loaded cheeseburger may not sound like an overly impressive or out-of-the-box dish, Buster's Place in Murfreesboro keeps its menu simple and its ingredients fresh -- and the result is a seriously great burger. But if you're feeling a mite adventurous, you can't go wrong with one of its jalapeño, chili, or cheddar cheeseburgers.
Gatlinburg
What you're getting: Thunder Road Burger
Pair a Thunder Road Burger with an ice-cold, in-house-brewed Black Bear Ale for a taste of East Tennessee bliss. The combination of freshly ground beef on a sesame seed bun topped with blue cheese, bacon, and sweet & spicy Thunder Road Sauce makes this burger the pride of the Smoky Mountains.
Knoxville
What you're getting: The Farmhouse
With nearly 20 distinct burgers to choose from, a visit to The Stock & Barrel in Knoxville can be overwhelming, but give The Farmhouse a try on your first go-around. You'll get locally sourced, pasture-fed beef and toppings like barrel-aged cheddar, fried egg, bacon, tomatoes, onion, and garlic aioli.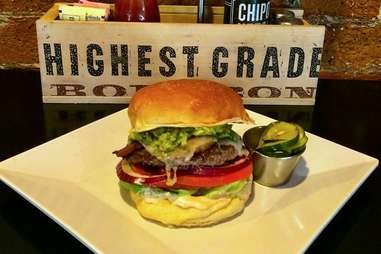 Chattanooga
What you're getting: Hamburguesa Mamacita
Urban Stack Burger Lounge is one of many new restaurants revitalizing Chattanooga's restaurant scene with offerings like the Hamburguesa Mamacita. Ever had a burger with crumbled chorizo, pickled red onion, avocado, pickled jalapeño, chipotle aioli, and Fiesta cheese? Probably not. This burger is innovative, original, and definitely one of the best in the city.
Nashville
What you're getting: The Seamus
Nashville has no shortage of excellent burgers, but it's tough to beat the ground beef perfection that is the Seamus at Gabby's Burgers & Fries. The single-patty little brother of the Gabby Burger, the Seamus features 5oz of grass-fed beef and a topping of American, Swiss, pepper jack, cheddar, or blue cheese.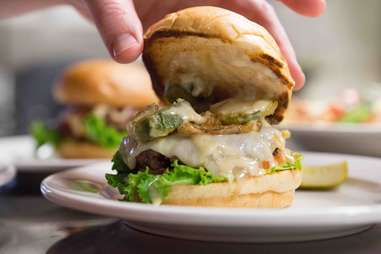 Franklin
What you're getting: The Bison Burger
Bison meat is leaner, less caloric, and more protein-packed than traditional beef. It also happens to make for a delicious burger. Burger Up's take on the Bison Burger includes white cheddar cheese, fried red onion and jalapeños, romaine lettuce, tomato, and honey Dijon aioli. And don't forget to add avocado.
Hendersonville
What you're getting: 1/2 Pound Stuffed Jumbo
The menu at Jumbo & Delicious lives up to its name: its stuffed burgers are tasty and unbelievably filling. First-timers should start with the 1/2 Pound Stuffed Jumbo and experience what happens when seasoned choice beef is stuffed with two slices of American cheese. Spoiler alert: it's delicious.
Johnson City
What you're getting: The Heater
Mid City Grill offers a handful of unique burgers, but its customizations put it over the top. The Heater, as its name implies, comes standard with an assortment of spicy condiments, including sriracha mayo and sautéed jalapeños. If that's not enough, you can turn up the heat with jalapeño bacon and heater peppers for a truly mouth-scorching experience.
Sign up here for our daily Nashville email and be the first to get all the food/drink/fun the Music City has to offer.