Fun fact! The ham sandwich is the most popular sandwich in the country. Another fun fact! The country apparently has, like, super-boring taste in sandwiches. Here are a dozen delicious Nashville sando spots that'll give you a lot more than mere ham and bread...
Downtown
What you're getting: RAE's Reuben
You can rarely go to Rae's at lunchtime without seeing a line practically out the door, and this is a good sign. Every single day of the work week features a Daily Special sandwich -- and while Tuesday's shrimp po' boy is a solid-gold classic, on a more daily basis you can never go wrong with the Reuben.
East Nashville
What you're getting: Mediterranean Veggie
A Matter of Taste Eatery is a relatively new resto in East Nashville, but it's gained lots of praise recently for its all-gluten-free menu, which actually tastes good. And the best of the bunch? Its Mediterranean Veggie sandwich.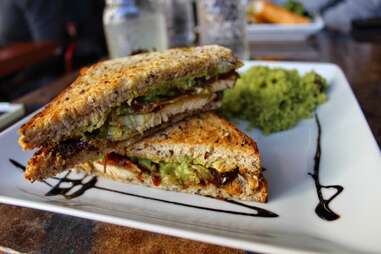 East Nashville
What you're getting: The Bird
Locals evangelize about the menu at The Silly Goose, and for good reason. Its lunch sandwiches in particular are uniformly delicious, however, the winner is the Bird, with chicken, bacon, avo, sun-dried toms, and goat cheese. We'd recommend that you get a side of couscous to go with it, just trust us on that.
Downtown
What you're getting: Roast beef sandwich
Etch's roast beef adds a hefty helping of asparagus spears, Parmesan horseradish sauce, and onions on deliciously toasted sourdough bread -- and like the rest of the menu, it tastes every bit as good as it sounds.
Nolensville Pike
What you're getting: Roast pork banh mi
This is one of those sandwich that people absolutely RAVE about, especially when it comes from the InterAsian Market Deli. This sandwich is a wonderful combination of salty and sweet roast pork and pâté (homemade, of course) with pickled carrots and papaya on freshly toasted French bread. And the kicker? It's less than $4.

South Nashville
What you're getting: The Cuban
There's really no argument that Back to Cuba's Cuban sandwich is the best in town. Not that there's a huge amount of competition, but still. A good sandwich is a good sandwich. The owner/chef is a Cuban native himself, so you know you're getting the real deal. Ham, roasted pork, and cheese are sandwiched between butter-soaked bread and cooked on a sandwich press for maximum deliciousness.
East Nashville
What you're getting: Turkey, Avocado, and Bacon
Mitchell's Deli has one of those environments that you really just want to hang out in, and it helps that it has some of the best sandwiches in Nashville and a great beer selection to boot. Of all the sandwiches on its menu, the Turkey, Avocado, and Bacon is by far the most popular, and for good reason.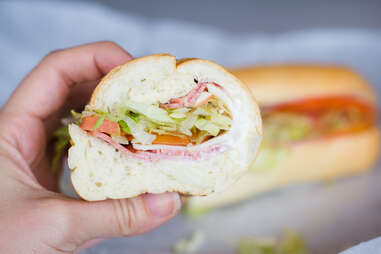 Midtown
What you're getting: The Italian
Known for its bright pink building on Broadway, the Sub Stop is another classic Nashville sandwich outfit. The environment is relaxed, staff is friendly, and they know how to make the hell out of an Italian sub.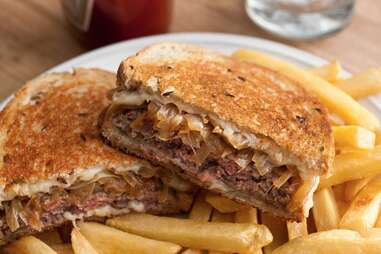 Various locations
What you're getting: Patty Melt
Many-time winner of the "Best Pun Name for a Nashville Sandwich Shop" award, Noshville's menu is so on point it's really rather hard to pick just one of its sandos to call a favorite -- but we're going with the Patty Melt, just for its sheer delicious consistency.
Downtown
What you're getting: The Club
Sometimes the best sandwiches are the ones so loaded with fillings that they make the bread all but irrelevant. The Capitol's Club is that sandwich. It's stacked Dagwood-style high, and you'll barely be able to fit all the turkey, bacon, cheese, lettuce, and tomato into your mouth.

Hillsboro Village
What you're getting: Frank Dileo sandwich
Savarino's has always been a local favorite, but after being featured on the Food Network, its food has been in crazy-high demand. This authentic Italian joint makes its bread fresh and while you might have to wait a bit for your food to come out, it's worth it. While you're there, be sure to pick up some of its homemade cannolis to eat after your sandwich, too.
West Nashville
What you're getting: The Signature French Dip
The Porter Road French Dip is its signature sandwich, so you expect it to be good. And it is. Oh, it is. Roast beef just absolutely does not get any better than at PRB, which locally sources all of its meat from within two hours of town, then stuffs it into a delicious, warm, doughy pocket of onion & cheese.
Sign up here for our daily Nashville email and be the first to get all the food/drink/fun the Music City has to offer.