Paid Content For
Chevrolet
10 of the Best Small Restaurants in America
Paid Content For
Chevrolet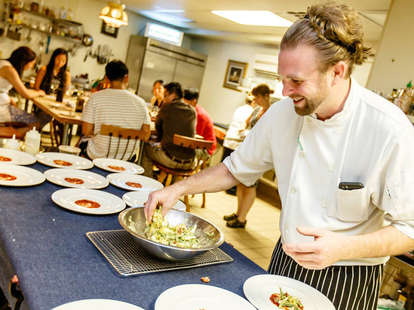 <a href="https://www.facebook.com/talulastable/photos/a.166667513369752.29251.166254350077735/789392677763896/?type=3&amp;theater" rel="nofollow" target="_blank">Talula's Table/Facebook</a>
<a href="https://www.facebook.com/talulastable/photos/a.166667513369752.29251.166254350077735/789392677763896/?type=3&amp;theater" rel="nofollow" target="_blank">Talula's Table/Facebook</a>
Art of the Table
Seattle, Washington
It takes 2.5-3 hours to complete the 7-10 courses at this farm-to-table restaurant. Though the menu changes daily, some recent offerings have included Skagit River Ranch pickled beef tongue, cauliflower risotto, and a roasted red pepper soup with fennel pollen whipped cream, chili oil, and chive. Surely you're thinking, this restaurant must have a philosophy? It does: "Put away your phone, eat your fish skin, slurp your broth, gnaw your bone, eat your micro-greens, lick your plate, eat your cheese rind, have a cocktail, try everything, use your fingers when applicable, hold onto your silverware, enjoy your time here." Yes, sir.
Beast
Portland, Oregon
One of Portland's finest restaurants maximizes its lack of square footage by offering seating at a giant communal table, where two sittings of a six-course prix fixe is offered Wednesday through Saturday (and one on Sunday). Patrons seem to like the company, so they can bond over the brilliance of dishes like wagyu onglet steak or Oregon Dungeness crab tagliarini. Have no plans to head out to the Pacific Northwest? Don't worry. Chef Naomi Pomeroy's cookbook, Oui: Lessons From an Award-Winning Self-Taught Chef, will be out this fall. And your dining room actually might be bigger.
Mr. Pollo
San Francisco, CA
Don't be surprised when there's a line of hungry diner-wannabes at this teeny 15-seat spot in San Francisco's Mission District. Once you're inside, the often hour-plus-long wait will be worth it, with a $30 four-course dinner including dishes like fig, fried pork belly with beans and Spanish radish, poached sole with beurre blanc, octopus confit with parsnip puree, lavender panna cotta, and, of course, their legendary arepas. Loyal locals are already angry that this story is about to make their dinner plans at this hole-in-the-wall gem that much harder to come by.
E by Jose Andres
Las Vegas, Nevada
Bigger seems to always be better in Vegas, but hidden behind Jaleo at the Cosmopolitan Hotel is Chef Andres' secret dining room, seating only eight people at a time, just twice a night. At $195 per person excluding wine pairings (which are upwards of $350) and reservations that must be made via email three months ahead of time, it's pretty labor intensive. But with 21 courses, all that effort and cash may be worth it. Especially if you won big earlier in the day.
Talula's Table
Philadelphia, PA
If you score a reservation exactly one year in advance (and can commit to bringing 10-12 people), you can sit at the "farm table" of one of Philly's most sought-after dining spots (a chef's table of 4-8 is by invite only). The eight-course tasting menu runs $108 plus a $25 corkage fee (yes, it's BYOB), and the menu changes every four to six weeks, to keep it as seasonally current as possible. Dishes include braised suckling lamb, watercress soup, and sea scallop crudo with a pickled pasteurized egg. And if you're traveling just for the meal, the restaurant website (talulastable) offers hotel options and a promise to help out with "foodie activities."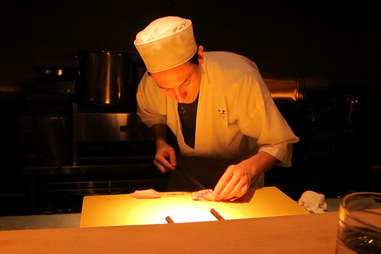 Naoe
Miami, Florida
Only eight people are lucky enough to sit at chef Kevin Cory's communal table restaurant, where visitors (over age 12 only) are told to allow 2-3 hours for a sushi and Japanese cuisine dinner and pay $200 plus 20% service charge for a chef's choice menu. Fans rave about dishes like "sea cucumber innards" but if that's not your bag, make sure to email over your dietary requests at least 10 days in advance of your meal. Of course, your dietary requests better not include allergies to gluten, shellfish, rice, mushroom, eggs, or sugar, because those won't be tolerated. Sorry, gluten-free junkies, this is not the spot for you.
Petit Trois
Los Angeles, CA
Foodie TV fans will recognize Chef Ludo Lefebvre from shows like Top Chef Masters and The Taste, but you don't need to be familiar with the Gallic chef to appreciate the dishes at this teeny bistro. With just 22 counter seats (but plenty of mirrors on the walls to make the space feel bigger), Petit Trois offers the kind of dishes (onion soup with Gruyere and Emmental cheese, buttery escargots, sole meunière) that are so authentic you might not need to splurge on that Air France flight after all.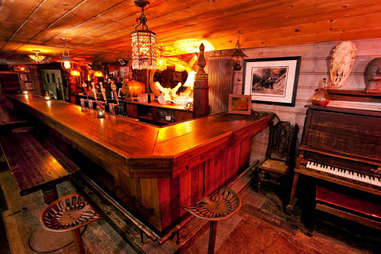 The Old Place
Cornell, California
Self-described as "the size of the shoebox," this family-run steakhouse and restaurant isn't trying to be something it's not. Guests have to go outside to use a restroom, tolerate a loud dining room, and find a seat at just five booths and three tables. The Old Place offers three seatings (5, 6:30, and 8:30), but because they don't have too much storage space or even a freezer, you can only eat what is as fresh as it gets. Offerings often include wild boar, elk, local lobster, and their version of mac & cheese made of egg noodles, goat cheese, parmesan, and mozzarella. Kraft it is not.
The Catbird Seat
Nashville, TN
There's not much in the way of a menu at this 32-seat restaurant, which is basically chef stations and a giant table overlooking their artistry. Most visitors think of the restaurant as theater as much as a dining experience. It's not cheap (Zagat lists the price at $158, though it can go up or down depending on wine pairings with the tasting menu) but innovative dishes include the likes of umami crusted beef with shiso and eggplant, risotto of sunflower seeds, fermented sun roots, duck egg chawanmushi style, and seaweed spaghetti.
Momofuku Ko
New York, NY
Just 23 seats are available at legendary chef David Chang's restaurant where a $175 dinner earns an eater about 18 small courses. Reservations are only accepted within 15 days, which feels like Chang's way to endear himself to actual New Yorkers and not tourists. As if he needed something other than Elysian Fields lamb coated in pickled onion blossoms, or the carrot and cardamom ice cream to lure locals in.