10 Things You Didn't Know About Ranch Dressing
Joshua Resnick/Shutterstock
Joshua Resnick/Shutterstock
America's most beloved dressing, a nutritionist's nightmare, and pizza aficionados' greatest contention. Who would have guessed that a little buttermilk, mayonnaise, and herbs would evolve into such a staple of the American diet and culinary landscape?
Here are some lesser known tidbits about ranch dressing to ponder the next time you smother your salad in a white blanket and claim you're maintaining your diet.
1. Ranch dressing was created in 1949 by a plumber-turned-cowboy
While working as a contract plumber in Alaska, Steve Henson started cooking for his coworkers and perfecting his buttermilk dressing recipe. Five years later he moved to California with his wife Gayle and bought a ranch. His famous buttermilk dressing soon became a staple at the dinner table of Hidden Valley Ranch and before long the Hensons started selling it to guests and local supermarkets. Over two decades later in 1972, the couple sold their name and recipe to Clorox for $8 million. Not bad for a little buttermilk, mayo, and herbs.

2. The average American consumes salad dressing 38 times a year
Fifteen of those 38 are served up with ranch dressing.Yes, you already knew ranch is popular, but did you know that it is by far the most consumed dressing in the United States? Italian dressing comes in a pathetic second and is eaten six out of 38 times. Not even close.
3. A pizzeria in Dallas charges $1,000 for a side of ranch
To dip or not to dip? It's an ongoing and often quite heated debate when it comes to pizza purity versus sinfully dunking your slice in ranch. However, despite the feud, owner of Cane Rosso Deep Ellum Pizzeria, Jay Jerrier, claims this price tag is all in good fun.
A friend of Jerrier's in the Pizza Hut innovations department jokingly gifted him a bottle of the creamy white stuff on the pizzeria's opening night. Soon after, Jerrier mounted the bottle on the wall with a sign "Side of Delicious Ranch Dressing $1,000.00." Serious or not, Cane Rosso adamantly doesn't offer Ranch to its diners. That same bottle still sits on the shelf, untouched and unopened for five years. (Editor's note: Immediately after this article was published the bottle was bought by a one Josh Tipton. The money went to an animal rescue center.)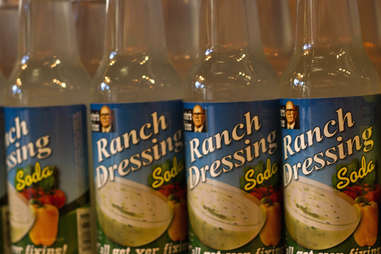 4. Ranch-flavored soda exists
So you've heard of ranch flavored potato chips, taco shells, and even sunflower seeds, but soda? That's right. Grossed out a bit? We are. Our friends over at Lester's Fixins Soda, who have brought us bacon and peanut butter & jelly flavored sodas, have really outdone themselves this time. While it mostly tastes like sugar soda, the smell is so repulsive (think rancid blue cheese) that it's hard to get past.

5. Today's ranch dressing bears little-to-no resemblance to the original
In the time of its creation, ranch had a few basic ingredients: buttermilk, mayonnaise, spices, and herbs. Wholesome and caloric, but sadly perishable. In the quest to perfect a shelf-stable alternative, Clorox and its competitors Kraft, Ken's, and Wish-Bone created soybean and canola oil based alternatives. Other fun ingredients include MSG, disodium inosinate and disodium guanylate, and calcium disodium EDTA among others. Yum, yum.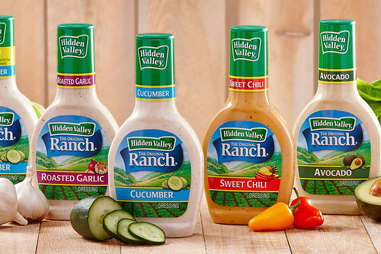 6. Since its creation, Hidden Valley Ranch has developed over 70 different varieties of ranch dressing
The most popular flavor remains The Original Ranch, followed by Avocado Ranch, Cucumber Ranch, and Bacon Ranch. Crazier flavors over the years include Pizza and Taco Flavored Ranch. And that's just Hidden Valley. Vegan Ranch is definitely also a thing.

7. Celebrities such as Melissa McCarthy and Courteney Cox have been known to chug it
Celebrities are people, too. And boy, do they love themselves some ranch. Chrissy Teigen in a salad post on Instagram wrote, "I love ranch." Olivia Wilde tweets about her beloved tater tots and ranch. Katy Perry insists on ranch in her backstage rider. And best of all, both McCarthy and Cox have slurped down bottles and large bowls of Hidden Valley Ranch and we enjoyed every minute of it.
8. Hidden Valley Ranch sold $440 million worth of salad dressing last year
While many competitors have since come up with their own versions of America's cherished dressing, Hidden Valley is still considered the country's favorite. Most of its sales are made in the South and Midwest areas of the United States, where ranch truly reigns as king. Good thing Hidden Valley didn't accidentally mis-bottle 8,600 cases of "Ranch" with Blue Cheese. Cough cough Wish-Bone…

9. Hidden Valley Ranch wasn't the first to the ranch game
While Steve Henson is the well-known father of the beloved ranch we enjoy today, he wasn't they first guy to throw together a buttermilk dressing. In Texas, recipes for buttermilk dressing date back as far as 1937. Since buttermilk was more readily accessible on the High Plains than vegetable based fats, cowboys enjoyed creamy buttermilk based dressings for a long time.

10. There is a restaurant in St. Louis that features ranch in every dish
twisted RAnCh in St. Louis, MO was founded on a deep, passionate, perhaps excessive, love for ranch dressing. Not only does the restaurant use ranch as a prominent component in every dish on the menu, but at any given time it has over 23 house-made varieties of the dressing. And yes, it even makes dessert with the stuff: bread pudding with the classic House Ranch.
Sign up here for our daily Thrillist email, and get your fix of the best in food/drink/fun.
Julianne Feder is a freelance writer for Thrillist. She won't allow ranch dressing within a mile of her pizza and will judge you if you do. Follow her @TheGastroNerd or watch her at Youtube.com/c/Juliannefeder to get more nerdy food insights and to make your own salad dressings.