A Sommelier Pairs Wine With 11 Popular Fast-Food Items
Wonder why your date isn't swooning after a big, super-romantic Saturday night at Checkers? Does your chivalrous offer to pick up the tab at Taco Bell go unappreciated?

Anyone over the age of 12 knows that even the most low-maintenance person doesn't feel very special when a date consists of processed meats and cholesterol, served in five minutes or less. But what if your dining options are limited, you live next to an interstate off-ramp, or you're planning one of those Netflix nights where you both are like, "We should totally get Burger King, stay in, and rewatch every episode of The Wire. How much fun would that be!?!?"

Pretty fun, gotta agree; Omar really is the man. But you know what would make that night in even better? Classing up that Whopper with the absolute perfect wine. And to help you do that, we asked wine savant Heath Porter, sommelier and owner of Uvaggio (one of Miami's best new restaurants of 2014!) in Coral Gables, FL, to pair wines with the most popular item from 11 fast-food joints. Here's what he came up with...
Burger King Whopper with Cheese
The wine: Figge Syrah 2006
Burger King burgers are flame-broiled, and cold-weather syrahs from Monterey are aged in charred barrels. So the wine's smokiness comes out when paired with the meat.
Taco Bell Nacho Cheese Doritos Locos Taco Supreme
The wine: Garciarevalo Casamaro Verdejo 2014
Oddly, there's not a lot of flavor to the taco considering its shell is made from Doritos, so basically, I'm just trying to bitch slap the whole meal and wake it up with my wine selection. By pairing it with a super-high-energy wine -- with a ton of acid and vibrant passion fruit and grapefruit flavors -- I'm hoping to make this taco taste like something.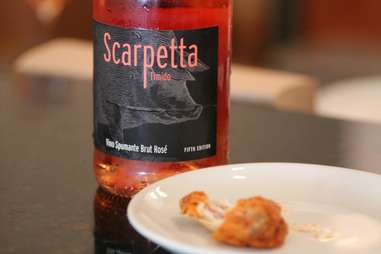 KFC hot wings
The wine: Scarpetta Timido Spumante Brut Rose NV
Here, the chicken's flavor is overpowered a bit by the spice and vinegar, neither of which lend themselves especially well to wine. I'm going with a traditional brut rose from northern Italy. It works well with the spice, and the bubbles wake up the palate and really liven up the wings.
Subway Cold Cut Combo (w/ Swiss cheese, mustard, mayo, lettuce tomato, and onion)
The wine: Santo Stefano Barbera D'Alba 2012
With a sandwich like this, we want to look at the individual ingredients and try to give them a boost. I'm going with a Piedmontese everyday drinking wine, which should help draw out the flavor of the Italian cold cuts, bread, and tomato.
Chipotle barbacoa burrito (w/ cheese, beans, rice, hot sauce, and tomatoes)
The wine: Joan d'Anguera Altaroses Montsant 2013
Everybody thinks you need to go full bodied with barbacoa, but it's actually a rather lean meat. So you don't need some blockbuster, huge-bodied wine. This is an indigenous grape with a natural earthy flavor, and the medium-bodied wine is oaky, high in acid, and has enough tannin to really dry out and cut through the richness of that barbacoa. That tomato really pops well with it too.
Popeye's three-piece fried chicken
The wine: Catherine et Pierre Breton Vouvray La Dilettante Sec NV
Great food and great wine should really lift each other up. Here, you have chicken that could use a little boost, and a good-natured wine that sorta says, "Hey, you're better than this." I like the spice, I like the acidity, I like the texture of the skin, which you didn't taste before we paired them. This would be a perfect picnic combo on hot summer afternoon.
Arby's Beef 'n Cheddar
The wine: La Quercia Montepulciano D'Abruzzo 2013
There is more sugar in the bread of this Arby's sandwich than there is in a Coca-Cola. Montepulciano is like big boy Kool-Aid, really juicy and easy-drinking, so it works hand-in-hand with the sugar. Also, the sweetness of the wine just makes that burnt onion on the top of the bun explode.
Checkers Famous Seasoned Fries
The wine: J.L. Chave Cotes du Rhone Mon Coeur 2012
Because the fries are cooked in oil or lard, you need a wine with a little meatiness to stand up. I get tons of rosemary and black pepper from this medium-bodied grenache-syrah blend; it goes well with the seasoning on the fries and helps draw out the smokiness at the end of the finish.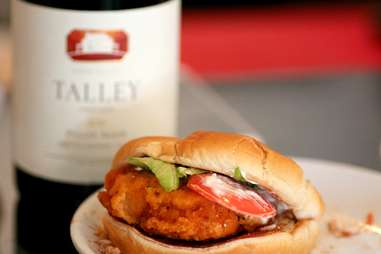 Wendy's Spicy Chicken Sandwich
The wine: Talley Pinot Noir 2012
I noticed a long time ago that really fruity, juicy pinots from the California Central Coast offset spice really well. And this chicken's got plenty of extra kick.
Pizza Hut Stuffed Crust Pepperoni Pizza
The wine: Arianna Occhipinti Sicilia SP68 Nero d'Avola e Frappato 2013
Acidity is the key to everything when you're pairing wine with greasier foods, especially one like this where you've got this abundance of cheese and pepperoni. This wine brings a high level of fresh acidity and a lot of bright red fruit to complement the tomato sauce.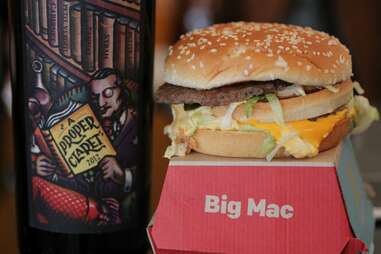 McDonald's Big Mac
The wine: Bonny Doon "A Proper Claret" 2012
When you think about burgers, you think huge and fatty. But this Mickey D's classic isn't your usual 1lb patty with meaty juiciness, so you don't need a big, monstrous wine to pair with it. A Proper Claret is juicy, easy, and friendly -- it doesn't see a ton of oak or have a lot of tannin to it. To me, it kinda screams Big Mac.