The taco is more than ground beef and cheese inside a tortilla. It's a vehicle for endless possibility, and to prove it, we enlisted 11 New York restaurants to each come up with their most mind-bending iteration. The results -- which also pull in close-cousins the chimichanga & the quesadilla -- ripped a hole in the space-taco continuum, allowing tacos from other dimensions to spring forth into ours. Read on, and tremble before the majesty of these delicious mutants.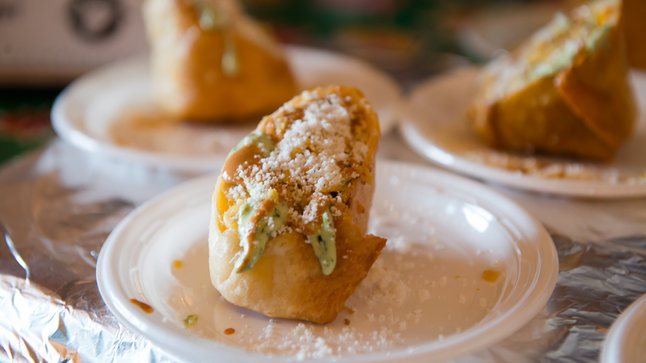 Los Perros Locos' El Perro MEXIMUS Whatever asylum James van Girish and Alex Mitow escaped from clearly failed to electroshock away crazy ideas like A DEEP-FRIED TACO STUFFED WITH AN ALL-BEEF HOT DOG. Add tres quesos (melted cheddar & mozz, queso cotija), apple chipotle coleslaw, grilled corn kernels, Sriracha pico de gallo, crumbled chorizo, crushed Fritos, salsa verde, and their patented ChipZana salsa, and... you're still eating a DEEP-FRIED HOT DOG TACO.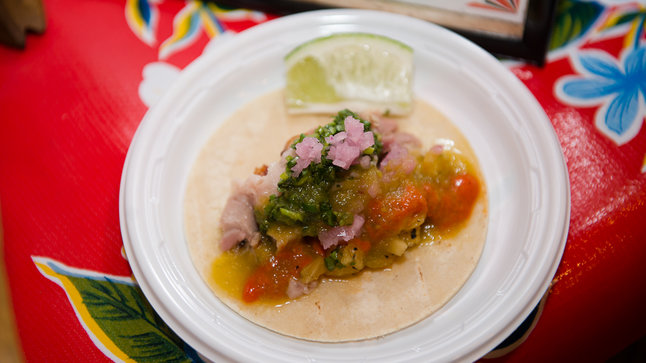 Macondo's Tacos de Cochinillo Asado en Salsa Verde To pull off Chef Pep Coromiga's creation, what you want to do is marinate the cochinillo six hours in pimenton, achiote, sea salt, orange, lime & herbs...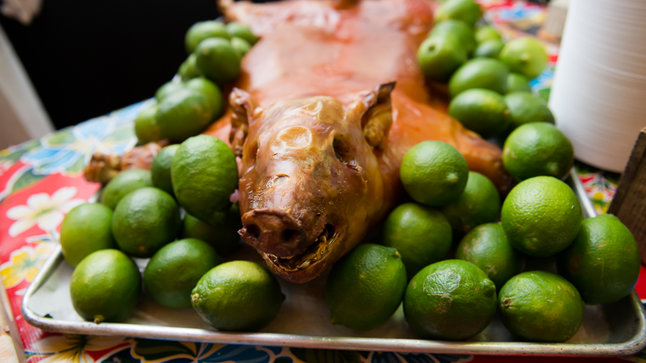 ... though first you probably want to figure out what a cochinillo is. Ola, suckling pig. Learn how to make them here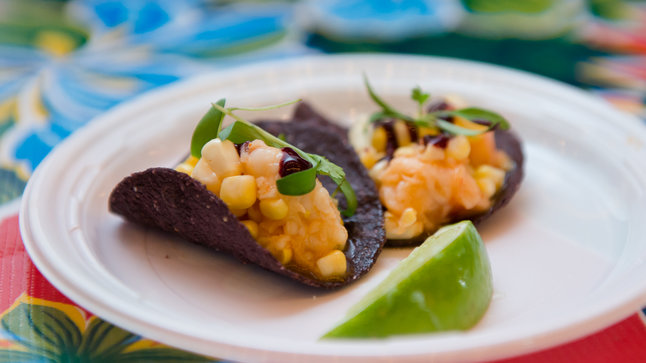 The Dalloway's Spicy Shrimp, Corn and Blueberry Tacos Former America's Next Top Model contestant Kim Stolz and The Real L Word's Amanda Leigh Dunn call their restaurant/bar "lesbian-implied", but Chef Vanessa Miller's use of blueberry BBQ sauce is deliciously explicit. Seriously, even Phil Jackson would know that he was eating tasty blueberry BBQ sauce. Learn how to make them here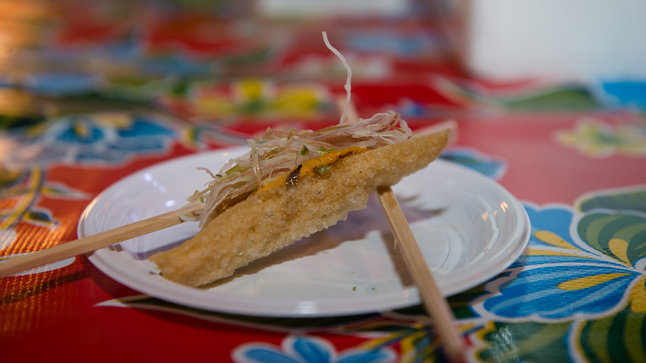 NY Sushi Ko's Uni Taco John Daly's restaurant doesn't open 'til June and he's already pushing beyond his opening menu, using a fried wonton shell to house the sea urchin he loves serving omakase customers, because upon seeing their reaction he knows exactly what their next 10 bites should be. (Note: No John Daly jokes were made during the writing of this caption.) This dude spent eternity in Japan studying sushi -- and two years in Hawaii fishing -- so you know this recipe's legit
Best Pizza's Pizzataco Belle Grande Of course Frank Pinello used pizza dough for his tortilla -- what kind of a lame-ass pizzataco would this be if he didn't? Also pictured: crumbled meatball, spicy tomato salsa, queso fresco, and parsley. Not pictured: the actor Brian Dennehy.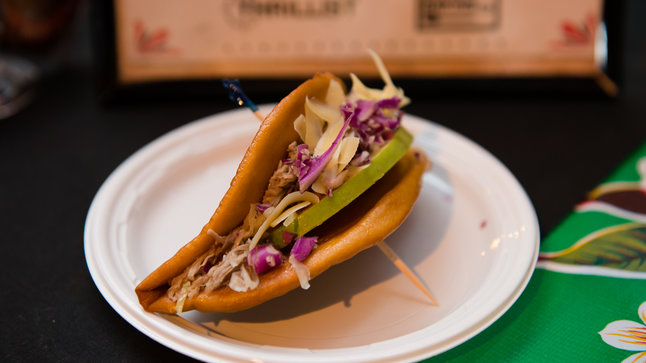 Bronx Baking Co's Pork & Pretzel Tacos When the Germans invented the brezel, their very first thought was "We hope some lovely ladies from the borough that spawned the 1982 Italian cult classic 1990: The Bronx Warriors will invent a Mexican-themed variation filled with shredded pork shoulder, sauerkraut, bacon, and... click here to find out what else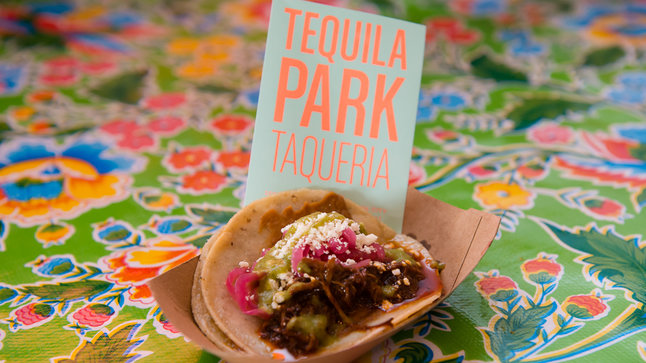 Tequila Park's Lamb Belly Pibil Tacos Instead of mint jelly, Steve Peterson gives this guy mint-tomatillo salsa. Also, when trying these yourself, it helps to know that a plancha is not a beach. This recipe won the day at our contest. Learn to make it here (warning: it's damn complicated), and check the sweet belt we gave Exec Sous Chef German Villatoro.
Pampano's Chorizo-Potato Tacos with Tequila Escabeche These sound less nuts than hot dog tacos, but Lucero Martinez Obregon's prep is mad-nuanced -- unless you're constantly doing things like blanching chayote for 10 seconds before immediately chilling it in ice water, and then doing the same for the carrots. This recipe is as hardcore as that URL you failed to purge from your search history -- learn it here
JoeDoe's Gringos Tacos Sure, Chef Joe Dobias won $10 grand on Chopped, but WHAT WILL HE DO WITH FLOUR TORTILLAS? Spoiler Alert: he will stuff them with braised duck, pickled radish, and jalapeño mayo. Learn how to make them here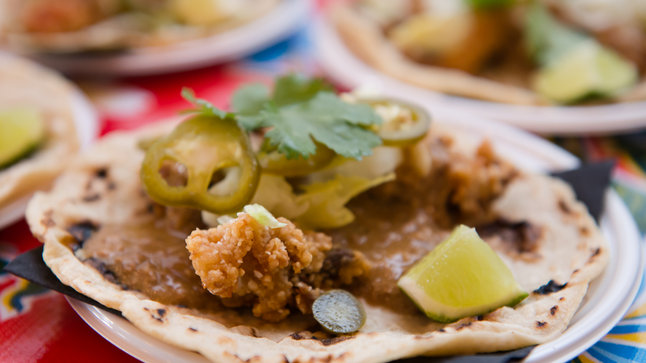 Exchange Alley's Dirty Pigeon Tacos When asked if he'd be using any vegetables, South Brooklyn native and longtime New Orleans "lost boy" Chef Paul Gerard's first reaction was, "What am I, an aristocrat?" So what is in there? Farm-raised, roasted & deep-fried squab smothered in "dirty gravy": chicken liver, pork and beef in a roux-based reinforced chicken gravy -- a.k.a. "all the best parts of dirty rice, without the rice". Learn how to make them here
Cantina Royal's Tia Meche Tacos Is it the signature orange mole that gives these pork beauties their character, or the 303 Chechare salsa? Well, let's hope it's the Chechare and its jalapeno, cuaresmeño serrano, arbol & vinegar kick, because you can order it by emailing them here. Photographs taken for Thrillist by Kimberly Mufferi