11 Things You Didn't Know About Arby's
Sure, there are delis all across America that make roast beef sandwiches piled a mile high with fresh sirloin. But do they serve curly fries? Do they have delicious milkshakes? Are they conveniently located within a hundred yards of the interstate off-ramp? Do they boast a sign that looks like a giant cowboy hat? Ummm... definitely not.
But you know which restaurant does/is all of those things? Of course you do, you read the headline: Arby's, America's tastiest roast beef joint since 1964. And since you love Arby's as much as we do, here are 11 little-known facts about your favorite restaurant chain.
1. There's nobody named "Arby"
Think about it, have you ever actually MET anybody named Arby? If you did, chances are his parents REALLY liked curly fires because the actual restaurant is named after two brothers, Leroy and Forrest Raffell -- aka, the Raffell Brothers. They just took the "RB" and ran with it.
2. The world's largest curly fry was 38 inches long
The just-over-3ft fry was found by Kim Medford in February 2013 at an Arby's in Waynesville, NC.
3. Vermont and Rhode Island are the only states without an Arby's
One strip club and no Arby's? How on earth was Vermont not last on this list?
4. Arby's was the first fast-food chain to ban smoking in all its restaurants
You never really think of fast food joints as being pioneers in public health, but prior to 1994, customers frequently got their massive dose of sodium and cholesterol with a heaping side of second-hand smoke. Arby's changed that and banned smoking before everybody else.
5. Ohio has the most Arby's locations in America
268 of 'em, to be exact. Which makes sense, since Arby's was founded in Boardman, Ohio. While the original location still stands today, the company is now based in Sandy Springs, Georgia.
6. The busiest Arby's in America is in Ephrata, PA
And while you probably already knew that, you might not have known that on an average day, this Arby's near Harrisburg cranks out 913 entrées, 103 orders of curly fries, 300 mozzarella sticks, 94 shakes, and 30 turnovers.
7. Tom Arnold was the voice of the Oven Mitt
Though debate continues to rage over whether this 2003 ad campaign or Beethoven's Christmas Adventure stand as his greatest acting achievement. We only hope that the career of Ving Rhames -- who now voices Arby's "We Have the Meat" campaign -- doesn't meet the same fate.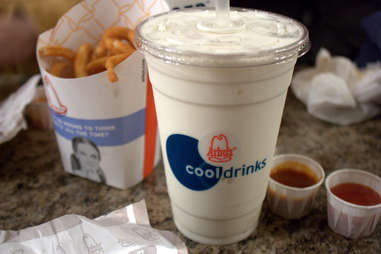 8. Arby's sells enough shakes each month to fill an Olympic-size swimming pool
Tom Arnold was actually promised a dip in that pool as part of his contract for voicing the Oven Mitt.
9. Jon Stewart made fun of Arby's 29 times in the last two years
With such classic quips as "Arby's: Why not challenge your stomach to a fight?" and "It's like shock and awe for your bowels." Arby's, however, had a sense of humor about it and ran a couple of ads set to the Golden Girls' theme song, Thank you for Being a Friend, during his next-to-last show.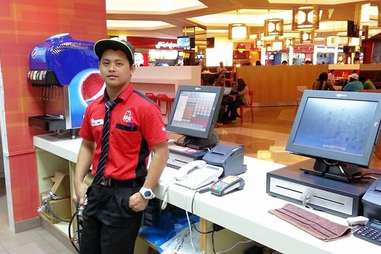 10. There are two Arby's restaurants in Qatar
Which means when Qatar was awarded the World Cup, they had more Arby's than world-class soccer stadiums.
11. Hank Aaron was once an Arby's franchisee
755 career home runs AND he owned an Arby's??? All The Clear in the world won't get you that level of greatness, Barry*.
Sign up here for our daily Thrillist email, and get your fix of the best in food/drink/fun.