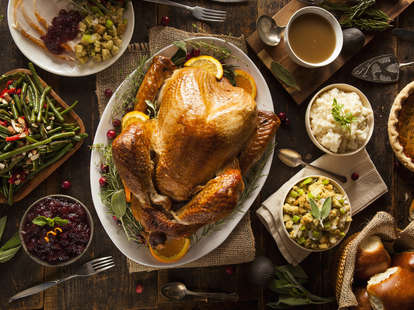 We all love our Thanksgiving foods (and the ice cream that tastes like it), but do we know where they came from and which Canadian military operas name-check them? Luckily, the Internet does, which is why we compiled this list of Turkey Day dinner trivia for your entertainment. Read 'em and then memorize 'em in case you run out of conversation topics with your weird third cousin.
1. Turkey wasn't always the star of Thanksgiving
Based on the account by Plymouth Colony governor William Bradford, there was probably turkey at the first Thanksgiving, but it wouldn't have been the star attraction it is today. The centerpiece of the meal was more likely goose or duck.
2. The rest of the inaugural Turkey Day meal was also different
Some staples missing from that first Thanksgiving? Mashed potatoes, sweet potatoes, cranberry sauce, and pumpkin pie.
3. The Butterball Turkey-Talk Line® was launched in 1981
Butterball, the #1 turkey processor in America, started the service for shoppers to get answers for all their cooking/prepping concerns. That first year, they handled over 10,000 calls. Nowadays, the line gets more than 100,000 confused callers during the Thanksgiving season. AND last year marks the first time they're employing male operators. Finally, men have shattered the glass ceiling!
4. Minnesota is the leading turkey-producing state in America
Last year, the state contributed 44,352,000 birds to the nation's supply. Here's Governor Mark Dayton sending off one of Minny's finest, Ted the turkey, to the White House in '11.
The New Bremen Giant Pumpkin Growers made the massive dessert in 2010. But it's only officially recognized by the World Record Academy. The Guinness honor goes to a 12ft pie... also made by the New Bremen Giant Pumpkin Growers.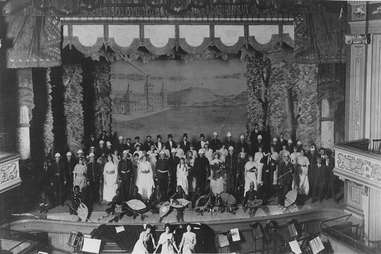 6. "Farewell, O Fragrant Pumpkin Pie" is an actual opera song
After performing the song, the hero of the crucial Canadian opera Leo, the Royal Cadet swears he loves his girlfriend Nell "more than anything -- but pie", because Leo is very bad at relationships.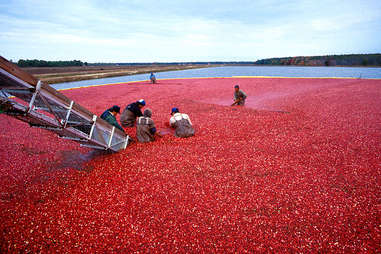 7. The first US cranberry bog was created in the mid-1800s
John "Peg Leg" Webb noticed that the cranberries on his swampy land in New Jersey tended to grow bigger when sand washed up and settled over their vines, so he began placing vines in sandy holes all over. (He punched the holes with his wooden leg, as he was awesome.) Webb and his wife got rich from all the cranberries, and everyone started copping his style. Well, minus the wooden leg punching part.
8. The famous Ocean Spray cranberry farmers are played by actors Henry Strozier and Justin Hagan
Hagan has popped up on shows like Fringe, while Strozier is a former voice of The Discovery Channel.
9. There's some dispute over who created the turducken
Louisiana chef Paul Prudhomme claims to have introduced the chicken-inside-a-duck-inside-a-turkey in the '80s and even nabbed the trademark, but Hebert's Specialty Meats insists they stuffed those birds first in '85. Either way, those guys have nothing on the whole stuffed camel.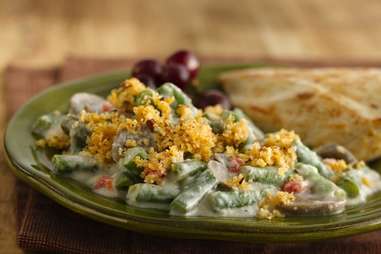 10. Campbell's corporate kitchen created the green bean casserole
It was created by kitchen supervisor Dorcas Reilly and took off when it appeared in an Associated Press Thanksgiving feature in 1955. A few years ago, Campbell's estimated it sold $20mil worth of cream of mushroom soup annually just to people making Turkey Day dinners.
11. There's a whole Thanksgiving candle collection
Thanks to the Yankee Candle Company's 2013 roll-out, your room can smell like waxy/burnt turkey & stuffing, sweet potato pie, or cranberry sauce all year round. Give thanks, indeed!
Kristin Hunt is a Food/Drink staff writer for Thrillist, and might call the Turkey-Talk Line on Thursday, just to chat. Follow her at @kristin_hunt.