There are few things more satisfying than that first bite of ice cream -- especially when that ice cream is wedged between two warm cookies. But just taking a chomp out of Baskin-Robbins new Warm Cookie Ice Cream Sandwich like it's any ol' sammie wouldn't quite do it justice. Why not fully indulge in the dessert experience and enjoy it like a three course meal? Or show some incredible self-restraint and dissect it, piece by piece, to fully enjoy each sprinkle, cookie crumble, and slurp of ice cream? Any way you slice, dice (break/chop/stack) it, your taste buds are about to thank you.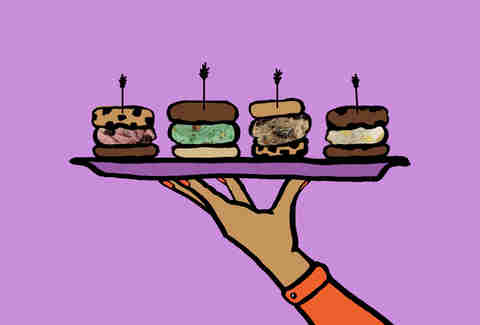 Hors d'oeuvre
If you're truly a good person, you'll share with friends in bite-sized pieces on toothpicks. Then everyone will agree it's not nearly enough, and you go back to Baskin-Robbins to get a sandwich apiece.
Stacked
You can actually order a double Warm Cookie Ice Cream Sandwich. For real. Take one ice cream sandwich, put a second ice cream sandwich on top, then yell, "Amirite!?"
Dismantled
Take that sandwich and split it into its constituent parts. Cookie. Ice-cream. Cookie. Boom: a three-course meal.
In a Sundae
If Warm Cookie Ice Cream Sandwiches aren't enough, ask for a bowl and some toppings to create your Warm Cookie Ice Cream Sandwich Sundae. It's a thing.
Thrifty
Consume entire ice cream sandwich as normal, leaving one morsel at the edge of your lip, in your beard, or on a strand of hair. When someone mocks you and asks if you're saving it for later, balk at their ridiculous question. Then, savor that last bit (later).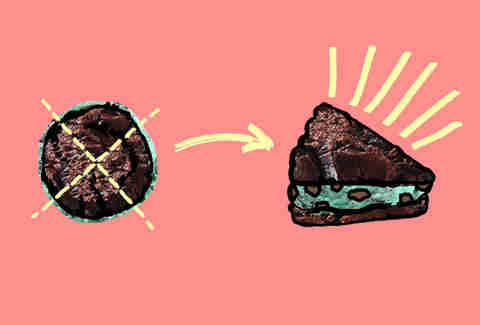 The Pie
Divide sandwich into eight triangles, and eat like a slice. When you eat the whole thing in one sitting, you'll have only a fraction of the guilt you experience when you polish off a whole pie by yourself.
Goddess
Sprawl out onto chaise lounge. Summon cherub (or, someone who owes you a serious favor).  Cherub will then feed you bite-sized pieces of the ice cream sandwich as all your worries fade into nothingness.
Two-For-One
Can't decide on an ice cream flavor? Or a cookie combination? Create two separate sandwiches. Place one in each fist. Chomp one, then alternate to the next. Indecision has never been so sweet.
Date Night
Hold ice cream sandwich between you and your date. Each start at one end and coyly bite the sandwich. Pray you accidentally kiss as you finish off this chilly treat.
The Twist
Twist off one of the cookies. Lick the inside of the ice cream until it's nearly gone. Then eat remaining cookies. Now, you've had two desserts in one sitting.
Fine Dining
Place napkin on lap. Pick up knife and fork, and cut off a piece of the sandwich. Place knife and fork down as you chew. If you're one of those "sweet" and "supportive" types who eat pizza with a knife and fork, this is for you.