Things You Didn't Know About Big League Chew
Chocolate cigars and bubble gum that mimicked chewing tobacco were some of the best and more innocent ways we got to pretend to be cool as kids (I'm kidding, stay off drugs, guys!). So here to help you reminisce about your glorious preteen years are 12 lesser-known facts about the baseball-inspired chewing gum, Big League Chew. Dip into a pack and soak up the nostalgia.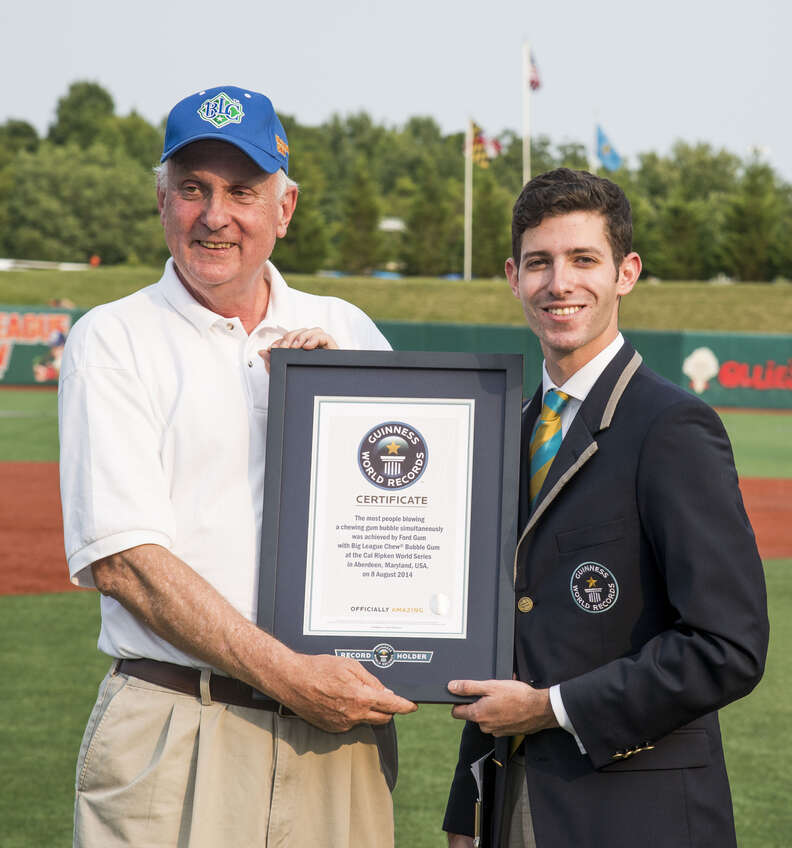 1. It's partially responsible for breaking a Guinness World Record
Back in 2014, 721 people came together at the Cal Ripken Babe Ruth League World Series and blew some very coordinated bubbles to win the world record for Most People Blowing Bubble Gum Simultaneously. The previous title achieved with 544 people was set June 6th, 2013 by the Lester B. Pearson School in Aurora, Ontario, Canada. Yes, we beat the Canadians!
2. A real-life ball player invented the stuff
Inspired by the game he loved and the players around him, Portland Mavericks ball player Rob Nelson first came up with the idea for Big League Chew in the summer of 1977. Almost 40 years later, Nelson continues to stand behind his creation and maintains full rights and creative control over the product. And you better bet that come Halloween, his door is the best one to knock on.

3. It wasn't always pink!
Nelson first developed root beer- and maple extract-flavored Big League Chew so that it would be brown and truly mimic its inspiration, chewing tobacco. "I really wanted it to be the fun alternative to chewing tobacco," Nelson shared with us. Wrigley loved his pitch but told him to stick to regular pink bubblegum because it didn't want to be seen as condoning tobacco.
4. It's Bubble Tape's cousin
Ron Ream, the chemist and VP of marketing and corporate development for Amurol Products, a division of Wrigley's, between 1979-2004, invented the technology behind both bubble gums. Today he is the owner of MyBigLeagueChew.com, a site where you can go and custom order your very own pack of Big League Chew with your name on it. Ream also recently produced a military-geared gum that is aimed to pack in enough caffeine to keep our troops going. Now that's some powerful gum!

5. There have been some experimental flavors over the years
Like Cherry Sparks, which was cherry with crushed Life Savers. But for the most part, Big League Chew sticks to the flavors it loves and knows best: Outta' Here Original (your regular bubble gum flavor and the company's most popular flavor) and grape, which owner Rob Nelson says tastes like cabernet franc. At the moment it also features watermelon and sour apple.

6. Utah loves shredded bubble gum
It's more popular there than any other state. Why? Your guess is as good as ours. Apparently there are a handful of minor-league baseball teams there. Mormons love chewing gum in a pouch?
7. The company crushed in its first year
It was 1980, it did $18 million in sales. The following year in 1981, the Wrigley family, the original manufacturers of Big League Chew, sold the Cubs for $22 million. Rob Nelson remembers calling his dad and saying, "Dad! The Wrigley family just replaced the Chicago Cubs with Big League Chew!" To date Big League Chew has sold over 800 million packages worldwide and counting.

8. The first batch was made in a 15-year-old's kitchen
Todd Field first attended Nelson's baseball camp in Portland and soon after became the Mavericks' batboy. Nelson didn't have a kitchen of his own, so he employed Field's kitchen to test out his concept. Nelson also happened to be dating Field's older sister at the time. Todd Field has since gone on to become an actor and three-time Academy Award-nominated filmmaker. Chew on that.

9. It's homegrown
After a detour to Mexico thanks to Wrigley's, Big League Chew is once again made in the USA. As of 2010, Ford Gum & Machine Co. proudly shreds and packs Big League Chew in Akron, New York. It uses the same machines that were used to produce the gum over 35 years ago, so each chew is just like the first.
10. A "Shaq"-sized pouch was created for, um... Shaq
It was YUUUUGGEE. This jumbo-sized pouch at 24" x 18" was custom made for Shaquille O'Neal and was over 15 times the size of a regular Big League Chew pouch. Somehow, though, when he holds the pouch up, it seems like just the right fit.
11. Action Bronson is a big fan
Rapper/chef Bronson created the song last year for his web show, "F**k, That's Delicious," where he gets to travel and dabble a bit in the kitchen. Some of the featured lyrics include, "I got the whole pack of Big League Chew by the cheekbone..." Listen to it right now!

12. It's in the Baseball Hall of Fame
Informally inducted in November of this past year as part of the Whole New Ballgame exhibit, Big League Chew proudly sits on display, featured under the baseball advertising section. The new exhibit covers baseball history from the 1970s onwards. Be sure to check it out during your next trip to Cooperstown.
Sign up here for our daily Thrillist email, and get your fix of the best in food/drink/fun.
Julianne Feder is a freelance writer for Thrillist. She was an avid baseball player and Big League Chew chewer as a kid. Follow her @TheGastroNerd or watch her at YouTube.com/c/JulianneFeder to get more nerdy food insights and to learn more fun facts about your favorite foods.