13 Ways to Eat Kale That Don't Totally Suck
Kale may be totally pervasive, trendy, and even completely overrated, but this leafy superfood is undeniably a crowd-pleaser. But considering it is a vegetable and that might make some people skittish, here are 13 ways to eat the stuff that don't suck, some of which include a little bacon because that's just good form.
The star of this sandwich is definitely the slow-cooked brisket, but the kale slaw with jalapeño adds the right amount of heat and crunch to the rich meat and cheese. Oh, and the bread gets dunked in egg before it's fried. Recipe here.

The best way to eat kale is to mix it with a mound of Gruyere and hide it in potato skins. Recipe is here!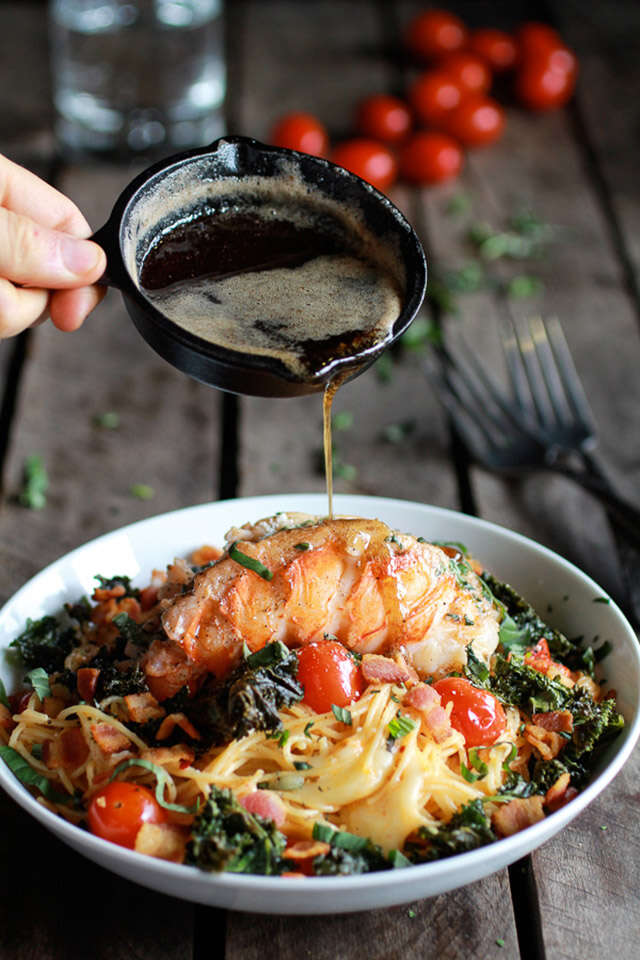 So even though this ridiculous-looking bowl of angel hair is loaded up with succulent lobster, brown butter, fontina, and even bacon, the crisped up kale is hardly an afterthought, and totally necessary to the textural balance.

Kale holds up really well to heat... and 17 tablespoons of butter. The face of health lies here.
It's kind of like eating a white spinach slice in that the green is there to make you feel better about your life choices, but only contributes to the flavor as much as the cheese permits it to. Get that recipe!

Buttery sauce, oozing egg yolk, and garlic-sauteed kale may mean you can skip out on restaurant brunch. That way you can also avoid The Guy with Egg on His Face, unless, of course, you are The Guy with Egg on His Face. Follow this recipe here.
If you've never tried kale chips, you're a goddamn fool -- they taste just like potato chips but you can be smug while eating them. I effing love kale chips. Get that recipe.

It tastes way fussier than it actually is. Recipe here.

Had to sneak something blended in here somewhere... health benefits abound!
This recipe kind of seems like it's trying too hard to be fancy, but it's actually just a weak sandwich that's good to serve to guests.

Your Mother will be happy to know you're eating well. Also, call her. She'd like to hear from you. Don't fear the salad recipe here.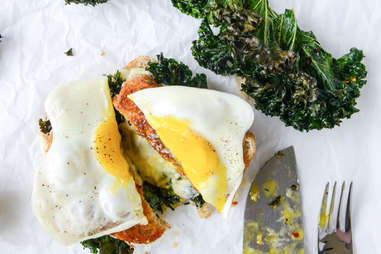 Theoretically you could make this without the vegetable and it would be comparably delicious, but the crispy kale addition is worth getting behind. Grill it up!!

Salads are really great, guys. Recipe here.
Carrie Dennis is an associate editor for Thrillist and would genuinely like kale even if it wasn't a social necessity. Follow her on Twitter: @CarrrieDennnis.