We're all about lining up for artisan eggs (like regular eggs, but with goat butter!) at the hip restaurant down the street, but that doesn't mean we should overlook the great regional chains that fry up consistency in multiple locations on the regular.
Egg-centric restaurants ranging from 100-location behemoths to upstart chains-in-the-making are frying up eye-opening takes on AM favorites, and no matter how much you love your neighborhood diner, no part of the country should be deprived of kolaches, Cuban pastries, and even better neighborhood diners. Here are 13 such regional breakfast concepts that deserve to open on a corner near you.
Recommended Video
The Definitive Eggnog Recipe You Need for the Holidays
Where it is: North Carolina and Virginia
Why you need it: Because every 15 minutes they crank out a new batch of hand-made biscuits stuffed with Southern comforts like pimento cheese, fried chicken, and pork chops.
What you're getting: A pimento cheese and bacon biscuit with a side of grits and a side of honey buns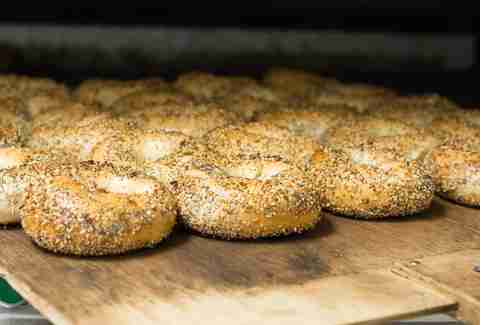 Where it is: Florida, East Coast, Beverly Hills
Why you need it: It can be hard to find a decent bagel outside of doughy meccas like New York and Montreal. BWBC takes ridiculous measures to emulate the characteristics of Brooklyn water with a 14-step filtration process, and if you need more than just a smear of cream cheese it's also mastered the time-tested art of the bacon, egg, and cheese. 
What you're getting: Everything bagel with Nova Scotia cream cheese, or a signature bacon/egg/cheese
Where it is: California, Arizona, and Nevada
Why you need it: Any time of the day is a good time for pie. This West Coast bakery makes a fantastic AM dessert that frankly pairs beautifully with raspberry-stuffed brioche French toast. Also, prime-rib hash. No wonder Ice loves Coco.
What you're getting: Raspberry-stuffed brioche French toast, or if green chilies are more your speed, Santa Fe Quiche. Plus pie. Always pie.
Where it is: Illinois, Wisconsin, and Georgia
Why you need it: Adorable small-town, country-cafe vibes don't come easy, but Egg Harbor has them in neighborly spades. If breakfast chains are measured by their potatoes, the perfectly brown cubed Harbor Potatoes make EHC a welcome addition to any city. And unique touches like poppyseed dressing on its Popeye Crepes make the menu stand out from the barrage of other brunch spots. Bonus points for summer specials like fried green tomato Benedict.
What you're getting: Seasonal Benedict and Harbor Potatoes
Where it is: The Southeast, plus Fargo, ND
Why you need it: Every chain should have its initials ironed into its waffles, and HH has been emblazoning its secret recipe waffs for over 50 years. Stuffed hash browns and extra-fluffy omelets are beloved staples, but despite the chain's legacy status, it keeps current with recent innovations like wafflewiches and BBQ-influenced smoked sausages. It prides itself on a Southern come-as-you-are vibe, which everyone needs more of in their lives.
What you're getting: Stuffed hash browns with a side of waffles
Where it is: San Antonio & Austin, TX
Why you need it: Nothing says "wake up" like a chicken-fried steak. Jim's logo is an extremely satisfied-looking cowboy, and thus the menu steers toward steer-wrangling fare like eggs paired with pork chops, chopped steak, and chili. And don't discount the border-busting plates like migas and huevos rancheros.
What you're getting: Get the chicken-fried steak and two fried eggs if you feel like truly living, or huevos rancheros for those with more concern for their arteries.
Where it is: Texas, Indiana, Kansas, and Missouri
Why you need it: The pastry of choice for long Texas road trips, this Czech staple is a doughy double threat, hitting all points of the savory/sweet spectrum. The breading is versatile enough to handle almost any stuffing, the bite-sized nature means you can crush several in one sitting, and their freezability makes cross-country evangelism almost too easy.
What you're getting: Two kolaches: one fruit-filled, one meat-filled
Where it is: A scattering of 13 states spanning the Heartland, Southwest, Deep South, and Idaho
Why you need it: You can never have too many solid diner concepts. Le Peep succeeds in offering a ton of variety on the menu, from lighter alternatives like egg-white omelets to richness such as rock lobster scrambles and seldom-seen regional specialties like breakfast tacos.
What you're getting: Rock lobster scramble all the way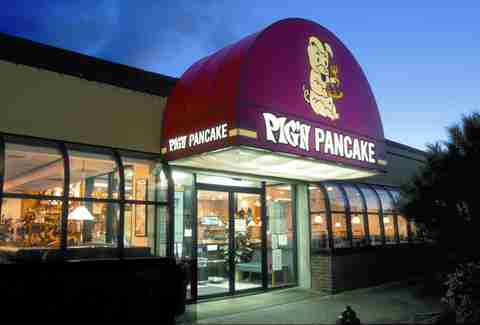 Where it is: Oregon
Why you need it: Everyone needs a little family-run cafe in their lives, and Pig 'N Pancake has been at it since 1961. Everyone also needs kielbasas, pigs wrapped in pancakes, and razor clams -- an Oregon coast favorite -- alongside their eggs.
What you're getting: 3 Little Pigs in Blankets made of pancakes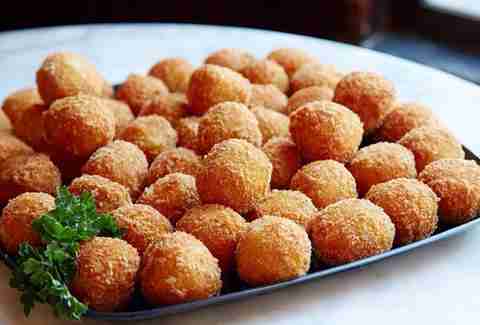 Where it is: Los Angeles
Why you need it: Despite the proliferation of American diner concepts and donut chains, there's a severe lack of ethnic diversity on the national pastry landscape. If the 3,000+ positive Yelp reviews for each of the three locations are any indication, Angelinos go nuts for Porto's Cuban pastries, and should it ever expand outside of its native California (the owner says unlikely), it'd surely be greeted with open arms.
What you're getting: Ground beef-stuffed potato balls, a guava and cheese pastry, and Cuban toast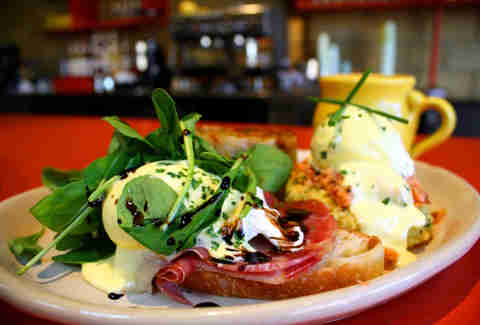 Where it is: Colorado, San Diego, Arizona, and -- soon -- Austin, TX
Why you need it: Snooze levels up traditional breakfast staples with guilt-free eggs, artisan meats like barbacoa and corned beef, and spiked sauces like green chili hollandaise and rosemary sausage gravy.
What you're getting: A pancake flight with pineapple upside downs, sweet potato buttermilk, and blueberry danish. Or, chilaquiles Benedict.
Where it is: Southeast, Midwest, a few lucky areas of the East Coast
Why you need it: Everything you didn't know that you need to know is right here, but for the uninitiated, this beloved 24-hour diner's eponymous dish puts most pancake houses to shame, no matter their level of international-ness.
What you're getting: Get a single waffle and a large hash browns, scattered, covered, diced, and peppered (for WaHo virgins, that means a double order with cheese, tomatoes, and jalapeños).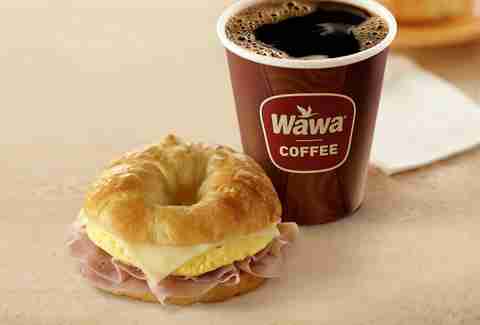 Where it is: East Coast  
Why you need it: Gas station food gets a bad rap, but Wawa breaks the sad heat-lamp mold. There are hundreds of these along the coast, and it's only a matter of time before its breakfast hoagie-slinging tentacles reach west of Virginia.
What you're getting: A breakfast hoagie
Sign up here for our daily Thrillist email, and get your fix of the best in food/drink/fun.
Dan Gentile is a staff writer on Thrillist's national food and drink team. He skipped class during high school to go to Jim's. Follow him to reliving past glories at @Dannosphere.