13 Next-Level Homemade Pizza Recipes
Making pizza is something of a delicate art, so we talked to one of the Italian masters about how to perfect a homemade pie: "A great sauce consists of the finest tomatoes you can find, with the finest olive oil and European sea salt. Spend time on your toppings -- vegetables should have love and care prior to going on a pizza," says Chef Luciano Del Signore, the man behind the pies at Bigalora Cucina.
"Italian pizza is really minimal in ingredients and toppings. Americans tend to overdo it," he says. However, this is America, folks, which means when you're trying one of these 13 recipes below, bacon flagrancy is totally within your rights.
And for a totally homemade pizza, try one of these nine incredibly easy pizza dough recipes, too.
The start-to-finish might be a lil' long for some, but OG food blogger Deb Perelman's recipes are precise, consistently superb, and definitely worth your time. Get that recipe here.

An herbed garlic-brushed crust is the way to elevate simple toppings. Get dat(?) recipe here.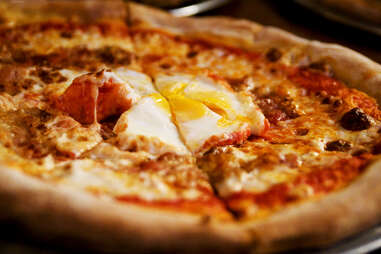 The Bushwick stalwart pumps out some seriously creative pies that are certainly not limited to the dinner hour/its kitchen. This one comes complete with an egg and guanciale. Recipe here.

Sweet caramelized red onions are a perfect foil to the saltiness of the prosciutto. Recipe's right here!
Brussels sprouts? So hot, socially. This cast-iron skillet pizza? So hot, physically. That joke? Lukewarm at best! Voici la recette!

Ina Garten makes effing delicious sauce-less slices on honey-touched dough with three kinds of a cheese. Recipe here.
Give into all your desires with this enjoyable cacophony of flavors. It was a good pizza because it was an honest pizza. Fine and noble men follow this recipe here.
Our very own recipes editor Perry Santanachote dishes up some serious nostalgia/heartburn. Recipe here.

We needed one of these and wanted to keep it simple. So no gimmicks here, just pizzeria-style slices with bubbly crusts and crispy-edged pepperoni. HERE YE CLICK.
A no-brainer. Recipe here, duh.

Kale by itself is pretty okay, but roasted kale with fontina, garlic, and red pepper flakes changes everything. Recipe is here.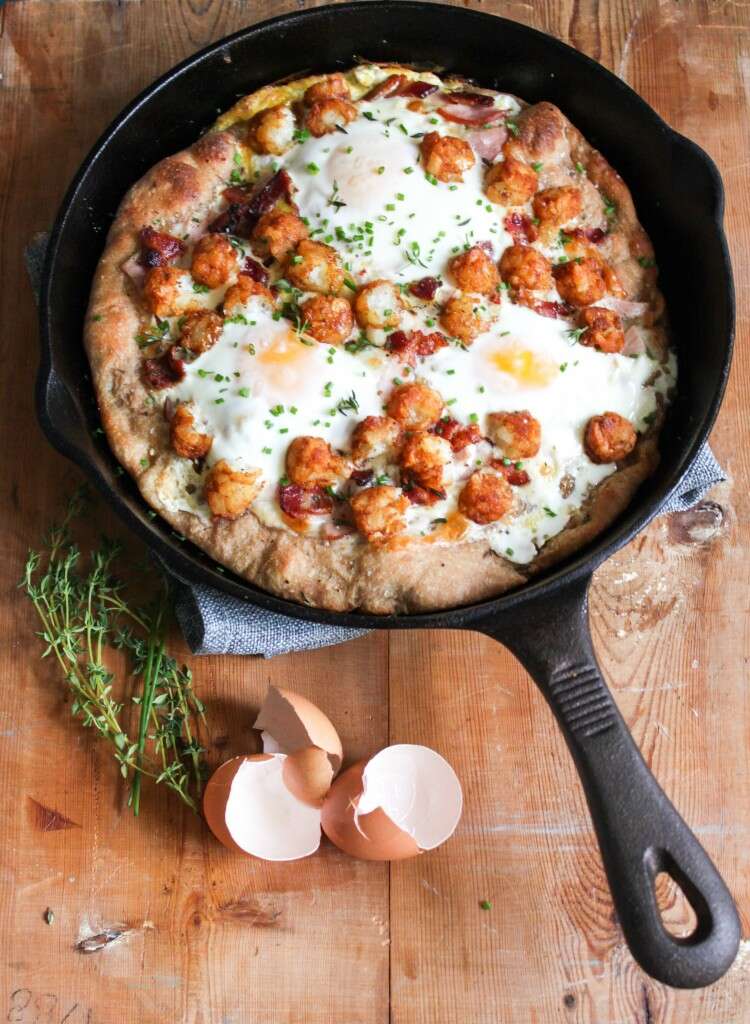 Provolone, bacon, fried eggs, TOTS. It's... it's beautiful. TO THA KITCHEN!

Carrie Dennis is an associate editor for Thrillist and eats pizza in the morning, pizza in the evening, and pizza at suppertime. Follow her on Twitter: @CarrrieDennnis.