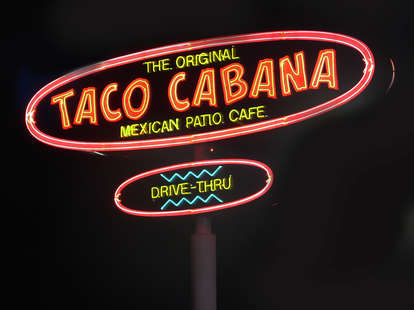 Sure, you know Taco Cabana (and if you don't, you're probably living a sad existence among chains who must resort to co-opting popular snack chips in order to make their tacos palatable -- Taco Cabanas need to be everywhere). But how much do you really know about the San Antonio-based tortilla slinger? Probably not as much as you thought, as these 14 tasty bits of information will reveal:

1. It started as a Dairy Queen... kind of
The founder, Felix Stehling, owned a bar called the Crystal Pistol and parking was tight. When a Dairy Queen went out of business across the street, Stehling purchased the property with an eye towards more parking, but eventually decided to put the building to use and opened the first Taco Cabana on September 21st, 1978. Taco Cabana now has more than 160 locations in Texas, Oklahoma, and New Mexico.
2. They're open 24hrs largely because of a furniture thief
In the early days of their original location, a bunch of their patio furniture was stolen, encouraging them to adopt the 24hr format to make sure someone always had a watchful eye on the precious outdoor chairs.
3. 24hrs a day means rain, shine, and even Texas snow
In 1985, San Antonio was hit with a record 13.5in of snow. Despite the ensuing panic and surprise of Texans seeing snow for the first time, Taco Cabana stayed open. One of the company's original owners actually took employees to and from work in a tractor-trailer, because, Texas.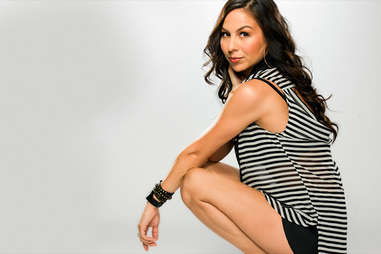 4. Their recent spokeswoman was a Raiders girl
Before Anjelah Johnson became the "TC Girl", she cheered the Raiders on to the Super Bowl in 2002 (and was named Rookie Raiderette of the Year!), won an American Latino Media Award for her fast food character Bon Qui Qui on MADtv, and had her own Comedy Central stand-up special.
5. For their 35th anniversary they restored the original appearance of the first location
In September of 2013, they somehow fit the San Antonio location at Hildebrand and San Pedro into the Wayback Machine, and out popped this delightful 1978-style yellow awning.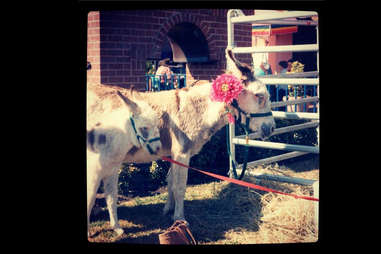 6. The founder had a pair of donkeys named Feliz and Bean & Cheese
They were staples at all of the early store openings and most likely the butt of many bean & cheese taco jokes.
7. They made it pink so people would notice
The second store was painted pink to catch people's eyes along the highway. Pink remains the company's signature color 35 years later.
8. Taco Cabana has won a Supreme Court case
A Houston restauranteur nearly took Taco C national, but when negotiations broke down, he started his own Mexican patio concept called Two Pesos... that wasn't quite enough of his own concept. Taco Cabana sued him and the appeals went to the Supreme Court, where Taco C folded Two Ps into a tortilla and devoured them. Afterwards, rather than making the required changes, Two Pesos sold their restaurants to Taco Cabana for significantly fewer pesos than they were worth.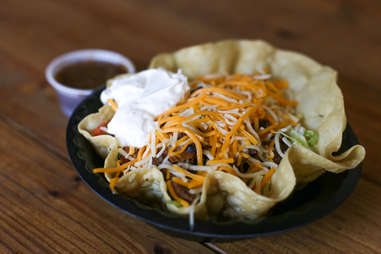 9. The best item is definitely the Cabana Bowl
It's an indisputable fact. The fresh tortillas come in a close second, but nothing beats a tortilla bowl filled with rice, beans, lettuce, your choice of meat or seafood (steak, chicken, shrimp), and topped with guacamole, cheese, sour cream, and pico.
10. They support the troops
Anyone in uniform or carrying a military ID gets a 20% discount. Which is nearly an entire extra free quarter of a quesadilla!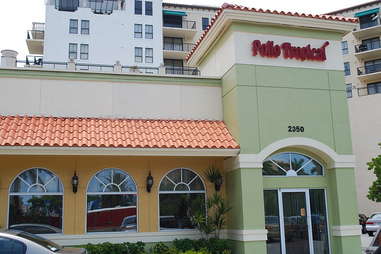 11. It has a tropical cousin
Taco C's parent company also owns Pollo Tropical, a chain that specializes in equestrian sporting vacations Caribbean chicken.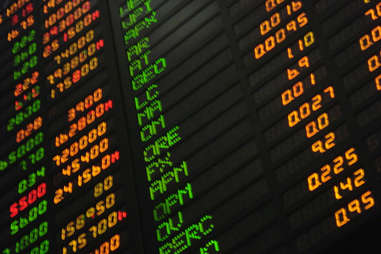 12. You may want to consider buying their stock
Zacks.com recently gave their parent company Fiesta Restaurant Group a Strong Buy rating based on projected growth of 48% in 2014. And that's before you went and got yourself hooked on Cabana bowls.
13. If you can't afford their stock, you can still afford to eat
The meat is cooked to order on 4ft grills, tortillas are cranked out continuously by a mesmerizing, spiraling press machine, and somehow they still manage to price a ton of combos under $5, including a 4-7pm happy hour with nachos and a margarita for $3!
14. They sell all sorts of spicy gear
Mex Addicts Anonymous no longer! At MyTCGear.com, you can score one of these sweet hats, as well as a "Mex, Hugs, and Guac & Roll" T-shirt.