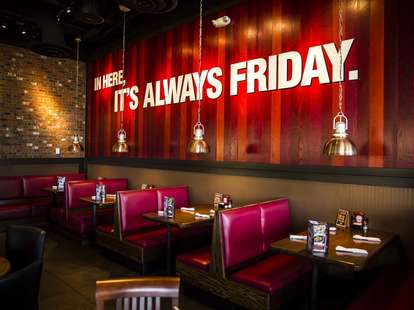 They Made It Fun To Be Single
Believe it or not, before Fridays, groups of women just didn't go to bars to meet groups of men. Alan Stillman changed all that in 1965, when he opened the first Fridays at 1152 1st Avenue in New York. His modest goal was to provide a public space for the swinging midtown apartment parties he'd been attending -- and "to meet Pan Am stewardesses" -- but within weeks the country's first singles bar had lines down the block, and America never looked back.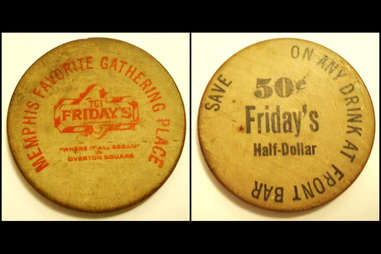 They Were Rocking In Memphis
The first Fridays outside of New York opened in 1970, just months after Memphis' approval of a liquor-by-the-drink ordinance (without that, it's kind of hard to run a bar). The joint promised "cheery crowds every day till 3am", and it delivered: in Nothing Can Hurt Me, a 2012 documentary on 1970s cult heroes Big Star, bassist Andy Hummel says of Fridays, "Everybody who was the least bit interested in raising hell would be there."
They Did It Bigger In Texas
Memphis was wild, but Dallas' Greenville Ave location was wilder -- in Texas Monthly's 20th anniversary piece, the city's most famous bachelor, Billy Bob Harris, recalls walking in and thinking, "Oh, Lord Almighty, wow, wow, wow!" The place starred in a 1973 Newsweek cover story on the singles explosion, thanks to insanity like two guys in gorilla suits who'd pull up in an ambulance and rush the crowd (inspiring the "Margorilla" margarita), and Cowboys QB Craig Morton escorting pretty ladies out to his Lincoln Mark III to check out his 8-track player. The ultimate compliment: a Morning News columnist proposed time-capsuling the menu, "to show future generations where all the madness began."
They Were at The Vanguard of Flair
Fridays "World Bartender Championship" has its roots in 1985 Marina Del Rey. Management, noting the singular bottle-flipping talents of bartender John Mescall, held an in-store competition. Mescall was hesitant (some bartenders viewed his acrobatics as a nuisance), but the idea exploded: the now-massive competition involves 10,000 bartenders from around the world. In 2011, they set the Guinness World Record for "most people cocktail flairing simultaneously for two minutes" when 101 of their bartenders filled London's Covent Garden Piazza, tossing drink tools to a song prominently featured in Cocktail, "Hippy Hippy Shake". Speaking of which...
Their Superstar Taught Cocktail's Superstars
The winner of Friday's first national competition (then called the Bartender Olympics) was John "JB" Bandy. Bandy would go on to train Tom Cruise and Bryan "Coughlin's Laws" Brown for Cocktail, which used the original Fridays location for filming.
Their Jack Partnership Has Aged Way Better Than Robin Williams Did In Jack
When Fridays and Jack Daniel's® started up their partnership 17 years ago, Toni Braxton's "Un-Break My Heart" ruled the airwaves, E.R. dominated TV ratings, and Titanic owned the silver screen. Of the NBA players taken in the 1997 draft, only Tim Duncan and Chauncey Billups remain active -- the rest are free to eat all the Jack Daniel's® Black Angus Sirloin, Ribs, Chicken, Shrimp, and Salmon they want.
They Parted The Iron Curtain
In 1997, Fridays became the first American casual eatery to open in Moscow, taking up residence on the freshly revitalized Tverskaya Street. The ancient thoroughfare had served as the home of Russia's finest hotels and shops before Stalin renamed it Gorky Street, turned it into "a living classic of socialist realism" (yay!), and basically issued a decree saying that, on Tverskaya, it was never Friday.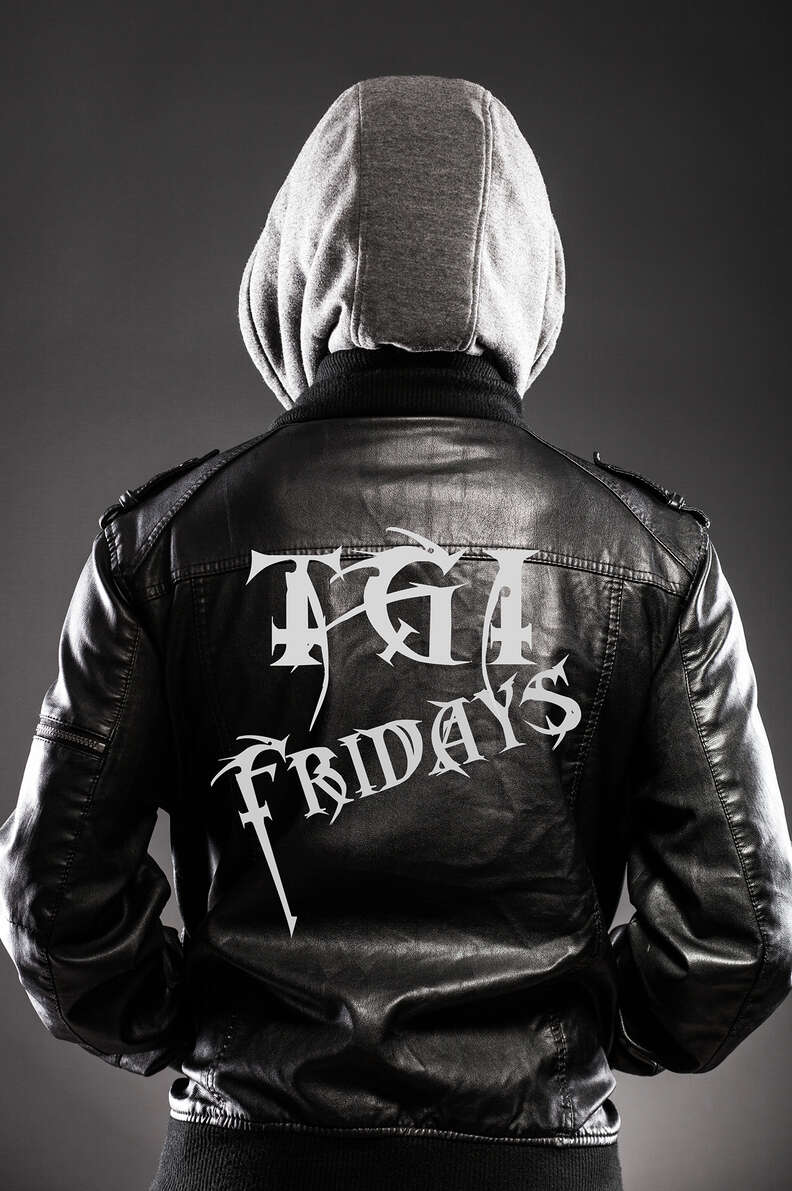 They Also Mended Metal Fences
According to Megadeth's Dave Mustaine, he and Kerry King of Slayer buried the hatchet on 20 years of bitterness over drinks at a Temecula, California T.G.I.F., the perfect setting for a Symphony of Reconciliation.
They Took Diners To The Moon
Well, pretty close: on July 24th, 1973, the grand opening of the Houston Galleria Fridays was attended by seven astronauts including Alan Shepard -- the first American in space, whose Moon-golfing later gave new meaning to "the Eagle has landed". Coincidentally (unless you're a conspiracy theorist!), July 24th was also the day that Neil Armstrong, Buzz Aldrin, and Michael Collins' capsule crashed safely into the Pacific following the first lunar landing in 1969.
They've Always Been Inventive
Amazing dishes found on this 1980 menu: Nacholupas; Mexican Pizza; a Country Burger with gravy, cheddar and bacon; Steak on a Stick; Deep Fried Artichoke Hearts; and the We'll Try Anything Once Omelette. (See what's on the menu now, in GIF form! Because TGIF.)
They're Pitchman Perfect
Long before he consistently surprised Lucille Bluth as "Gene Parmesan" on Arrested Development, Martin Mull served as a Fridays pitchman. Other celebs who've sung their praises: Dan Patrick, Night Court's Harry Anderson, and Homer Simpson.
They're In It To Skin It
Fridays is widely credited with introducing potato skins back in 1974, and they haven't dipped in popularity since -- in 2010 alone, Fridays served enough that if you laid them end-to-end, they'd stretch from Dallas to Anchorage (yes, there is a Fridays in Anchorage). In 1984, they became one of the first mainstream restaurants to offer smoothies and "flings", non-alcoholic options they put on the menu to honor the Los Angeles Olympics, because Olympians probably shouldn't drink during training, and also that Olympic Village sees a lot of flings.
Their Sales Figures Are Even More Impressive Than "Millions Of Peaches"
Amazingly, Fridays didn't only serve potato skins in 2010. To take care of 191,465,640 guests, they also trotted out 27,016,528 burgers (over 10,584,380 pounds worth), 6,249,467 bowls of Broccoli Cheese Soup, 10,843,964 orders of Buffalo Wings, 41,984,881 pounds of fries, 70,952,650 dozen eggs, and enough Chicken Fingers to stretch from Miami to Seattle -- or Seattle to Miami if the Chicken Fingers wanted to go clubbing.
They Nourished The Arts
Among the famous people who've worked there: Ellen DeGeneres; 6'8 ½" Everybody Loves Raymond star Brad Garrett (infamous for spilling six daiquiris on a brunching family fresh off Sunday church services); American Beauty's Wes Bentley; Sean Patrick Flanery from Boondock Saints; country star Kathy Mattea (whose flair included wearing a heart-shaped vinyl record in her hair); author and former CBS Early Show anchor Rene Sylar; and Orange- and PEN/Faulkner-award winning author Ann Patchett, who in an interview recalled "with a couple of cheeseburger platters balanced up my arm, I began to teach myself how to write a novel."
Bonus fun: these vintage blueprints come from a guy who worked as a Fridays project architect back in the '70s. If that notebook could talk...