Mark Mainz / Getty Images Entertainment / Getty Images
Mark Mainz / Getty Images Entertainment / Getty Images
If you go into an Italian restaurant called Wise Guys, it's pretty much guaranteed zero wise guys actually ate there. But these places? These places have seen some shit. Since we had such a good time on our first dive into mob restaurant lore, we went back at it in this expanded guide to America's gang-related food scene. This is still just a smattering of the dozens and dozens of places with Mafia ties, but we think you'll be set after reading about Joe Masseria's blood-spattered ace of spades: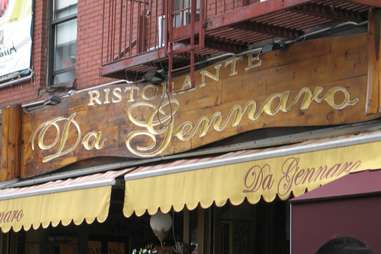 Umberto's Clam House
New York, NY (now closed)
Mobsters are known for being ruthless, but icing a guy in the middle of his birthday party? That's stone-cold. It's also what happened to "Crazy Joe" Gallo while he was enjoying a celebratory feast with his new wife, stepdaughter, sister, bodyguard, and bodyguard's +1 at Umberto's Clam House. Hitmen ran into the place, shot Joe right at the table, and then ran back out. He didn't survive, and neither did Umberto's, which is now Da Gennaro.

Last Chance
Kansas City, MO (now closed)
Before we get into all the mob stuff, you have to understand what "last chance" saloons are. Many old-school places bear/bore this name, and it was shorthand for a place situated on a state or town border. These spots were crime hotbeds, because if the cops showed up, you could simply pick up your gambling accoutrements and move to the far side of the room. You weren't in their town anymore, so they couldn't do jack. Kansas City had one of these places on the Missouri-Kansas state line, and local mob boss Charles Binaggio was very into it. He told his driver to take him there to meet his second-in-command, Charles Gargotta, on April 5, 1950. He then asked the chaffeur to wait 20 minutes, but he and Charles never returned. Instead, they were found shot dead at the First District Democratic Club. Last chance indeed.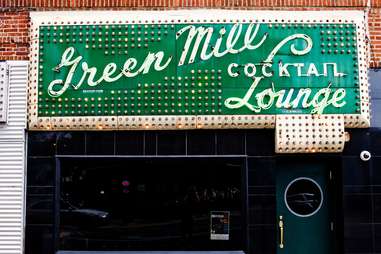 Chicago, IL
The Green Mill was one of Al Capone's favorite haunts back in the day, no doubt thanks to its secret underground tunnels. Capone flunkie "Machine Gun" Jack McGurn was also a fan, so much so that he bought a stake in the place. So you can imagine he was stoked when he signed comedian Joe E. Lewis to the Green Mill entertainment roster. Except Joe wasn't the most loyal employee, and jumped ship for another club run by a rival gang when he got a better offer. McGurn took the news like any reasonable dude would: he sent his guys to Lewis's hotel room to slit his throat and leave him for dead. That's how you settle your wage disputes, right?

Philadelphia, PA
To this day, "connected" patrons still drop by Dante & Luigi's, but its most infamous mob incident happened 26 years ago. On Halloween night in 1989, a masked man with a trick-or-treat bag entered the restaurant. He walked straight up to Nicky Scarfo, pulled a machine gun out of his bag, and shot the guy several times over his plate of clams and spaghetti. The shooter was widely believed to be Skinny Joey Merlino, Philly's "only legitimate celebrity gangster" and what he did was incredibly bold, considering Nicky was the son of mob kingpin Nicodemo Scarfo, Sr. Nicky survived the attack, but his dad still put a $500,000 contract on Joey's head from prison. Joey's miraculously alive to this day, though he (wisely) moved to Florida several years ago.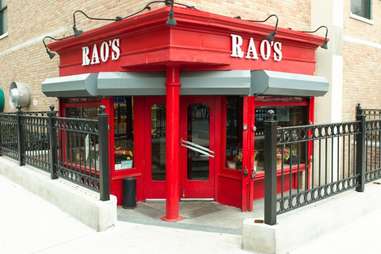 New York, NY
Hecklers are the worst. Most people just tell them to shut up, but mobster Louis Barone is not most people. When Albert Circelli wouldn't stop mocking Broadway vet Rena Strober's performance of "Don't Rain on My Parade" at Rao's, Barone silenced him by shooting him in the back with his .38. Barone went to jail, but a suitcase full of limbs turned up outside Rao's seven years later. The place's mob ties are so famous, Scorsese featured a regular (Johnny Roastbeef) in Goodfellas and used the spot as inspiration.

Palace Chop House
Newark, NJ (now closed)
By nature, this list is dominated with tales of tough Italian guys. But the big Palace Chop House mob story involves the rare German-Jewish gangster, Dutch Schultz. In his heyday, Schultz bootlegged, stole, and murdered with the best of 'em. It all caught up with him, however, during a dinner at the Palace Chop House. Two gunmen burst in and took out Schultz, along with three associates. The orders came down from other top mobsters (including Lucky Luciano, depending on who you ask) who thought Schultz was out of control -- he wanted to whack New York prosecutor (and later, governor) Thomas Dewey. So he had to go, but at least he got a posthumous Dustin Hoffman movie out of it?

Villa Capri
Kansas City, MO (now closed)
When mobsters Cork Civella and Carl DeLuna met at Villa Capri in June of 1978, they had no idea the FBI was listening in. So they proceeded to talk freely about some shady Vegas dealings, which led the FBI to launch Operation Strawman. The sting was one of the biggest federal cases against the mob, and brought down VIPs in several major crime families. The restaurant shuttered and later burned down in 2011. We're not saying a still-bitter DeLuna descendant is responsible, but someone else could.
Las Vegas, NV
Piero's has hosted hundreds of politicians and celebrities (Sinatra loved the place), but it also welcomed many made men. Long-time staffers remember FBI agents sitting across the street with binoculars watching the mobsters inside -- ones who swept the tables for bugs as routine. It was practically a supporting character in Casino (it's where Sharon Stone was thrown down the stairs) and, as recently as 2005, the DEA arrested detectives-turned-hitmen Stephen Caracappa and Louis Eppolito on site.

Springfield, MA
Louis "Louie Pugs" Pugliano ran his family's Springfield restaurant for many years -- until he went to jail for 15 years for scheming to murder William Grasso. Grasso was an underboss in the Patriarca crime family and one of the most powerful men in Connecticut when he was killed in 1989. Although Pugliano wasn't the one who fired the fatal shot -- that'd be Gaetano J. Milano -- he was one of the men convicted for his murder. Louie's brother Frank also served a 12-year sentence for conspiracy and Pugs would've been in for life if his lawyer hadn't gotten him out early. He's been a free man since 2006, but considering he's now in his 80s, you probably don't have to worry about him coming for you... probably.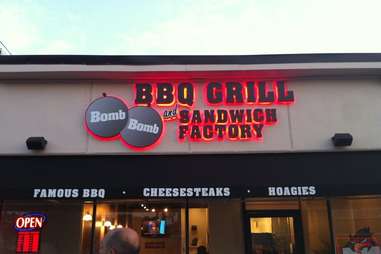 Philadelphia, PA
You should take this place's name very literally. Bomb Bomb BBQ Grill is named for two very real bombs that exploded outside the place in 1936. At the time, the brand-new taproom was owned by Vincent Margarite, who'd managed to piss off the local racketeers (read: gangsters). Those guys left a bomb on the front steps on the morning of February 16th, and the blast was so big it shattered windows blocks away. But Margarite wasn't phased, and reopened the very next day. Months passed without incident until a second bomb went off on April 4th. It was bigger, louder, and meaner, so neighbors signed a petition to shut the place down. Vinny complied and sold it off. It eventually fell into the hands of Frank Barbato, who named it what locals were already calling it: Bomb Bomb.

New York, NY
Paul Castellano was just trying to enjoy a nice porterhouse on December 16, 1985. But he was also the head of the Gambino crime family at the time, and someone had decided it was time to steal the throne. That someone was John Gotti, who ordered a hit on Castellano because he wanted his job. That night, Gotti's goons gunned Castellano and his aide Thomas Bilotti outside the restaurant as Gotti watched from a car on 46th Street. The guys wore "white trench coats and black Russian hats," which is an interesting execution couture choice.
Providence, RI
No one was ever shot in Camille's dining room, but a guy who shot a lot of people outside the restaurant frequently sat there. Camille's was a favorite of Raymond L.S. Patriarca, who basically ran the New England Mafia out of a nearby vending machine shop on Atwells Avenue. During Prohibition, it was also a speakeasy where mob types could enjoy hooch, if that was something they were into. (Spoiler alert: THEY WERE.)

Horwath's
Chicago, IL (now closed)
Big players on the syndicate hit up Horwath's all the time in the '70s and '80s -- detectives of that era remember spending hours spying on them in the booths. It was also the scene of a hit, specifically the killing of Charles "Chuckie" English. Chuckie ran various gambling and jukebox rackets on the West Side and, although he seemed to be winding down his criminal career at the time of his death, he must've made someone mad. On his way back to his car after dinner, he was shot between the eyes in the Horwath's parking lot. The cops never caught the two supposed assailants, possibly because English's murder was just one in a spate of 1985 gangland killings.
Dallas, TX
Most of the places on this list try to downplay their seedy criminal connections. Not Campisi's. Walk into the Dallas restaurant and you'll see newspaper clippings about the family's supposed mob ties proudly framed along the walls. The Campisis insist they do this because there's no truth to the stories, but there are an awful lot of stories. Mainly about grandpa Joe Campisi. The man was friendly with big-time mobster Carlos Marcello, and served Jack Ruby the night before the Kennedy assassination -- which made the Campisis a part of the popular "the mob did it!" Kennedy conspiracy theory. Clearly the government had suspicions, too. Joe was on DEA files and the FBI was known to frequently show up and photograph the Campisi customers. Super casually.

Nuova Villa Tammaro
Brooklyn, NY (now closed)
In the '20s and early '30s, no one was bigger than Giuseppe "Joe the Boss" Masseria. One detective called him "bigger than Al Capone." But even the biggest mob figures can get hit when their backs are turned, and that's exactly what happened to Joe as he was enjoying lunch on Coney Island. Three men shot Joe several times in the back (and neck and face) at Nuova Villa Tammaro and then fled the scene without their coats or hats. Masseria was found clutching an ace of spades in his hand. It's unclear if it was planted to send a message or he died during a cards game (there were other cards strewn on the floor), but it was enough to spook owner Gerardo Scarpato, who begged the police to take his fingerprints in case there were retaliatory attacks. Dude might've just had ESP, because he was gunned down one year later and his restaurant was replaced with a warehouse.
Chicago, IL
According to an FBI informant, Armand's was the place where Rosemont mayor Donald Stephens met with five important crimelords to discuss the mob's control over the Emerald Casino in 1999. Those five included Joey "The Clown" Lombardo, John "No Nose" DiFronzo, Peter DiFronzo, Joe "The Builder" Andriacchi, and Rudy Fratto. (Despite his name, "The Clown" was an especially ruthless guy -- he's currently in prison for his involvement in the Operation Family Secrets mob murders case.) The Emerald Casino incident turned into a messy mob affair that just ended last year in a $272 million verdict. And it all (sorta) began at Armand's.

JJ's Coliseum
Johnston, RI (now closed)
In February of 2005, the local police and FBI raided nine Rhode Island locations and arrested 15 people for gambling and racketeering. The group of 15 included Joseph Achille, a capo in the Patriarca crime family, and Donald Capasso, the owner of the building which housed JJ's Coliseum. The two men were running a betting ring out of JJ's which targeted putzes outside the criminal world. Like any mobbed-up gambling racket, they used violence and intimidation to collect bets, leading some terrified participants to take out second mortgages on their homes. After a six-month investigation, the feds finally hauled them all in and slapped them with various gambling, drug, and conspiracy to commit assault charges.
Queens, NY
Don Peppe is such a well-established mob haunt that it's been wiretapped and named in parole conditions. (The feds explicitly banned Anthony "Fat Tony" Rabito from the restaurant as a condition upon his release in 2009.) But it also has a connection to the real-life Goodfellas dude. Rumor has it that Ciro Perrone commanded his crew -- including Henry Hill -- to wait for the servers with pipes and baseball bats after closing because he was pissed someone spilled a drink on his wife. Presumably, he also left a nasty tip.

Chicago, IL
Although Mama Luna's is a Chicago pizzeria, it was the site of a "New York-style" hit in 1975. The victim was Anthony Reitinger, a bookie who had refused to pay the mob's weekly "street tax" to continue running his operation. He got their answer at Mama Luna's on Halloween night -- what is it with these guys and that holiday? -- when hired hitman Harry Aleman brazenly entered in a ski mask (with an associate) and shot Reitinger to death in full view of the rest of the customers. Aleman's hits were deemed "New York style" for their audaciousness. A retired FBI agent says he just didn't fear the Chicago police at all, which was stupid in retrospect, because Aleman later got sentenced to 300 years in prison for a 1972 murder. (In a case that made U.S. legal history.)
Sign up here for our daily Thrillist email, and get your fix of the best in food/drink/fun.
Kristin Hunt is a staff writer for Thrillist, and thinks the mob is so great, just awesome. Please don't kill her. But follow her at @kristin_hunt.