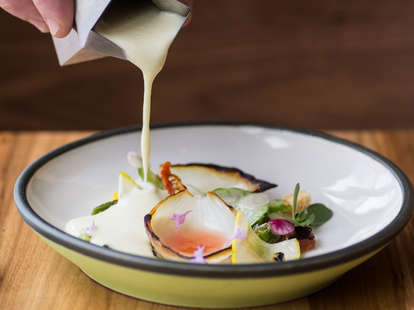 In the Chinese calendar, every year corresponds with an animal. In the American calendar, every year corresponds with an animal fried and doused in a trendy hot sauce, smoked for 18 hours, and praised for its underrated cuts of meat.
Armchair eaters all have different ideas of what the hottest trends of 2014 were, but to get an inside view, we polled 27 chefs and asked them to fill in the blank: "2014 was the year of ____". Some gave one-word answers, others gave much longer treatises on cocktail ice. Read on to learn all the things that made 2014 a very good year.
"2014 was the year of...
... COMFORT FOOD. Comfort food is back and here to stay. You'll see it as a mainstay on restaurant menus for many years to come." - Ming Tsai, Blue Ginger (Wellesley, MA)
... MUSIC AND FOOD. I spoke to more musicians about food and more chefs about music than ever before. The world, however, is still waiting for someone to pair them together in a way that really makes sense!" - Tim Love, Lonesome Dove (Fort Worth, TX)
... FERMENTATION." - Tom Colicchio, Craft Restaurants (New York, NY)
... STEAK. Why else would we have opened the Bowery Meat Company? Vegetables had their fun in the sun, but red meat is back on top where it belongs. Meat prices are higher than ever, and that's strictly due to supply and demand. Different and interesting cuts of meat are also showing up on menus." - Josh Capon, Bowery Meat Company (New York, NY)
... REAL FOOD. Molecular gastronomy is on its way out. It's not about a show, but giving people what they want: substance. There was a time and place for it, but we're leaving it behind in 2015. No more circus acts." - Slade Rushing, Brennan's Restaurant (New Orleans, LA)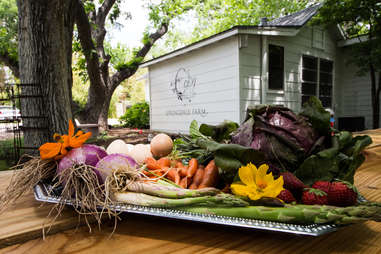 ... the VEGETABLE. Whether it's pickled, poached, grilled, or fermented, it's no longer on the side. It's right there, front and center." - Steve McHugh, Cured (San Antonio, TX)
... the SÁNCHEZ. For the Chinese, it was the year of the horse. For the Beshes, it was the Sánchez. Who would have ever thought that I would open two restaurants in one year with Aarón Sánchez?" - John Besh, Besh Restaurant Group(New Orleans, LA)
… the SHARED PLATE. Everyone is enjoying more small bites to keep their taste buds entertained! Sharing makes dining out more personal and fun." - Brian Malarkey, Searsucker(San Diego, CA)
... the LOCAL CERAMICS MAKER. Chefs are beginning to tire of the relentless monochrome of the classic white plate and are turning to small, local ceramics makers to create plates. The range of glazes and variety of shapes are almost limitless, and this allows chefs to bring an individual feel to their restaurants." - Andrew Zimmerman, Sepia (Chicago, IL)
... the OYSTER, especially from Chesapeake Bay and its tributaries." - Robert Wiedmaier, Marcel's (Washington, DC)
... that BASS. It was all 'bout that bass... I'm talking fish!" - Jeff Tunks, Passionfish (Washington, DC)
... a BREAKDOWN IN TRADITIONAL SERVICE at restaurants. Whether it's restaurants abolishing tipping, refusing to offer substitutions, or chefs worrying less about timing meals and instead bringing plates out as they're ready, which has in turn led to the growing popularity of shared plates." - Michael Kornick, DMK Restaurants (Chicago, IL)
... the REBIRTH. So many new distilleries and breweries opened up, and the industry is thriving." - Andy Nelson, Nelson's Green Brier Distillery (Greenbrier, TN)
... SRIRACHA USED ON EVERYTHING. It kills me. What started out as a condiment is now on every plate -- from Sriracha mayo to Sriracha wings to Sriracha tuna salad to Sriracha potato chips. It's morphed into a ubiquitous flavoring on too many dishes. Let's move on in 2015!" - Brian Zenner, Oak (Dallas, TX)

... the move towards RED BLENDS. Malbec is on its way out as the de facto by-the-glass wine of choice." - Aaron Sherman, Gerard Craft Niche Food Group (St. Louis, MO)
... NEW ASIAN HOT SAUCES. Hot sauce has grown from a flavoring for bland food to a culinary ingredient that deserves our fullest attention. Gochujang is fascinating because it's not only a spice, it has complexity and umami." - Edward Lee, 610 Magnolia (Louisville, KY)
... RAMEN. Five years ago ramen became very popular in LA and NY. It wasn't a sudden trend, I think the wave just finally spread to other cities. Ramen shops popped up across Chicago. Even restaurants that don't specialize in ramen launched a ramen brunch to be a part of the craze. Not to mention the ramen festival in Chicago this year." - Takashi Yagihashi, Slurping Turtle (Chicago, IL)

... the MOM-AND-POP BUSINESS." - Beverly Kim, Parachute (Chicago, IL)

... CHEF COLLABORATION. This year saw so many chefs finding new ways to collaborate with their peers through industry parties, underground dining events, and even playful competitions when chefs are visiting from other cities." - Thomas Rice, TÊTE Charcuterie (Chicago, IL)

... SHERRY. While every year Sherry increases in popularity across the US, in 2014 it started to approach the level at which sake was 15 years ago. It still carries a certain mystery, but is definitely starting to creep into the minds and hearts of booze-loving American diners!" - Meaghan Goedde, Mercat a la Planxa (Chicago, IL)
... SMOKE." - Ronnie Killen, Killen's BBQ (Houston, TX)
... FORAGE. Every restaurant became hyperlocal. Internationally, it was the year of THE AMERICAS, with more recognition of food from Mexico down to Brazil." - Shawn Cirkiel, parkside (Austin, TX)
... KALE. This year it's been used in so many applications: chips, salads, and even vegetable drinks. You can walk into any grocery store, gourmet or mainstream, and find kale pre-packaged in salads or loosely packed. It's probably on 70-80% of lunch menus around the country. People seem to be 'over it', but it's such a great green with so many vitamins and a robust earthy flavor. Even my 4-year-old son eats his kale. And he likes it."
- Keith Shutta, Tart Restaurant (Los Angeles, CA)

... the GOAT. It was great to see an item not normally found on restaurant menus make its way as a feature at most of the food & wine events we were a part of this year." - Joe Anguiano, VOX Table (Austin, TX)
... the TASTING MENU. I think there was a revival of that form of dining this year -- especially in LA, where Trois Mec and Maude only offer a tasting menu, along with limited seating. I think the trend is headed toward smaller seating where the focus is more on an experience, rather than a turn-and-burn restaurant." - David Chavez, The Kitchen (Sacramento, CA)
... CRAFT ICEIN COCKTAILS. It's been a trend for quite some time now, but 2014 was the year that everyone realized how important it is. Now we have an idea of how quickly the ice will melt, so its effect on the cocktail is no longer a soft science." - Dane Nakamura, Aggio (Washington, DC)

... the LADY. So many wonderful women are finally getting recognized within the industry. People like Eryn Reece started heading up Death & Co. Alba Huerta opened up Julep in Houston. Julie Reiner was named Wine Enthusiast's mixologist of the year. The list goes on and on. It seems like we're just taking over!" - Ivy Mix, Speed Rack (Brooklyn, NY)
Dan Gentile is a staff writer on Thrillist's National Food and Drink team. For him, 2014 was the year of an adorable Shih Tzu named Peanut. Follow him to dog toys everywhere at @Dannosphere.