Chefs Tell Us 2015 Food Trends That Need to Be Retired
Laura Hayes/Thrillist
Laura Hayes/Thrillist
Food trends come and go, but then there are those that linger on menus, hogging the semi-bitter leafy-green spotlight long after the allure has wilted.
Most anyone who's visited a Whole Foods in the last few years knows the four-letter word we're talking about, but to dig past the more obvious fads (and beat up on kale even more), we asked a group of chefs to tell us the food trends from 2015 that they'd most like to see retired. Here are their answers. Our apologies to uni, pretzel buns, and chefs who wear shorts.
"Deviled eggs should not be presented as their own dish. Perhaps they should just be left to be served at the picnic table and stay out of restaurants entirely." -- Steve McHugh, chef/owner of Cured (San Antonio, TX)
"Molecular gastronomy has to go! What happened to cooking food with fire? What happened to the pressure of timing and the art of basting meats and fish? The devotion you cook with while working under stressful conditions, burners not always hot enough, sauté pans so seasoned they are almost falling apart, but you cannot get rid of it because it has been through so much with you during service. We need to get back the roots of food and the art of cooking, the love of getting burned and sweating for hours, knowing that last ticket is coming in and you can run to the walk-in to cool down. To me, that's cooking, that's what we decided to do when we chose this profession." -- David Blonsky, chef/co-owner of Apeiro Restaurants (Delray Beach, FL)
"The whole tweezer thing! Yes, we own a pair, but we haven't really used them for years. God's greatest gift to us is our hands. Let's use them more. Tweezers don't need to be used for every little thing, get over it already! Most of these kids out of school think it's cool to have them tucked in their aprons when there isn't even a use. There is a time, a place and we absolutely respect them as a tool, but really..." -- Tony Ferrari, chef/co-owner of Hillside Supper Club (San Francisco, CA)
"Just because you put uni on something doesn't make it great!" -- Ben Daitz, co-chef/owner of Num Pang (New York, NY)
"I could do without smoked cocktails. There's plenty of ways to enjoy a good cocktail, smoking just seems excessive." -- Jamie Bissonnette, chef/co-owner of Toro NYC, Toro Boston, Coppa (New York, NY and Boston, MA)
"Calling something farm-to-table. Any chef worth his or her salt should already be cooking farm-to-table. Also, the whole 'fat on fat on fat' thing was fun for awhile (pig face terrine with foie gras and bone marrow, anyone?), but there are lots of other vital flavors out there." -- Rick Bayless, co-owner/executive chef of Frontera Grill (Chicago, IL)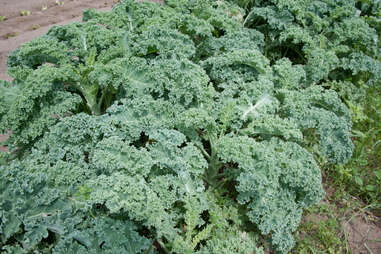 "I get it, kale is a tasty leafy green that's very healthy. There are dozens just like it that should be getting the spotlight, like collards, mustard greens, dandelion green, beet greens, and carrot tops." -- Joe Palma, executive chef of Bourbon Steak at the Four Seasons (Washington, DC)
"I've had the feeling that in this country kale is now a religion. You see it on every menu! Being French, we don't eat it much and we don't get the fuss about this ingredient! It's a typical fashion ingredient that won't last in my opinion. It won't last because it has nothing more than cabbage, it's boring." -- Fabienne Souliès, owner of Pitchoun Bakery (Los Angeles, CA)
"I personally hate food trends. The fact that there are trends in the first place means they'll eventually be played out. I think it's funny that people say kale or lamb belly are 'so hot right now.' Lambs have always had bellies and people eat them all the time, all around the world. But I would find it disastrous if heirloom tomatoes went out of style and no one wanted to eat them anymore." -- Alon Shaya, chef/partner at Domenica, Pizza Domenica, and Shaya (New Orleans, LA)
"I'd like to see fast-food restaurants retire the good things they're making bastardized versions of like pretzel buns and cronuts. RIP pretzels buns." -- Bryce Gilmore, chef/owner at Odd Duck and Barley Swine (Austin, TX)
"Unless you have an allergy, I'm over gluten-free. Can we go back to just eating what the chefs want to cook?" -- Jesse Schenker, chef/owner of Recette and The Gander (New York, NY)
"Chefs wearing shorts. Put some pants on!" -- Michael Pirolo, chef/owner of Macchialina and Bazi (Miami, FL)
"Because of Aaron Franklin brisket is now the hottest meat across America. I'd love for people to stop using it because it's cool. They don't know how to prepare it or take the time to. Let's not forget that brisket was the cheapest cut of meat at one point, it was the low-quality meat to feed a lot of people, and now the demand is driving up the prices for the rest of the country and the people that do have time to prepare it can't afford it." -- Nguyen Tran, chef/co-owner of Starry Kitchen (Los Angeles, CA)
"Brussels sprouts have been big for a while now. Charred, fried, you name it. It's time for a new vegetable to take its place." -- Harold Marmulstein, executive chef/partner at Salty Sow (Austin, TX)
"I hate that 'farm to table' is a buzz word. If chefs are doing it because they feel it in their heart and are committed to it, then I get it, but I feel like some are doing it half-heartedly just because it's cool. Also, burnt food. I think certain applications of charred foods make sense, but it seems like everyone is just burning whatever they can get their hands on." -- Bruce Kalman, head chef at Union (Pasadena, CA)
"I'm tired of the question about food trends! Food shouldn't be trendy! What should drive people to cook with certain ingredients is to look at where they come from, and be reminded of where they're going." -- David Guas, chef/owner at Bayou Bakery, Coffee Bar& Eatery (Arlington, VA and Washington, DC)
"Generally those who try to make charcuterie don't have much experience and don't care to train with someone who does. While reading a cookbook is very helpful, performing this type of art requires time and experience. It frustrates me to go to a restaurant where even though they source good meat, they don't have a good slicer. The cut on the meat is just as important as the meat itself. You're not 'hooking me up!' by cutting the prosciutto thicker." -- Tim Love,chef/owner of Lonesome Dove (Ft. Worth, TX)
"Everyone is fermenting everything. It seems so overdone." -- Tony Conte, chef/owner of Inferno Pizzeria Napoletana (Darnestown, MD)
"Chefs telling me how to eat a dish. I'm not a baby. If your food comes with instructions, you're trying too hard." -- Dale Talde, chef/owner of Talde Miami Beach (Miami, FL)
"I have many chef friends that I respect who use tweezers, I don't hate them, it's just not my thing. Nothing that we do at Imperial and Paley's Place is precious. We are not assembling a model sailboat in a jar or handling gem stones. Our hands and fingers provide all the dexterity we need." -- Vitaly Paley, chef/co-owner of Imperial & Paley's Place (Portland, OR)
Sign up here for our daily Thrillist email, and get your fix of the best in food/drink/fun.
Dan Gentile is a staff writer at Thrillist. The trend he'd most like to see disappear is the K-Cup. Follow him to single-origin coffee snobbery at @Dannosphere.