Breakfast comes in many different shapes and sizes, but the king of them all is the breakfast sandwich. It rules over the realm of morning meals, incorporating whatever ingredients it damn well pleases. The only bounds it knows are its book-ending slabs of carbohydrates.
The breakfast sandwich is thus a powerful canvas for creativity (and bacon!), but also a perfect vessel in which to deliver a concentrated combo of traditional AM ingredients (especially bacon!). To celebrate this great unifier of eggs, cheese, and other stuff, we've compiled a list of the 21 very best breakfast sandwiches in the country. You can thank us after your mid-morning nap.
Dish With Save Venue
Name of Item
The Fancy
Venue Title -- ADD LINK to (address and info)
Mike & Patty's
Mike & Patty's
Boston, MA
You can't go wrong with any of the sandwiches at beloved six-seat Boston institution Mike & Patty's, from the breakfast torta to the sa-té-sauced PBGC to the caramelized Banana OG on brioche (with Nutella!). But our advice is to go Fancy. Multigrain bread is the canvas, painted with two yolk-bulging fried eggs, cheddar, bacon, avocado, red onions, and just the right amount of house-made mayo. It's truly a work of art.
Ess-a Bagel
New York City
New Yorkers still mourn the loss of the original Gramercy location of Ess-a, but the folks responsible for the city's thickest and fluffiest bagels are thankfully still pumping perfect bacon, egg, and cheeses out of their Midtown sequel. Perhaps the largest BEC in New York, this behemoth comes packed with a double layer of cheese (as all breakfast sandwiches should). Plus, you need not (and should not) toast the bagels -- they're always fresh out of the oven. Even if you go with sesame seed instead of everything, these bagels are everything.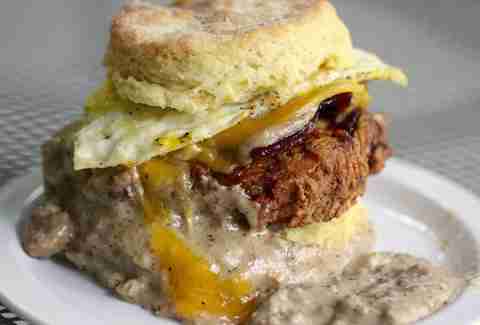 Dish With Save Venue
Name of Item
The Reggie Deluxe
Venue Title -- ADD LINK to (address and info)
Pine State Biscuits
The Reggie Deluxe
Pine State Biscuits
Address and Info
Portland, OR
Look, we love the PDXWT with duck bologna at Portland Penny Diner and the wonderful breakfast sandwich at Bunk -- but our hearts, or what's left of them, belong to this Stumptown classic. The namesake biscuits don't stand a chance against a slab of fried chicken smothered in sausage gravy, smacked with melted cheese, and crowned with bacon and a runny egg. Is it excessive? Hell yes, it is. But this hangover isn't going to murder itself.
Mac 'N Hash Sammy
Mac Mart
Address and Info
Philadelphia, PA
The mobile mac daddies behind this Philly operation are currently pivoting from food truck to brick and mortar. So they might be hard to track down (check for them at some of the city's best events), but follow the macaroni trail and you'll be greatly rewarded with the most mutant sandwich on this list: an artery buster with hash browns as buns, a thick layer of homemade buttermilk ranch, and an egg-cellent alternative to huevos, their signature macaroni and cheese.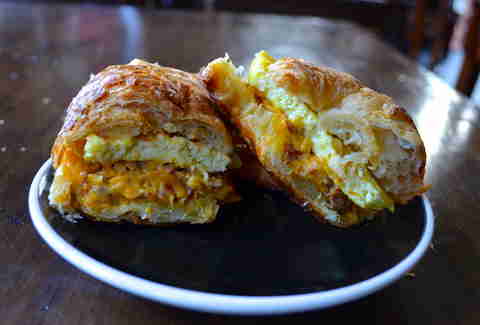 Dish With Save Venue
Name of Item
Bacon & goat cheese
Venue Title -- ADD LINK to (address and info)
The Blind Dog Cafe
The Blind Dog Cafe
Washington DC
There are few things sadder than a disabled animal, but the owners of The Blind Dog honor their sightless mutt Baxter with one of the country's greatest morning meals: a flakey croissant jammed with farm-fresh local ingredients. Instead of complicating things with a grocery list of toppings, your choices are simple: bacon & goat cheese, chorizo & cheddar, pimento (the caviar of the South!), or crimini mushrooms & goat cheese, all topped with a frittata made using eggs from nearby Lancaster County's Kreider Farms.
The Silver Skillet
Atlanta, GA
Since the only person who can make breakfast better than your mom is her mom, we at Thrillist are serious suckers for grandmothers' recipes. The buttermilk biscuits at The Silver Skillet date back to the current owner's mother (who took over the restaurant in the '60s), and although SS doesn't boast the artisan pedigree of some of the spots on this list, you can't argue with simplicity that's this fluffy, especially when it's stuffed with country ham.
Dish With Save Venue
Name of Item
The Princess
Venue Title -- ADD LINK to (address and info)
Biscuit Love
Biscuit Love
Nashville, TN
Tennessee is all about hot chicken, and if you're eating it in the AM, there's no better option than Biscuit Love. The Airstream operation became a farmers market institution, then went brick and mortar with a destination where hungry patrons flock to pay their respects to the Princess: a cayenne-crusted fried hunk of fowl on a thick biscuit made with flour from a nearby Kentucky watermill. The requisite pickles and mustard almost veer this into lunch territory, but a drizzle of sweetness in the form of warm honey makes it taste just like waking up.
Frank's Deli
Ashbury Park, NJ
Picking one Garden State breakfast sandwich is a tall order. New Jersey prides itself on flying the flag of Taylor Ham, and although every corner dive will sling an excellent iteration (like G&S Deli in Newton or Tick Tock in Clifton), our in-house Jersey Girl swears by Frank's, a Bourdain-lauded beachside joint that takes salty slices of the state's signature meat and sandwichifies them to perfection.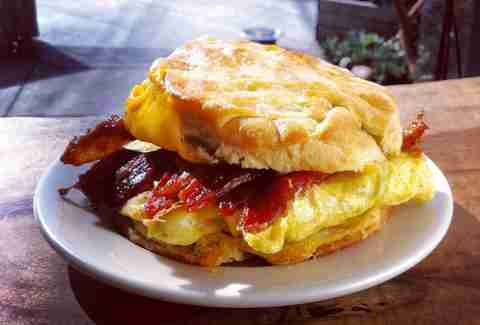 Dish With Save Venue
Name of Item
Special Breakfast Sandwich
Venue Title -- ADD LINK to (address and info)
Devil's Teeth Baking Company
Devil's Teeth Baking Company
San Francisco, CA
San Francisco is a brunch town, not a breakfast-sandwich town, but apparently everyone lined up at Devil's Teeth in the foggy wilderness of Outer Sunset didn't get the memo. They're all there for the 7x7's best early morning breakfast handheld: two scrambled eggs, cheddar, pepper jack, avocado, lemon-garlic aioli, and applewood-smoked bacon on a fluffy homemade buttermilk biscuit that steals the whole show.
Blue Collar Restaurant
Miami, FL
It's only fitting that in a city where a good percentage of the population isn't getting out of bed until noon, the first meal of the day -- "breakfast" if you will -- is only available at lunch. But time is a relative concept in Miami, so don't worry about it too much and just dig into this Portuguese muffin with two eggs over easy, bacon, cheddar, a touch of garlic aioli, and a potato latke wedged Big Mac-style in the middle. We're lovin' it and promise you will too.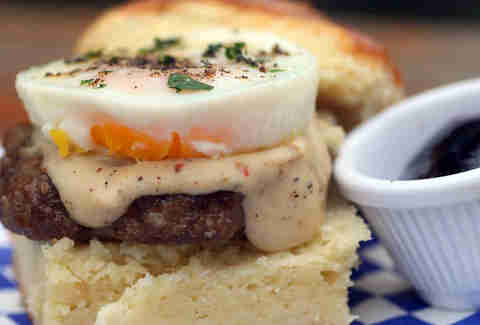 Dish With Save Venue
Name of Item
Sausage biscuit
Venue Title -- ADD LINK to (address and info)
Bang Bang Pie & Biscuits
Bang Bang Pie & Biscuits
Chicago, IL
When your breakfast stop is a pie shop that bakes with leaf lard -- the highest grade of pork lard known to man -- you know you're in good hands. Bang Bang's small-batch sour cream biscuits are every bit as high quality as its slate of pies. Your entry point is the far-from-basic sausage biscuit, which stacks soft-as-clouds biscuits with sage sausage, sawmill gravy, seasonal jelly, and a poached egg (which is a must-add).
Koppa's Fulbeli Deli
Milwaukee, WI
Gather around, you curdless sprites, and we shall tell you of the Hodag, a mythical Wisconsin beast with the head of a frog, the tail of a stegosaurus, and the body of a bull. Also, between the Milwaukee's Best and long winters, Wisconsinites have a lot of time to hallucinate weird monsters. Anyway, Hodag is also the name of the breakfast sandwiches at this deli/grocery/beer store, and it, too, is the stuff of legend. Because you build your own Hodag based on the menu card, it can be anything. Want it on a croissant with bacon and egg? Yours. English muffin with ham? Absolutely. A hoagie with sausage? Actually, do that, because it's the best. Stegosaurus meat? Maybe if you roll in on the right night during January. Because legend has it...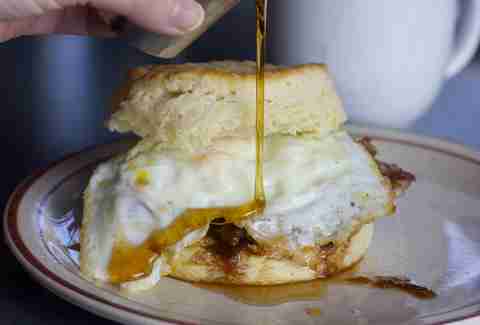 Dish With Save Venue
Name of Item
The Dahlia
Venue Title -- ADD LINK to (address and info)
Denver Biscuit Company
Denver Biscuit Company
Denver, CO
The only problem with Denver Biscuit Company's Dahlia sandwich is that it's bound to be the highlight of your day. It's all down hill from here, in a good way, thanks to a steaming-hot biscuit elevated with an unconventional pairing of breakfast elements: an over-easy egg, maple syrup, apple butter, and a house-made sausage patty. The magic is in the contrast -- the spicy kick of the sausage is the perfect complement to the sweetness of the syrup and a fruity punch of apple butter.
Doughboys
Los Angeles, CA
So we realize that every Angeleno reading this will scream at us for not picking Eggslut, but here's the thing: brioche is not the best bread to sop up egg drippings. And Eggslut doesn't cover its breakfast sandwich with cheese and then re-bake it so the whole thing is a gooey, delicious mess. Doughboys does, and even does the kindness of serving it at dinnertime.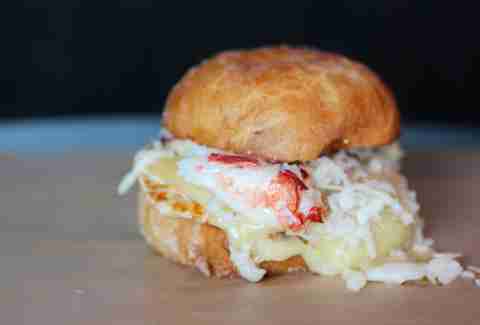 Dish With Save Venue
Name of Item
Fried egg sandwich with Dungeness crab
Venue Title -- ADD LINK to (address and info)
Seatown Seabar & Rotisserie
Seatown Seabar & Rotisserie
Seattle, WA
Located at the edge of Pike Place Market in the space that actually housed the original Starbucks, this seafoodery/raw bar from Tom Douglas isn't as famous as the super-chef's old-school spot, Etta's, but it deserves a serious rep for the fried egg breakfast sandwich alone. It starts with a buttery roll spread thick with avocado, then they add rich Beecher's cheese -- made just down the street -- and a heaping pile of rich Dungeness crab, making this a quintessential way to start the day in Seattle. Especially if you want your day to end, like, immediately afterward.
J.J. Hapgood General Store and Eatery
Peru, VT
J.J. Hapgood is the oldest continually running general store in the state of Vermont, and if Baby Boom taught us anything, it's that Vermont is full of general stores! That tidbit might make you think the provisions err towards the basic, but there's so much going on with their breakfast sandwich that they literally had to draw a diagram. Everything's local, from the eggs to the sausage to the bacon to the cheddar, and you best believe they don't skimp on produce like garden-fresh leafy greens. But the real star of the show is the homemade biscuit, which continues the homegrown theme by using flour, butter, and buttermilk all sourced in the Green Mountain State.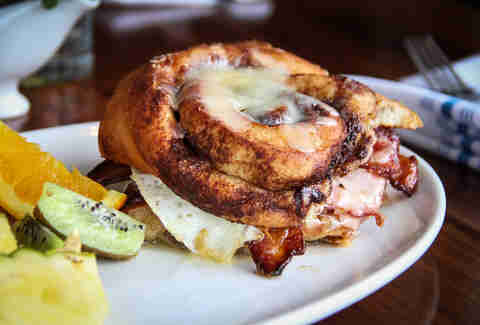 Dish With Save Venue
Name of Item
House-made cinnamon roll sandwich
Venue Title -- ADD LINK to (address and info)
Del Mar, CA
Nutmeg, cinnamon, and so, so much butter supercharge Sea & Smoke's cinnamon rolls into a beautifully gooey meal unto themselves, but they reach superlative status when split and tossed on the grill with cheese-encrusted ham, two strips of bacon, and a perfectly fried egg. If that wasn't enough, a layer of cream-cheese frosting on top means your eyes aren't the only thing glazed over.
Bagel Gourmet Ole
Providence, RI
Mexican hangover cures are typically confined to the realms of huevos rancheros, menudo, and breakfast tacos, but the very friendly Mexican family behind Bagel Gourmet Ole has taken a bite out of the Big Apple's breakfast traditions and created the bacon, egg, and cheese bagel of RISD students' dreams. Providence Magazine called it the best bagel north of NY, our ex-pat source called it his go-to hangover cure, and we're calling it one of the very best in the country.
Dish With Save Venue
Name of Item
The Ship's Biscuit
Venue Title -- ADD LINK to (address and info)
Saltie
Saltie
Brooklyn, NY
Before tasting the Ship Biscuit at Saltie's, our NYC editor considered meatless breakfast sandwiches to be horrible abominations incapable of combating even the most amateurish of hangovers. But he ate his words, and a ton of these sandwiches, due to the magical way the creamy scrambled eggs mingle with soft ricotta on herb-crusted focaccia. It's one of the few breakfasts in New York City that doesn't need to fall back on bacon or a bagel, and for that we salute it.
Coffee House Cafe
Dallas, TX
First, make French toast out of challah bread cut as thick as Texas toast. Then top it with cheddar, charred sticks of bacon, an egg over medium, more cheddar, and finally another slice of that French toast. The cheese glues it all together, and the experience of this gluttonous bomb making love to your taste buds is worth every year that it takes off your lifespan.
Chorizo and egg with cheddar and salsa picante
Noble Sandwich Co.
Address and Info
Austin, TX
Sandwiches take a backseat to breakfast tacos in Austin, so it's fitting that the city's finest sandwich slingers would take a cue from their neighbors to the south. Chorizo is the star of the show here; a hearty layer of cuminy pork that's chunkier and less greasy than most of its counterparts. The spices pair excellently with a fried egg and thick, devilishly congealed slab of cheddar. Bacon bread is optional, but might as well be mandatory. Unfortunately, this sandwich is only available on weekends, but luckily absence only makes the mouth grow fonder. And allows the heart to heal a little.
Sign up here for our daily Thrillist email, and get your fix of the best in food/drink/fun.
Dan Gentile is a staff writer at Thrillist. He lives in the breakfast taco capitol of the world, Austin, TX, but doesn't discriminate when it comes to carb-based breakfast vessels. Follow him to biscuit glory at @Dannosphere.
Other Stuff You'll Like In 21 Best
Stuff You'll Like