Fried chicken just might be the world's most versatile food. It makes just as much sense at the dinner table or in your car or at breakfast with waffles, as it does at 3am out of the fridge or during the seventh-inning stretch of an intramural, co-ed softball game. Though there are many styles, we opted to stick to Southern fried chicken because it's the truest, oldest, American-est form. Our research took us from famed chicken shacks in Nashville to an 1800s log cabin in Kansas City and down to Miami. Yes, even Miami. Disagreements? Omissions? Compliments for our impeccable taste? Leave 'em in the comments. But for now, tuck your napkin into your shirt, break out the biscuits and sweet tea, and savor our picks for the best fried chicken across the US of A.
Since 1946, the place that sounds like my favorite fever dream hotel ever has been serving up outstanding barbecue and fried foods to the citizens of Houston. My Mom claims that -- when I was born -- they used to drive 45 minutes from our house over on Westleigh just to get the Chicken Fried Steak and that incredible, crispy Southern Fried Chicken, while I sat there sleeping and NOT EVEN ENJOYING THE INCREDIBLE FOODS PRESENTED TO ME. The best move is to order the alarmingly juicy All Dark. You've got to wait a half hour to get it, but when you do (alongside a stuffed baked potato with chopped beef) you'll understand why I'm still mad at my Mom for refusing to give me some.
For years, Brenda's French Soul Food had people standing in line for brunch way before it was trendy. And now that she's opened a more casual diner on Divis, people are going to have to get used to standing in line for dinner. Though you have no choice but to get Brenda's Fried Chicken -- just a little spicy and peppery and crispy, and it's perfect with the collards and that cauliflower gratin -- we're also pretty damn partial to the spicy chicken sandwich, which utilizes that same secret recipe crispy chicken, but throws in enough heat to balance against the coolness coming from the mayo, pickles, and lettuce.
Don't let the cute name fool you: this isn't a ladies-who-lunch spot, unless those ladies like grease spots on their cardigans. Busy Bee has been the best fried chicken spot in Atlanta since it opened in 1947, and, in a city that boasts soul food spots like lesser cities boast McDonald's, that means a lot. The chicken brines for 12-hours before it's tossed in lightly seasoned flour and plunged into a hot peanut oil bath. The only thing better than the chicken is the chicken smothered in pan gravy with two sides: get collards and broccoli and cheese casserole.
Just North of the Chicago city limits, this chicken shack (they are aptly named!) has been winning Chicagoland over for a quarter-century with its juicy bird thoroughly covered in a batter that achieves just the right levels of crispness and seasoning. While it doesn't need any help, dipping it in some of their delightfully spiced BBQ isn't a half-bad move. Foregoing the biscuits, however, is an extremely bad move.
If I'd written this a week ago, I could have told you that Gus's chicken is famous enough to have 10 locations, 5 in its Tennessee home state and a few more dotted through the South. But I'm writing this RIGHT NOW, two days after the Memphis-based restaurant announced its paprika and cayenne-spiked fried chicken will be arriving in spots as far as Los Angeles and Chicago this year. So, Midwest & West Coast friends, do yourself a favor and get yourself to one of these gingham-draped tables, ease yourself into deep South flavor with fried pickles spears, order a beer, and get to know Gus's spicy chicken.
Do you know what a hollyhock is? I didn't. It's a tall Eurasian plant of the mallow family and has "large showy flowers." Well, apparently they grow in Indiana in the place where V.D. Vincent and his wife started serving special dinners at their cottage. It's only had two other owners since that time, run now by the Snyders, who've been a part of the restaurant for over fifty years. But enough history, let's get to the good stuff. The fried chicken is the first thing you'll see on those menus, as they've already figured out the appetizers, salad, and side dishes for you. They call it "famous, Hoosier, pan-fried chicken." You'll just call it "that thing I need to eat at least fifty more times in my life."
Vincent Williams, the master chef at Honey's Kettle, has "over 40 years of fried chicken cooking experience." He is purported to have fried "millions of pieces of chicken every year." And according to Malcolm Gladwell theories, that puts him so far over the 10,000 hour mark, he likely has no choice but to be the best fried chicken chef in the damn world. And judging by his chicken, that theory might hold up. All of it is hand-dipped in a special batter that is impervious to high temperatures and cooked up in peanut oil. Do yourself a favor and get the three-piece with a wing, leg, and thigh in the mix, plus those buttermilk biscuits. Then dip everything in honey and figure out what you should dedicate 10,000 hours to. It might just be eating this chicken.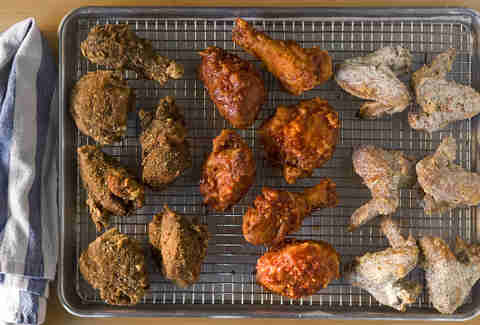 Though the hype surrounding Federal Doughnuts can -- at times -- reach some sort of a deafening fever pitch, what with the lines and the handing out of cards entitling you to fried chicken, chef Michael Solomonov's bastion of fried birds and dough continues to be worth temporarily losing your hearing over. Though the chili-garlic glaze is delicious, you're going to want to get the buttermilk ranch or za'atar dry rub on a half order (the "naked" version is very good, but the spices move it into Nic Cage 'High Praise' territory. Oh, AND: it comes with Japanese cucumber pickles and a honey donut, because that's really the only thing that can show waffles what's up.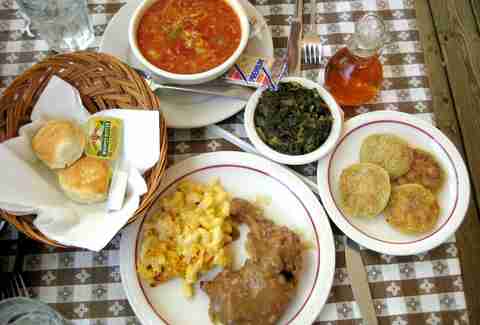 The first time I went to Chapel Hill, it was for a wedding. But REALLY, it was to backseat-drive a carful of my extended family to Mama Dip's, tucked off the college town's main drag, for a two-hour lunch. Mildred Council, aka Mama Dip, so nicknamed because her "long arms allowed her to 'dip'" to the bottom of the rain barrel as a kid, started serving her lightly peppered shortening-fried chicken back in 1976. The move is half a fried chicken with greens (it changes daily, but you can trust it all, collards, turnips, or mustards), and black eyed peas -- both are cooked with pork, of course. And your next move is to avoid falling asleep in the wood paneled restaurant with its Grandma-approved patterned curtains and front porch. It may look like a living room, but, just because you ate half a bird, you can't sleep there.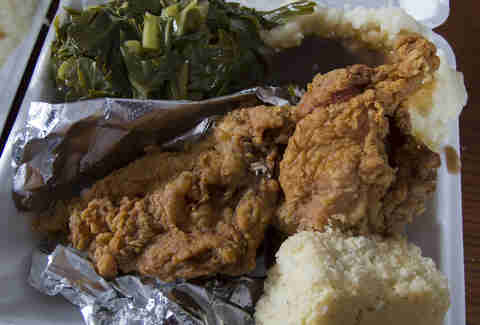 Detroit takes its soul very, very seriously, whether it's coming from the voices of MoTown legends or the kitchens of its restaurants. Motor City Soul Food is basically Detroit on a plate, a pile of perfectly cooked soul favorites served up by hard-working folks who take immense pride in their work, even if they're forced to do that work from behind bulletproof glass. The chicken itself is a thing of such simple, crispy perfection that more than warrants the line that frequently wraps out the door. The sides do it equal justice, but don't fill up too much on candied yams and okra, or you'll miss out on one of the best damned banana puddings in the world.
The Old Country Store is operated by Arthur Davis, but you can call him Mr. D. And Mr. D's going to greet you with a song when you walk in his Lorman, MS restaurant: "Grandmama… oh Grandmama was a cornbread cookin' queen," which is, obviously, going to make you wish you knew Grandmama. The excellent news is that royalty is a family thing, and Mr. D. is the fried chicken king -- he used Grandmama's recipe to earn that title. So get in line for the buffet and load up a plate because, as Mr. D. also sings, "two piece chicken and a biscuit… get it while it's hot." And you should always obey the king, especially when he's a singing baritone chef in rural Mississippi.
People's Pig answers a question few have asked, yet probably should: what would bacon taste like if bacon was made from fried chicken? The answer is the Smoked Fried Chicken at this food cart turned brick-and-mortar, which gives the boneless bird a light wood-based sauna session before it's dunked in batter and fried. Not bad for a place that made its name with porchetta and BBQ. There's a lot of great fried chicken in Stumptown (big love to Dub's and Reel M Inn), but the People's Pig gets mad love for taking something as beloved as fried chicken and transforming it into something utterly different and magnificent.
Yes, we know it's technically hot chicken. But that hot chicken is fried, right? And Prince's, on the North side of Nashville, just happens to be the best damn spicy fried chicken in America. If you can spare a couple of hours to deal with the line, hit up Andre Prince's ode to the spicy side of the bird and get a whole chicken, some extra pickles, and bread. We like it "hot," which is just enough to make us sweat, but not enough that it feels like you're being punished for eating. And don't worry about finishing the whole bird. We just wanted to leave you enough to take some home with you.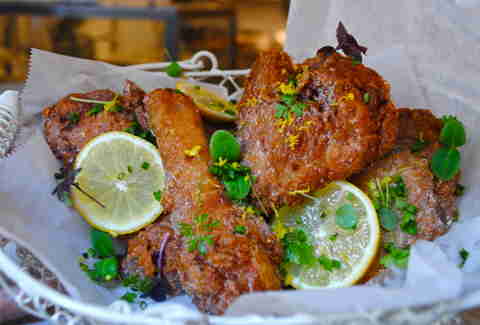 Exceptional Southern fare in the heart of Manhattan's Alphabet City isn't exactly ordinary. But neither are the unexpected kitchen duo of a Florida-born, Alabama-raised farm boy and an Australian-bred blonde with a stint in Miami's Yardbird. Their turn on the entire menu -- from deviled eggs to cheese grits -- is delicious. But their chicken… well, their fried chicken is sweet tea-brined for 24-hours with garlic and onions and probably Southern sun, and then it's dredged in flour and deep fried and "lemon dusted," and it shows up at your table in a white, wire basket, like the perfect welcome-to-the-neighborhood, citrusy, salty, juicy gift of Southern hospitality that you have always wanted. And, once you've also tasted their dense, square biscuits whose layers were made to soak up the honey au jus and take a dusting of sea salt and benne seeds, you're going to want to be welcomed to this neighborhood over and over again.
For 26 years now, Shirley Mae Beard has kept the rich history of the building that used to house the famous watering hole J&H Food Bar alive with her home cooking cafe. Before you do anything else, get some of that famous hot water cornbread to hold you down while you watch her cook-to-order your Southern Fried Jumbo Chicken Wings. For $9 at lunch, you get four perfect wings, cornbread, and two sides (make sure one is real mashed potato salad). The pan fried wings have just enough seasoning and stay crispy and moist, even as you're asking for a couple more pieces of cornbread and a sweet tea to help wash it all down.
If, like us, you've always wanted to eat your fried chicken in an 1829 log cabin and farmhouse, Oak Ridge Manor is the place to do it. Since 1933, the good people of North Kansas City have hit this place for their pan fried chicken. Get the regular dinner, and when you bite into that crunchy, salty, juicy, peppery chicken mess, and grease runs all down your face and YOU JUST DON'T CARE BECAUSE IT'S THAT GOOD, maybe pause for a second and appreciate your surroundings. Or, if you need more famous people to tell you how good it is, they've got great quotations lauding their chicken along the bottom of their website. So if you're wondering if seven-time-World-Series-winning "professional baseball star" Hank Bauer called it "The best darn chicken I ever ate," worry no more. He might just be right.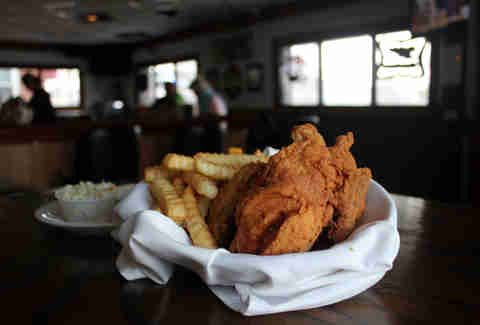 You don't make it in the food game in Milwaukee without knowing your way around a fryer, and you don't three-peat as the Milwaukee Wing Fest champ without some serious poultry prowess. This "Friendly Fried Chicken Joint" embodies all the welcoming lack of pretension you find at your typical Wisconsin tavern, with the one critical difference being the exceptional fried chicken. The well-balanced batter's not layered on quite as thick as what you might find at more Southernly joints, yielding an end result that isn't too heavy (by fried chicken standards). Get a four-piece hobo chicken dinner with fries, slaw, and Italian bread and go to town. Or if you want some of those aforementioned wings, they'll do them with or without the batter depending on preference. Keep an eye out for rotating special sauces like the Nutty Rooster, a combo of Sriracha and peanut butter.
Sure, you can't start any conversation about Top Notch without mentioning its iconic placement in Dazed & Confused, but there's a damn good reason the old-school drive-up joint's in the movie to begin with. Since 1971, it's made Austin's finest fried bird. And as the city's food scene has evolved into more haute takes on comfort classics, Top Notch still does what it's always done: it makes a perfectly crisp, salty, old-school chunk of chicken that's golden fried and bursting with juice. That's the good thing about Top Notch. You keep getting older, but that chicken stays the same.
New Orleanians are wont to throw around words like "legendary" and "institution" and "classic" when it comes to their restaurants that can lay any kind of claim to those adjectives. But, well, Willie Mae's fried chicken deserves it. That crispy, spicy chicken was enough to drive crowds of volunteers to tend to the nearly half-a-century old restaurant after Katrina flooded through, and its melt-in-your-mouth skin and juicy meat are enough to beckon even the most tourist-averse locals to wait in the lunch line on a weekday for a plate, plus a side of salty, smoky red beans and rice. So, yes, Willie Mae's Scotch House is a legendary, classic institution -- not just of NOLA, but of the South.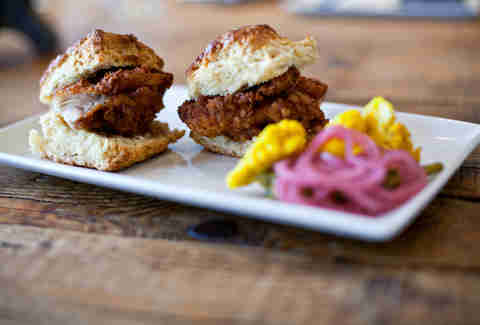 "Fried chicken? In Miami?!?! Obviously these writers have never actually had good fried chicken." That's my imitation of an inevitable comment coming for our inclusion of a South Florida joint on this list. But guess what, friends? We have eaten good fried chicken (possibly even at 20 other places on this list), and this Miami joint deserves inclusion too. You can go one of two ways: either with Llewellyn's Fine Fried Chicken itself with some spicy Tabasco honey, or -- our move -- the Chicken N' Watermelon N' Waffles, which features hot sauce honey, chilled spice watermelon, a cheddar cheese chow chow waffle, and bourbon maple syrup. Just typing those words make me want to re-live it.
Yes, Frankenmuth is a tourist trap, what with its all-year Christmas store and cheesy Bavarian theme that at least one commenter below has bemoaned by now. But one of the main draws for the city is its salt-forward, German-style fried chicken, which is served in endless portions by traditionally dressed servers in a gigantic banquet hall apparently attempting to break the record for cramming the most overfed Midwesterners into one place. That so many folks are willing to endure the place's crowds and tourist-trapping amenities (it's also a hotel with water slides!) goes to show that good fried chicken is an attraction all its own.
Kevin Alexander is Thrillist's Food/Drink executive editor and thinks every food should be fried and served with hot honey. Follow his amateur biscuit sketches @KAlexander03.

Liz Childers is Thrillist's Food/Drink associate editor and once put hot honey on hot honey. Follow her dramatic live tweets re: pimento season @lizchilders1.