Now You Can Eat Breakfast at Whole Foods for 25 Cents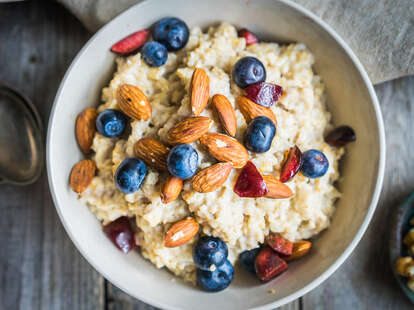 Following the success of its 25-cent coffee special last month, Whole Foods is continuing its "Love Fest" customer appreciation campaign by launching a pair of new deals this month, and -- you guessed it -- they'll cost you a whole quarter.
Starting Wednesday, October 14th and ending October 27th, you can score a small cup of oatmeal for 25 cents at your local Whole Foods Market's hot bar until 10am, daily, which could very well be the sustenance you need to avoid such grocery store fails as hangry shopping. The second is basically a repeat of last month's coffee promotion; specifically, from October 28th to November 3rd, you can grab a 12oz Allegro (Whole Foods' brand) coffee or tea for 25 pennies, which is totally how you should pay. Check your couch.
Last month, Whole Foods sold more than 1.2 million cups of coffee for 25 cents, or about 57,117 per day, according to a press release. What the company didn't say is what other items the customers who took advantage of the deal went on to buy. After all, the customer appreciation deals have been seen as a push by the embattled organic grocery chain to lure in shoppers who might leave with additional purchases and distract you from that whole overpricing scandal thing. But whatever, it's a risk we're willing to take.
Sign up here for our daily Thrillist email, and get your fix of the best in food/drink/fun.
Tony Merevick is Cities News Editor at Thrillist and is actually super excited that it's finally cool enough for hot oatmeal. Mmm. Send news tips to news@thrillist.com and follow him on Twitter @tonymerevick.