There are certain foods you eat on 4/20, and then there are certain other foods you simply forget to eat on 4/20, because you also forget to leave your house and do things, like purchase and subsequently consume food.
But no more! All you need to do is consult this handy 4/20 snacks ranking, which provides important and detailed information on which snacks are "good" and which other snacks are "better than that." Then, after you forget what you just read, read it again. Repeat this until you are actually eating something.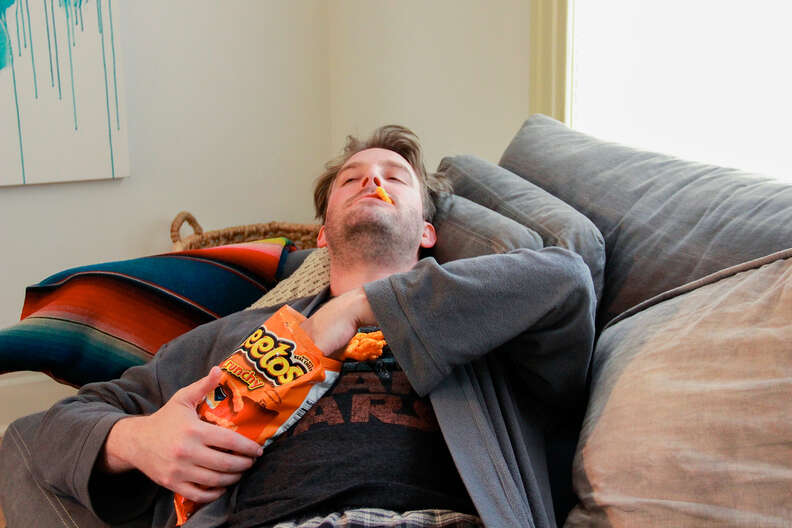 24. Cheetos
They would be higher, but stuff will get on your fingers, and eventually on your H.O.R.D.E. Fest '97 T-shirt, and that thing is an institution.

23. Handfuls of mozzarella cheese straight from the bag
This works horribly if it's the low-fat crap.

22. Those popcorn tubs with three kinds
Even more fun if you just kinda dump the whole thing into your face and hope for the best.

21. Wings
Same thing as Cheetos, but parts of your H.O.R.D.E. Fest '97 T-shirt are already kinda the same color as wings.

20. Cookies
People like cookies.

19. Dipping something into a jar of cheese sauce
This works less-well if it's just a brick of Velveeta sitting on your coffee table, but that doesn't mean you shouldn't try that too.
18. Reese's Peanut Butter Cups
Bonus points if they're the little tiny ones, because that's basically like eating crumbs from a full-size one, and everyone knows you can eat as many crumbs as you want without getting fat.

17. Novelty holiday Reese's Peanut Butter Cups
Easter wasn't all that long ago. You best get some of those egg ones.
16. 6ft party sub
When Neil deGrasse Tyson is done absolutely blowing your mind about the universe, he will probably climb out of your TV and split this with you.

15. Old bags of SunChips
Spend lots of time ruminating on exactly what happens at a cheddar harvest.

14. Sour Patch Kids
Actually that's pretty stupid, they're too intense and will harsh your mellow. I'm too lazy to erase this though, even though typing this sentence took much more time than just hitting delete. Well, too late now.
13. Kale
Huh?

12. Funyuns
You have to eat something from that food list in Half Baked, and those Abba-Zabas are impossible to find.
11. Pringles
"Once you pop, you can't stop" doesn't make any sense if you never put the lid back on.

10. Beer
It takes the kind of thinking that only occurs on 4/20 to reclassify beer as a snack.

9. Lucky Charms (just the marshmallows)
On a normal day, your roommate would probably do something really mean if you left just boring toasted oat pieces in the box, but today he's going to be too busy being passed out underneath the futon.
8. Those weird frozen White Castle burgers
You will definitely forget them in the microwave and find them at 1am, but it doesn't really make a difference.

7. Grilled cheese
The natural 4/20 reaction is to ponder why you don't always do it on an actual grill, and then go outside and fire up some coals, and then listen to Pink Floyd and find bread and cheese on your counter three hours later.

6. Just slices of un-grilled American cheese on bread
Well you can't just let food sit there.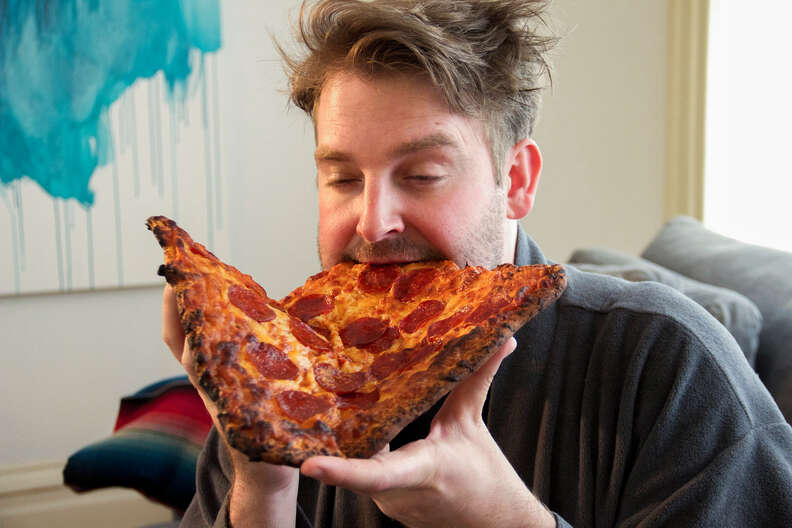 5. Pizza
The only problem is that six pizzas get kinda filling... eventually.

4. Anything in that drawer that you've rooted through seven times and keep finding nothing in
Holy crap, this is the greatest vanilla Tootsie Roll in history.
3. Hot Pockets
Hot Pockets! That's what the commercial says.

2. Combos
Some genius figured out a way to shove an entire pizzeria inside a pretzel, and somehow not have it taste like chairs and napkins and people and stuff.

1. Totino's Pizza Rolls
A dude I went to college with named Jeff Beal went to Totino-Grace High School in Minneapolis. It was funded by THE Mr. Totino, and they basically only had Totino's Pizza Rolls at lunch every single day. If you don't think that's something to spend the bulk of your 4/20 contemplating, you just read the wrong story.
Sign up here for our daily Thrillist email, and get your fix of the best in food/drink/fun.