4 Straight Days at the Craziest Barbecue Competition in the World
Wednesday afternoon. At the base of the bluff that's always protected Memphis against floods, a tide of humanity puts the finishing touches on a temporary village of scaffolding, PVC, plywood, and canvas. Soon the village will overflow with 236 teams from 22 states and five foreign countries, who between them will slow-cook well over 50,000 pounds of pork as they vie for $115,000 in prize money and a priceless reputation boost. They will also party their asses off.
Johnny Trigg is so kicked back in his chair he's almost horizontal, answering questions about career winnings with endearingly blunt obliqueness ("Did you keep the motorcycle?" "I'm still alive, aren't I?"). Born in 1938, the two-time Jack Daniel's world champion is a Kansas City Barbeque Society legend; he even has an eponymous rib-cooking method, like a surgeon who gets his procedure named after him. But this is only the Texan's second attempt at conquering Memphis. After placing 40th in ribs last year, he doesn't take anything for granted, calling the difference between this and the KCBS -- a sprawling circuit whose championship, the American Royal, rivals the WCBCC's in importance -- "daylight and dark."
One key variant is the judging. Almost every other BBQ event in the universe is decided solely by a blind box tasting. "At a KCBS event all you do is fill up the styrofoam and send it back to the judges tent," says Myron Mixon, a three-time WCBCC grand champion and one of the event's overstuffed handful of household names. In addition to the blind box, the WCBCC adds an on-site layer: for the three major categories -- Ribs, Shoulder, and Whole Hog -- a procession of three judges come separately to your tent to rate your stuff's taste, tenderness, etc, listen as you present the saga of how you made it, and assess the appearance of your team and encampment. Make the top three, and four more judges will arrive together to be regaled with the same song-and-dance.
The WCBCC also stands alone in -- and is legendary for -- its raucousness. KCBS events are family-friendly affairs; you cook your meat with a small support team and you're done. Here, teams can number anywhere from 20 to 80 people and have hundreds of guests stop by to eat, drink, and raise hell over the course of three days, four if they're "friends and family." The only other cookoff that lets loose with this much abandon is the Houston Livestock Show and Rodeo, but… well, let's just say that at that event, nobody's waking up on an old couch next to a river.
This is the dining table of America. Everybody's equal at the table." Leslie Roark Scott, Ubon's
That doesn't mean WCBCC participants have to engage in behavior that Trigg dismisses as "hoo hah." As Neil Gallagher of Too Sauced to Pork puts it, "Everybody coexists. Some tents, it's just mom and pop in the dark playing bridge and smoking a cigar."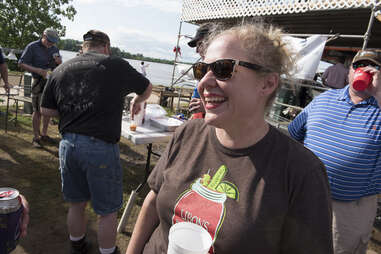 Thursday morning, pouring rain. Parallel to the Mississippi, a brown river rolls down the makeshift avenues between camps. Party Q's dripping American flag has blown around its pole as two team members prep a stack of ribs that stands 8-racks deep. The ribs are intended for guests, not judges. Each team may enter as many of Friday's ancillary competitions -- beef, poultry, seafood, and exotic (aka the "Anything But Pork" categories), plus tomato, mustard, and vinegar sauce -- as they want, but can enter only one of Saturday's Big Three.
The "H" preceding Party Q's stall number signifies they're going Whole Hog, arguably most difficult category. Like shoulder, it's an overnight cook, and you've got to nail every part of the animal simultaneously. The measures cooks take to keep the beast moist for the hours that competition BBQ can spend sitting around -- applying bacon, sausage, and butter to the loins; butterflying shoulder and sliding it under the belly as a fatty heat buffer -- feel like voodoo rituals. There are also less organic moisture-retention methods that are technically legal but frowned on by judges, namely phosphates, delivered with a fine needle to avoid detection. "[Competition barbecue] is like professional sports: unless you're taking some kind of steroid, you're not going to be able to compete," says Canadian Barbecue Society's Stephen Perrin, who personally rejects phosphates in favor of the voodoo method. A trained chef, Perrin is planning on injecting his hog -- with undertones of Filipino-style lechón, "so you have your traditional flavor of southern barbecue, and that je ne sais quoi of 'what the fuck am I tasting?'"
It's a subtly bold move, but similarly to how barbecue circuit warhorses like Trigg know the WCBCC is its own animal, Perrin and other restaurant veterans don't expect their experience in the kitchen will trump their lack of competition experience. Says Billy Durney of Brooklyn's Hometown Bar-B-Que, "Here, I'm just another punk trying to beat any other team."
"That's how barbecue teams start: other barbecue teams." Keith Obert, Slapjo Mama
There are a lot of other teams. Some compete 30 times a year on the circuit, others only exist to blow it out over this very long weekend. They typically form from old friendships, then evolve as old friends prove they're not up to new challenges. People split off and form new teams because someone on their current one is insufferable (Born in the QueSA's Stiles Rougeau on his former situation: "These events work best as benevolent dictatorships. We had a very poor benevolent dictator."), or because they're ready to take on a greater leadership role (Peg Leg Porker's Carey Bringle: "It's a source of pride when teams split off. Then you beat them and call them a bitch!").
Fixtures like The Hogfather survive and thrive because no matter how big their membership gets, they maintain a core of rabid cooks and make sure everyone else has a dedicated role, whether it's taking a welding class in order to build a team smoker from scratch, designing a team t-shirt repping 2014 honored country Panama by turning Van Halen's 1984 album-cover cherub into a fork-holding pig-boy, or just cleaning up the place.
Thursday, 6pm. The tribes amassed before the Cattlemen's stage ravenously await the start of the Miss Piggy Idol contest, to be judged by Al Kapone, traffic reporter Chelsea Chandler, the Orpheum's Paulette Smithers, Playhouse on the Square's Jackie Nichols, and Doug Brown from the Peabody. VooDoo Q team members hoist terrifying skulls-on-sticks into the air; focus on those instead of the laughing faces, and you'd be forgiven if you thought karaoke contest losers would be replacing hog on tonight's menu.
Piggy Idol might technically represent the "play hard" side of the WCBCC, but it takes a good amount of work. Teams must write and perform original lyrics, execute choreography, and somehow incorporate this year's Memphis in May Honored Country, Canada, into the routine -- by, say, re-imagining "Isn't It Ironic?" as an ode to slow-cooked meat.
"We come together in February, maybe early March, come together with a skit, come together with words, come together with whatever the theme is and put it all together by… today," says Swine & Dine's Tim Bethany, whose 85-member team has a standing Miss Piggy Committee. (Another Piggy Idol requirement: someone must dress up as the most high-maintenance of all Muppets, a role Bethany filled for somewhere between 10 and 13 years before retiring to mentor a successor. "It's a lot of fun," he says of the transition, eyes full of intrigue. "There's a lot of magic going on.")
Despite Swine & Dine's best efforts, this year's prize goes to Chi-Town Cookers, who, wearing informal Canadian tuxedos (denim shorts and vests), perform some legitimately impressive dance moves -- culminating in a cheerleader pyramid -- as they sing & rap through Flo Rida, Jason Derulo, Ginuine, and Beiber's "Baby":
"When I was thirteen, I made my first rub
There was nothing that compared to my flavor and nobody could believe it or could ever rise above
I made it so tasty, oh it was not luck
No, I am not hasty, I prep that pork butt
I rub the meat down, I drop the heat so it's perfect when we eat and
I cook with the Chi-Town, and we really gonna smoke it up this weekend
I got them goin' crazy, this rub is so amazing
And now you won't stop cravin', cause it's the month of May and
Bar-be bar-be bar-be… que
Like bar-be bar-be bar-be… que…"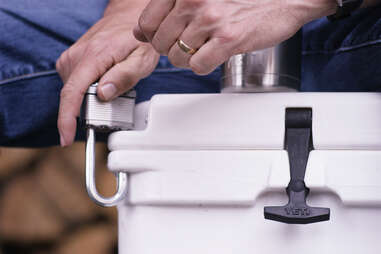 You can't do anything about the Memphis heat…
But you can at least keep your beer cold. And your water. And your energizing sports drinks. And whatever else you need to survive four straight days of the best time of your life. So when you form a team, remember to make a YETI cooler an official member (just don't expect it to pay dues).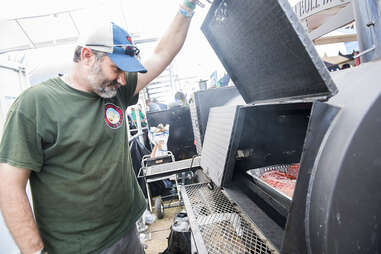 There are certain details you're required to document when you write about the WCBCC. That the structures erected by some of the teams are outlandish. That the most ostentatious reach three stories high. That many host full bars. That some are soundtracked by DJs. That others boast disco balls and stripper poles. That the cost can rise to the tens of tens of thousands.
This might give the impression that only the rich can afford to compete. It's an impression shared even by some of the event's more infrequent participants, but it's not remotely true. For one team whose all-in weekend expenditure was $21,000, most individuals only paid around $300 in dues, which also covered spouses. Expenditures are painstakingly tracked by financial models like the one Zach Krochtengel [full disclosure: he's my cousin] of Dirk Piggler's Porkographic BBQ dreams will end up being passed from team to team for generations, like one of those legendary law school outlines.
One WCBCC veteran, a highly accomplished IT director, actually lists "Treasurer: Barbeque Republic" on his LinkedIn.
As for the DJs, it's not like people are bringing in Tiesto. Mostly it's just team members with good taste in music: Too Sauced's is a young veteran putting together a foundation to combat PTSD through hiking in the glacial parts of Ohio; Magically Piglicious's is a pediatric neurosurgeon. And as for the disco balls and stripper poles: they're really not that expensive.
"It's a tailgating solution." Pitmaker George Shore, on a custom rig he's building designed to look like a S.W.A.T. vehicle
It's still an investment, but costs can be defrayed by adding members and attracting local sponsors. Memphis is a big small town; many teams have a guy who knows a guy willing to pony up a few thousand dollars in return for signage and lunch for the employees/clients of his financial services firm, law office, or vascular center. Of course a few teams up the ante dramatically -- the Usual Saucespects boast big corporate sponsors who float a Vegas club-worthy sound system; Pitmaker is in the custom pit & trailer business, so their rig is... well, there are four flat screens built into it -- but that's the exception, not the rule, and it's not an exception that makes any other team feel like they're having any less of a good time.
Speaking of which: Thursday night the park erupts with hundreds of private parties, with friends and friends-of-friends hopping amongst them and strangers held at bay by security that ranges from professional to tough-enough to a harmless looking kid in a mountie uniform. Each bash has its own character and tempo. The Swinos, who've attended this event since they were teenagers, throw an endlessly bouncing fraternity bash befitting thirtysomethings not quite ready to accept that, one day soon, they'll be slowed by what onetime hard partier Ross Capwell of Rebel Roaster Review refers to as "Life. Kids. All that." Down the river, the Pegleg Porker crew kicks off with a late afternoon "panty dropper social" before dwindling down to a casual get-together of whiskey and Jason Isbell.
Outside Porkosaurus, a bearded guy in his 70s sits on a folding chair beside a smoke-spewing, tusk-flaring hog named Dino, guarding the entrance to beautifully random chaos that seems scripted by David Lynch's fun younger brother. Bubba Sparxxx's "Ms. New Booty" moves asses of all ages, from a girl with a punk haircut to an Arlo Guthrie-looking dude in a "Starkvegas" shirt. If you came to Memphis hoping to watch a 65-year-old man serve up a shot-ski to four girls in their 20s, you have arrived.
The madness ebbs (but does not cease) at midnight, when police usher out of the park everyone not wearing the blue "24-hour" wristband distributed only to team members directly involved in cooking. An old Memphis friend tells me that to keep the good times rolling 'till dawn, his former team's wristband-holders used to hide friends in the port-o-let.

Friday morning, Porkosaurus miraculously hums with activity. The core of the team sweats away preparing ancillary entries, some cooking chicken, others building BBQ Lobster Rolls with the precision and care of a fine restaurant. I ask Rob Kohring how his granddad-aged teammate could possibly spend the night keeping up with twentysomethings only to wake up and put in the work it takes to add to the imposing collection of trophies hulking in the corner. "If it's who I think it is, he has not woken up yet," says Kohring, smiling. "Nobody can say anything because everybody on this team has done it." Another gray-haired man strides past in shorts and running shoes, grandly puffing a cigar as he exits with a blind box in hand. "That's our runner," explains Kohring. "Good thing the judging tent's only 40 feet away."
The riotous nature of the WCBCC stems from a tradition of Memphis partying that stretches back 150 years, with an inspirational assist coming from a far west Texas ghost town. Colton Greene organized Bluff City's first Mardi Gras in 1872, and soon the soiree rivaled New Orleans and Mobile with 20,000 revelers flooding the streets and another 3,000 marching in a parade presided over by a Prince of the Carnival perched atop a 25-foot wine glass. Though it persisted until 1901, Memphis Mardi Gras suffered an ultimately fatal blow in 1878 when yellow fever wreaked such population devastation that the city lost its charter; a tragic forerunner to modern New Orleans, newspapers around the country urged the powers that be to "Burn Memphis And Abandon It!"
The powers declined, Memphis rebounded, and from Mardi Gras' ashes arose the Cotton Carnival. Founded in 1931, it was (and to an extent still is) a sprawling, upper-crust affair centered around legendarily boozy private parties (post-Prohibition Memphis forbade public establishments from selling drinks by the glass until 1969).
The WCBCC eventually overtook the Cotton Carnival (now Carnival Memphis) in terms of civic significance, but it wasn't actually part of the original Memphis in May lineup. Spearheaded by a young banker named Lyman Aldrich, the month-long umbrella celebration kicked off in 1976. In 1977, it added two cornerstone events: Sunset Symphony and the Beale Street Music Festival, the latter of which Aldrich had to fight for. Nine years after MLK's assassination, Beale had become a wasteland. Despite Aldrich being a banker, his belief in the historic district's potential for resurgence most likely made town elders view him as some sort of hippie.
In late '77, Aldrich's friend Rodney Baber attended the Terlingua Chili Cook-Off, arguably the chili world's most important competition -- and also an event where the atmosphere feels like adult spring break, despite being held in a desert. As recounted in Memphis Magazine, immediately upon Baber's enthusiastic return Memphis in May organizers realized they had a no-brainer on their hands.
"We have a censored version of our t-shirt that we wear to Little League and yoga." Hog Wild team member
The first WCBCC, held in 1978 in a vacant lot across from the Orpheum, saw fewer than 20 contestants. The winner, of $500, was Bessie Louise Cathey, who cooked ribs on a tiny charcoal grill while shaking her head disapprovingly at the event's original hell-raisers, the Redneck Bar-B-Q Express, who still compete, and still do many things worthy of a sensible woman's disapproval.
Things took off fast -- how could they not in a city where, in the words of Memphis historian G. Wayne Dowdy, "Every time we go to Tops and have a sandwich we're expressing who we are." This necessitated the move to Tom Lee Park, named for a boatman who rescued 32 doomed souls from drowning after their steamboat capsized (the people here are friendly; the river is not). There the event grown into the joyous sprawl it is today.
In 1985 the New Yorker's Calvin Trillin lionized the WCBCC, cementing its national reputation, which in turn helped cement Memphis's rep as the capital city of American barbecue. Ironically, Trillin worried that success was making the whole thing feel too much like a chili cook-off.
Friday… sometime before noon. The Patio Porkers division -- the FCS to the Competition division's FBS -- is situated along the long, paved, eastern boundary of the park, precariously close to the public port-o-potties, separated from the Competition teams by a chain link fence. Patio teams pay less money to occupy smaller, 15'x25' lots; they compete only amongst themselves, for a $2,000 1st place prize. There's no on-site judging. It's comparatively chill.
Beyond the more manageable cash outlay, reasons for going Patio vary. Cole Forrest started New World Oinkers (the name's an ode to Memphis' wrestling heritage) to give his friends a taste of the big leagues in the hopes they'd get hooked and dedicate themselves to moving up to Competition in a few years. A few stalls down, Vic, whose daughter runs Smokin' Hot and Saucy, tells me that he put in 25 years on the other side. To him, Patio's more relaxed atmosphere feels like vacation.
The Porkers have a reputation for only caring about having fun, and not giving much of a damn about excellence. It's undeniable that they love to get rowdy, but so does most everyone at the WCBCC. Vic offers an anthropological rationale for Patio's bad optics: their division only competes in ribs, which don't require overnight tending to. "There's nobody down here that doesn't give a shit about cooking. It's just that there's nothing else for us to do but cook ribs on Saturday morning, so the rest of the time, we party."
The old rule was that you could only compete in Patio one year before you had to move up to Competition. Now, only the 1st-place Patio team has to advance divisions. A few years ago, one team that made the top three actually threw their Finals-round judging by flat-out dropping their blind box. Their choice wasn't right or wrong; they simply had an opportunity to stay in college forever, and they took it.
Friday afternoon, inside the circus-sized judging tent. "You can talk about anything but food, and that includes going 'mmm, mmm, mmm'," a WCBCC official instructs the 300 judges who've assembled four to a table, bingo-parlor-style, to render blind box verdicts on today's ancillary categories. The mostly upper middle-aged crowd is rounded out by a youth contingent, as well as an older crew who've made the commendable decision to, as one security guard put it, "spend their retirement coming to the river to eat instead of going on a cruise." Some are circuit veterans, others relative newcomers; all have completed a five-hour, WCBCC-specific training course. Regardless of age and experience, their tastebuds are born-again virginal: judges are asked not to drink or smoke beforehand, and many opt not to eat, either.
The official announces it's time for inspection. In unison, all 300 stand up, pop boxes, and, stone-faced, rate the food's presentation before sampling. If any are pleasantly surprised by the Canadian maple leafs stenciled in rub atop Dirk Piggler's bacon bowls, or floored by Pitmaker-Barbecue Addiction's sensational beef brisket, they do their best not to show it.
"Rib Entries: the meat should pull, not fall, from the bones." WCBCC Judges Manual
Today is a relatively light one for the judges compared to tomorrow, when they'll sample blind boxes for the Big Three, then make their on-site visits. Sandra Aylor, who's been doing this since 2006, judges 10 to 12 Memphis-style competitions a year, once joined a team to better understand the process, and is a rabid cook herself ("My smokers cost more than my wedding ring.") She takes her role dead serious. "When I walk into a team, I shake their hand as if I've never met them before, even if I was hanging out with them the night before," she says. Every judge is different, but she's primarily interested in "the story of how they got from A to Z… Where you got that hog, what charcoal did you cook with, what wood did you cook with, how long did you cook it, what temperature did you cook at, where did you get your sauce… I want to know about your smoker, want to see your meat on the grill."
But on-site judging is about ignoring as much as it is appraising. You must not factor in a contestant's TV star status, or the money a team spends on its structure. "Appearance" only indicates the degree to which they've made their area and themselves clean and presentable; whether they serve meat on paper plates or fine china is immaterial. If it rains (and it always rains), you must abide by official proclamation and judge either "knees up" or "waist up" in order to disregard mud. You can't be swayed by little bribes like fancy bottled water -- or, more dastardly, bonus hog portions that aren't part of the official scoring. "They want to give you the bacon," laments Aylor, "and you want them to give you the bacon, but you can't judge the bacon."
The toughest part is, you're instructed to only judge the barbecue you eat today, putting every other bite you've ever had out of your mind. To put that into a perspective that's only somewhat hyperbolic: there's an old news story, anthologized in Dowdy's book On This Day In Memphis History, of a paralyzed former Memphis State football player named Bill Crumby who had the opportunity in the late 1970s to travel to the Soviet Union's Sechenov Institute to receive a groundbreaking enzyme injection. Upon his arrival, he was summarily informed that he'd need an additional, risky surgery. Then the Soviets invaded Afghanistan. Saying he was either "too American or too redneck" to stick around, Crumby left Russia in the same condition he arrived in. The first thing he told the press upon his return: "All I want right now is to get me a barbeque sandwich."
Nobody here has endured Crumby's ordeal, but everyone here has a memory of one bite that felt like everything.
Friday night. Is the same as last night, if not crazier. But if you look close, you'll notice many of the cooks are taking it a little easier. As Mixon says, "If you try to win the party on Friday, you ain't going to win the cooking on Saturday."
Saturday morning. Judgement day. A younger guy in shorts/sandals/cap descends the long flight of stairs leading down the bluff, carrying a bouquet of yellow flowers intended for gussying up his team's staging area. A gorgeously haunting instrumental cover of "Fortunate Son" drifts up from below. It sounds a lot like Blind Faith.
Down in the park, everyone not cooking is sweeping up dirt, butts, and bones. A 6'3" joint venture between Cooperstown and Fusionetics ambles southward, cinderblock shoulders swaying. "I might not be able to play in the Majors," he explains to his comparatively gnomish sidekick, "but here I know I can compete and win." It betrays an admirable optimism for him to pin his hopes on yet another sport where the difference between victory and defeat lies in imperceptible breakdowns in mechanics and sometimes inscrutable calls by the umpires.
Baseball is a fitting background, though. The fetishism that goes into preparing even the most basic blind box, ribs, requires a level of OCD that'd make the most cap-tugging pitcher nod in appreciation. Very soon now, Rob Kohring will fastidiously pick the straightest bones, naturally selecting from the naturally selected. Kevin Olsen of Dirk Piggler's will run through a checklist that starts off "only use ribs that are dark cherry red, make it look like one slab even if they aren't from the same slab, glaze (to avoid streaks put the ribs in the sauce, don't put the sauce on the ribs), glisten, clean the box, clean it again…"
The garnishes used in shoulder, whole hog, and ancillary boxes exacerbate the compulsive behavior; for instance, when you're making a bed of parsley, you ideally want the sprigs to appear uniform, but as Hometown BBQ's Lianna Durney can attest, once you scrutinize them, "no damn piece of parsley looks like the next piece of parsley."
All this attention to presentation might only sway things a tenth of a point -- any judge worth their lanyard will tell you that the meat matters most. But as WCBCC Judging Chair Michelle O'Guin relates, in a place where everyone's meat excels, "sometimes it's just a small speck of a thing that means the difference between first and second."
A little later in the day, you start hearing times shouted throughout the park -- "Ten minutes!" "Four minutes! "One minute!" -- letting the cooks know how long they have before they must send in their blind box for judging. They cut it close intentionally; the less time the meat spends getting cold, the better, even though unlike restaurant meat, competition meat is always prepared in anticipation of it sitting around and getting cold.
Soon the makeshift avenues are thronged with teammates hustling towards the big tent, one acting as fullback, the other carrying the styrofoam box (or a high-tech warming case that carries the box within it).
Still later, the process reverses, as countless judges make their way towards the teams. When a judge arrives for an on-site, they're treated like a foreign dignitary, complete with a wildly cheering greeting committee outside and, inside, a solicitous presentation by the cooks. From underneath Team Canada's open canopy, you can hear them go through a detailed story of whole hog process and flavor, discussing the thermodynamics of their smoker like engineers. After the ham, shoulder, and loin are served, one cook -- a handsome, bald, pirate-looking fellow -- tells the judge something to the effect of, "Now there's nothing that says we can't thrill you with other stuff!" Then out come the jowls, and that bacon. The judge, a stout man with a jutting white beard, remains as respectful as you can be when you're eating while someone else is talking.
The teams go through this three times, with three separate judges. After that, there's a lull as the top three finalists in each category are determined. Then something wonderful to behold: if you make the finals, a golf cart will pull up to your camp and a volunteer will present you with a care package (ruby red vodka, whiskey, and two insulated tumblers) while your team goes bananas. Only the cart's driver knows which team area he's stopping at; the volunteer is kept in the dark. Nobody seems to know why.
While the finalists start preparing for yet another on-site presentation (this one to four judges at once), volunteers let the other teams know whether or not they made the top 10 and therefore get to step onto the awards stage to collect a trophy and enough money to at least partially offset a very expensive weekend. Many of the judges also circle back around to give teams advice on what they could improve on. At the end of the day, everybody wants everybody to do well.
At this point, things get really fun, and really quirky, though in a much more relaxed way than Thursday and Friday nights. Those who didn't make the finals kick back and commingle with other teams, trading ribs, plans, and stories. Non-victorious hog heads start popping up on posts all over the park. Bizarre traditions are started -- a few years ago, one team invented a game where the loser had to crawl into the stand-up cooler and take a shot. Again, nobody seems to know why.
Six O'Clock, awards stage. Meteorologist Ron Childers warms up the crowd, a section of which starts chanting "USA! USA!"
"That's right, this is America," says Childers. There's not a hint of xenophobia there, just an acknowledgment that this thing is about as America as it gets before launching into a presentation that includes references to John Daly, Minnie Pearl, celebrity selfies, and "keeping it green in 2016" (believe it or not, there's a Grilling Green award for most recyclables accumulated -- congratulations, Sloppy Chops).
Whole hogger Myron Mixon ends up winning Grand Champion for a record 4th time, hauling in $30,500. That doesn't mean the game is rigged; Mixon hasn't cracked the top 9 in years. You can see the merit-based system working when another heavyweight, Big Bob Gibson, comes in 7th in shoulder, just behind the far less famous but clearly deserving Grandmasters of Cooking Disasters. Lillie's Q takes top prize in that category, 10 Bones snags ribs, and Phat Chance takes the Patio Porkers division -- they're moving up to those big leagues, whether they like it or not.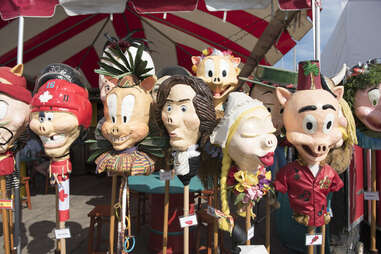 Sometime earlier in the afternoon, the Swinos crossed a line and are escorted from the park. There are varying reports as to what happened, but all involve the merry exhibition of a large synthetic appendage.
Despite this event's bedlam and rampant sexual innuendo, this sort of blatant display rarely happens. It's a testament to the organizers' deft touch when maintaining a happy marriage between Barbecue and Bacchus -- and to the participants' earnest belief that, down by the river, everyone is family. Years before #BLM, the WCBCC quietly and without incident halted the display of the Confederate Flag. No one protested. They did away with team stickers to tamp down on a rash of application-via-ass-slapping. Alternative rationales for the necessity of ass-slapping were not invented.
End of the day, almost everyone knows the difference between naming your team Deeez Butts and publicly brandishing an erotic implement. Even the Swinos, god bless 'em, don't contest their punishment; their Twitter sign-off simply reads "Well, looks like our 2016 festival has come to an end a little early."
Still, there are plenty who don't understand why a cooking competition needs to even bother walking that line. Why not just skip the party, disinvite everyone who doesn't cook, and focus exclusively on the only thing that matters, the food? The answer is that barbecue isn't food. It is a party, and the cook is the host -- why would you ever prepare an entire pig if you didn't want your lazy, good-for-nothing friends to show up (with beer) and tear it apart? When you step behind that smoker, you relish the opportunity to feed everyone you know and everyone they know, because the satisfaction you bring them satisfies something deep within yourself. And maybe it's kind of nice to be revered as a hero once in awhile, at least for the few days each May that this village stands.

If hard work and hard play sounds like a good time to you, a few teams, including Too Sauced To Pork, encourage anyone serious about barbecue to apply to join. If you're thinking "Why the hell not?" you're going to fit in just fine.