The Dispensary Marketing Company Disrupting the Weed Delivery Scene
How a couple of college dropouts are using bail bond experience and a Mexican call center to dismantle cannabis privilege.
Maitane Romagosa/Thrillist
If Millennials are known as the generation to reject conventional career ladders for start-ups and podcasts, Gen Z are becoming the group to deconstruct traditional business in general, starting up micro-companies in the niches yet unnoticed by the rest of us still figuring out TikTok. At least that's the best way to conceptualize a company like 420 On Demand, a kind of digital marketing service for dispensaries founded by a pair of 20something college dropouts who met while working in bail bonds. *Who met on Instagram via a shared hashtag while working in bail bonds marketing.
Yep, you read that right. The future of cannabis, and business in general, is wild.
Shane Sagar (26) and Joel Nevarez (28) both grew up in Southern California — Sagar in Rancho Cucamonga with his conservative Indian-American family, and Nevarez in Colton in a similarly straight-laced Mexican-American family. Sagar had grown up working at his family's air conditioning company, and when he got into the engineering program at Cal Poly, his parents' dream for him to take over the family business looked like it was falling into place. But he'd also cut his teeth doing door-to-door sales for a home security company, which led to an exciting, full-time offer from state senator Kevin de León to run door-to-door canvassing for his Los Angeles campaign, resulting in Sagar dropping out of school. As he dove into the new realm of compliance and advertising on platforms like Instagram and Snapchat, Sagar felt like he was seeing the future of marketing. He also saw dollar signs. When de León's campaign ended, Sagar took a lucrative job offer to generate leads for a bail bonds company, and kept working in that arena for the following years.
Joel Nevarez, meanwhile, was feeling trapped in the cycle of his marginalized, predominantly Mexican community, where watching friends get arrested for drugs, get killed in random violence, and spend their lives working at a warehouse was the norm. Like many of his friends, Nevarez' stepfather had been deported to Mexico for a cannabis charge when he was young. So when Nevarez looked around one day, and found himself following the footsteps and working a warehouse job, he decided to break the cycle. He found a job as an administrative assistant at a bail bonds company, working his way up over time and becoming a licensed agent.
It was around this point that Sagar and Nevarez ran into each other in the DMs of IG.
"I saw Joel had viewed some of my stories tagged with #bailbonds," remembers Sagar. "I saw he was local, and thought maybe he was the guy who'd been leaving a bunch of negative reviews on one of my clients, so I reached out. He did not turn out to be the troll. But we hit it off."
Sagar saw himself in Joel, and vice versa. Two young, first-ish generation guys, both in the business of marketing bail bonds as a means to divert from the paths laid out for them by their families and by society.
"We talked the same, we watched the same anime; we were instantly like, 'We should start a business together,'" says Sagar. "We both knew compliance, we understood how to bend these digital platforms; it was easy to combine forces and do well. But the work didn't feel good."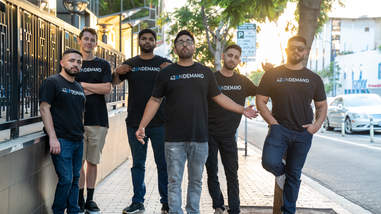 420 On Demand
The more leads, the more phone conversations with prospective clients having the worst day of their lives. The more exposure to just how many people are arrested for petty crimes every day, and how bail lets rich people go free and punishes poor people for being poor.
"We were helping people profit off the less fortunate," says Sagar. "Joel and I kept talking about finding a more just way to make money using our skill set."
Logically, they simply began applying their skills in the opposite direction.
"We started doing pro bono marketing for bail reform organizations, and lost half our clients," laughs Sagar. "But we were ok with that. We opened ourselves up to different kinds of marketing work, and then got our first client in the cannabis industry in November of 2019."
Sagar and Nevarez optimized the dispensary's website and streamlined their presence on platforms like Facebook, Snapchat and Instagram to boost business. At first, that shop got 4-5 delivery orders for every hundred visitors to the website. Today, they say that shop sees 25% conversion. "One in 4 people who visit the website end up ordering something," says Sagar.
That client shared his experience with other cannabis colleagues, and the referrals compounded. All of the sudden they had 35 cannabis clients and 0 bail bonds clients. They renamed the business, and 420 On Demand was born.
"Every bit of that discomfort we'd been experiencing working in bail bonds evaporated," says Sagar. "It was much more rewarding to show mom-and-pop businesses how to optimize their profit margins to strengthen themselves against multi-million goliaths in the industry."
Then COVID-19 descended in the US. Cannabis was deemed essential, and every client they worked with was seeing more than double the revenue as March moved into April. More and more dispensaries — especially in CA's saturated, competitive delivery market—turned to digital marketing solutions to stand out from the crowd. By the end of May, 420 On Demand grew to 80 clients. Those clients were facing new operational challenges with double the sales, particularly in the form of phones.
"Looking at traffic from Weedmaps and Google searches, we saw hundreds of potential customers were getting sent to voicemail every day," says Sagar. "Shops pay a lot of money to have their numbers listed on those platforms, so they should be converting those calls into sales. But bootstrapped dispensary owners couldn't justify hiring another employee simply to be able to answer phones more consistently throughout the day."
Their secret weapon? A Mexican call center.
Through Nevarez's stepfather, they found an office space and 14 candidates interested in working adjacent to cannabis, many of whom were deported from the US for previous cannabis charges. The 420 On Demand call center staff members are trained on CA state law, though they never themselves touch the product or cash involved in the transaction. They're paid Southern California pay rates, which land at least 70% higher than call center rates in that area of Mexico. As Nevarez points out, what makes 420 On Demand so fulfilling is this opportunity to create space in the industry for those who were most negatively affected by the War on Drugs.
"I take this industry very personally," says Nevarez. "I can't say I've been in this industry for years. But I can say I have a problem watching multi-state retail companies take root because of parents with deep pockets or investors from the real estate industry, while my friends who got arrested for cannabis business would never have the same opportunity to start a legal cannabis business."
Unlike a delivery middleman like Grubhub, for example, they don't charge dispensary clients to use their ordering platform, nor do they take a cut of every order facilitated. They simply offer optimization of a shop's online presence, customer service and a phone service through the call center, and the latest in rulemaking and compliance regulations. The end goal of 420OD is to empower independently-operated shops to compete with major delivery services rather than rely on them. Ultimately, Sagar and Nevanez see this business as their way to help people like them to start something of their own.
"The cannabis industry presents a unique opportunity as a new industry for different types of people, of different types of backgrounds, to come in and stake their claim," says Sagar. "It's kind of the coolest thing ever — it's a blank canvas."
Sign up here for our daily Thrillist email and subscribe here for our YouTube channel to get your fix of the best in food/drink/fun.
Lauren Yoshiko is a Portland-based writer and co-host of
Broccoli Magazine
's podcast,
Broccoli Talk
. She was among the first journalists to cover the commerce and culture of cannabis starting in 2014 and her work has since appeared in
Willamette Week
,
Forbes
,
Rolling Stone
, and
Broccoli Magazine
, among others. Follow her on Instagram at @laurenyoshiko for Portland breakfast sandwich recs, stoned nail art, and moderate cat content.