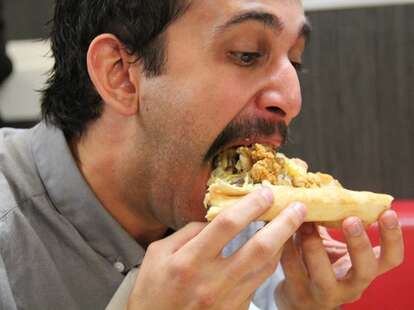 Innovations in pizza toppings are sweeping the nation, and while we remain forever loyal to pepperoni, we're also Ninja Turtles at heart--always up for trying a new and different slice of pie.
Mac & Cheese PizzaThe Return of the Mac from Pinthouse Pizza in Austin is covered with mac 'n cheese--as Mark Morrison would say, "Return of the mac, oh my god!"
Grilled Cheese PizzaWeekly rotating specials at Boss Lady Pizza in Denver include this Grilled Cheese slice with mozzarella, cheddar, gruyere, tomato and a "top crust". Who can say no to a pizzawich from the Boss Lady? We wouldn't dare.
Poutine PizzaChicago's The Boarding House offers a poutine pizza topped with braised chicken, cheese curds, and fried potatoes. Just looking at this makes us loosen our belts a notch or two.
Breakfast PizzaWhile the notion of an egg and bacon on a pizza is hardly novel, the idea of pizza in the morning (despite the bagel bites anthem) rarely crosses people's minds. Harry's Pizzeria in Miami is changing that with a bacon / gruyere breakfast pizza at its new brunch
Thrillist's Frankenfood PizzaWe created a fast food monster, specifically the Yum!onster: an unholy amalgamation of stuffed crust pizza, mashed potatoes, gravy, tacos, Chalupas, chicken fingers, mac & cheese, hot sauce, and a biscuit from Pizza Hut, Taco Bell, and KFC.