57 foods every man should eat before he dies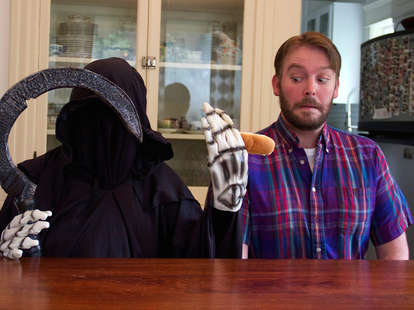 According to a terrifyingly detailed life expectancy test I just took online, I am going to live to be 84.27 years old. And considering all four of my grandparents lived to be 87, that doesn't seem great. But before I go to the big, roomy La Quinta with free HBO and local calls in the sky, I want to make sure we're all getting the most out of our experience here, so I made a list of things you should eat before you die. It's like that Bucket List movie, except I am not a gifted amateur historian and family man who never rose above my status as a mechanic at the McCreath body shop. (There are also other differences).
Some of the things on this list are very specific, some of them are vaguely specific, and some are just general things you can likely do right now, assuming you live by an In-N-Out. Anyway, partake of the list, and -- as always -- tell me what I missed, and why I'm going to live to be at least 84.29 in the comments: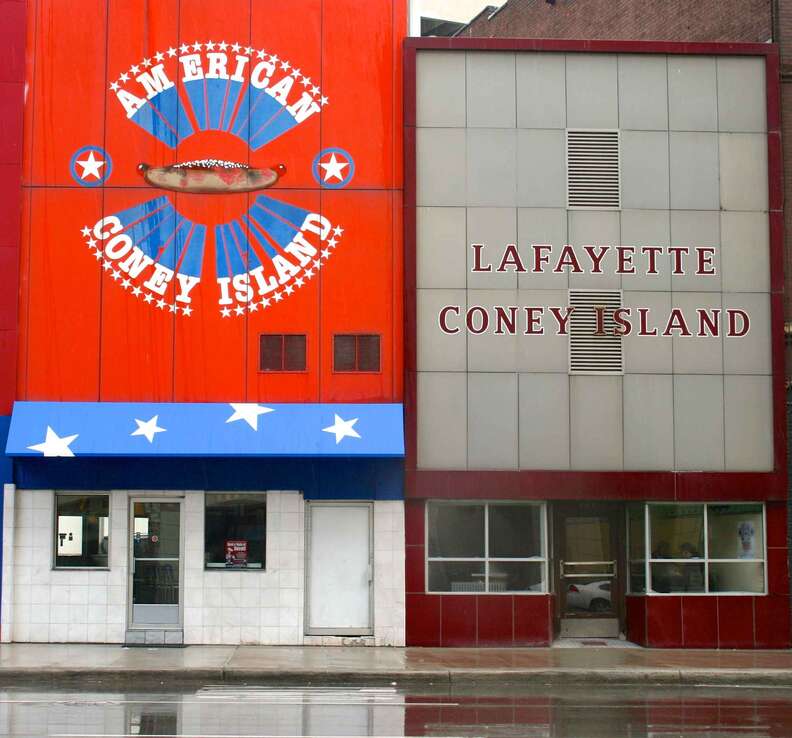 A Detroit coney from American.
Followed immediately by a Detroit coney from Lafayette next door.
Beef jerky sold out of a truck bed on a mountain road.
A single cheeseburger that's actually a double cheeseburger.
Texas brisket.
It doesn't matter if you waited four hours in a line outside Franklin or got it from a random roadside pit, as long as it's from Texas.
Super-fresh ramen from a tiny spot in Japantown.
And yes, you should slurp it.
A s'morecooked over a real campfire.
A 2am doner kebab in another country.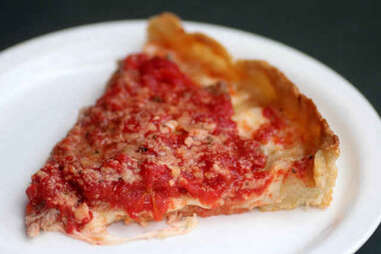 A Maine lobster roll from Red's Eats in Wiscasset.
There will be a line. Just wait in it. Trust us.
A lightly toasted peanut butter and jelly sandwich.
All of the Halloween candy.
Except the NECCO Wafers. You can skip those.
The Alaskan Reindeer hot dog at Biker Jim's in Denver.
On Dasher, on Dancer, on Prancer, on Fixin's.
Gulf oysters freshly shucked while on a boat.
A savory street crepe in Paris.
Bánh Mì in Hanoi, Vietnam. Or failing that, Saigon Sandwich in San Francisco.

Anything off of In-N-Out's secret menu.
And here's what that order says about you.
Fresh fish tacos from a shack in San Diego that appears to be on the verge of collapse, but will never collapse, because it's being held up by love -- and some sort of delicious, spicy aioli.
A superhero ice cream cake.
Preferably of Batman. Though Gambit is pretty cool.
An Indian taco from a roadside tent in South Dakota.

A sno-ball, after you've stood in line in 110 degree New Orleans heat with a humidity index of 160%, and ordered inside a building that definitely has no AC.
Bunny chow that definitely has no bunnies in it in Durban, South Africa.
An entire sleeve of frozen Thin Mints.
Bonus points if you finish all of them without actually realizing what you're doing.
Boiled peanuts from a roadside stand along Highway 431.
A medium-rare, bone-in ribeye, carved tableside at an extremely old-school steakhouse.
A Swiss chocolate croissant from Tahoe House bakery in Tahoe City, California while sitting on a dock with your feet in the lake.
A homemade black and white milkshake using ice cream you scooped yourself, Hershey's chocolate syrup, whole milk, and your own damn blender.

Poutine somewhere in Canada.
And maybe that somewhere should be La Banquise in Montreal.
A giant steak that wins you a free T-shirt, meal, and some sort of plaque that stays on the wall of the restaurant.
Rocky Mountain oysters prepared by a roughneck cowboy.
It takes balls. Literally.
Something that has been on the floor for more than five seconds.
Screw that rule. LIVE, dammit!

Jamón Ibérico, given to you in a Spaniard's home.
An extremely high-end Las Vegas buffet.
Just so you can have one plate exclusively filled with Alaskan crab legs and caviar.
An extremely low-end Las Vegas buffet.
Just so you can have a plate exclusively filled with four types of Jell-O.
A dish thatyour mother and her mother and HER mother have perfected over several generations.
A $1 slice of pizza outside of a subway station at 4am that's at once the grossest and most delicious pizza you've ever had.
Fresh peach cobbler from the Rexall Grill in Duluth, Georgia.
A bowl of Lucky Charmswithout the parts that are not marshmallows.
Because those are the stupid parts.

A fried anything from the Iowa State Fair.
But maybe not the fried butter.
Insects -- we recommend grasshoppers -- in Oaxaca.
The red sausage from Vorderer Sternen Grill in Zurich with a piece of bread, and a cup of hot mustard. Eat it standing up with a beer, and you'll be so, so happy.
A slice with cold cheese from Little Vincent's Pizza in Huntington, New York.
You better fold it.
A piece of thick, grilled, buttered bread dipped in the broth created while making Mussels Marniere.

A burger topped with green chilies in New Mexico.
(We like Manny's Buckhorn Tavern).
A Mission burrito from one of these places.
Homemade possum pie in your friend from Arkansas's grandmother's home.
Picking an apple off a tree in Western Massachusetts and then getting down from that tree, rubbing is on your shirt, and eating the whole damn thing.
A steaming bowl of Hungarian goulash while sitting in an outdoor cafe on a Fall day in Budapest.
Panipuri from a street cart in Mumbai.
The cacio e pepe at Trattoria da Danilo in Rome.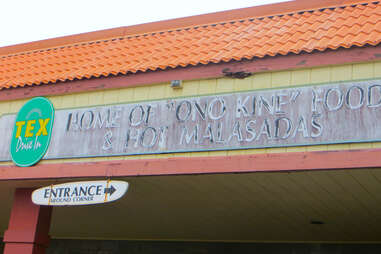 Fresh, hot malasadas from Tex Drive In in Honoka'a, Hawaii.
The Full Fry brunch at Ard Bia in Galway, Ireland. Anything with "smoked streaky bacon" is going to start a day right.
A huge steak with chips, chimichurri, and red wine at a parrilla in Buenos Aires.
An MRE.
You don't have to like it (and most of our friends in the service don't), but you should know what it tastes like.
Kevin Alexander is Thrillist's national food/drink executive editor, and is mildly alarmed that he only has 51 years to live. Follow his 3/5 life crisis at @KAlexander03.