Paid Content For
Taste the Food of the Future at These Cutting-Edge Restaurants
Paid Content For
Flickr
Flickr
One of these days, someone will invent a viable time machine, we're sure of it. But until that happens, one of the best ways to catch a glimpse of the future is to visit a restaurant that's using technology and imagination to push the culinary envelope. We found seven dining options from New York to Los Angeles and points in between that take the culinary arts to uncharted horizons, each in their own way. There's a spot in San Francisco that specializes in "poetic culinaria;" an LA venue serving haute cuisine in counter-service format (Destroyer, the subject of our futuristic restaurants video); and a Boston restaurant that transforms soups, cocktails, and other liquids into "flavor clouds" of inhalable vapor, among others. While dining at these places won't literally propel you into the future, you'll swear that the kitchen staff has been there, and brought back a bounty for you to enjoy.
Los Angeles
The high-concept Vespertine is housed in a striking, retro-futuristic building nicknamed "The Waffle" -- and the restaurant's format matches its otherworldly setting. There's original mood music, choreographed server movement (no, really), stunningly innovative presentation, and a 17-course meal that takes fine dining to a place it's never been before. One offering is a squab encased in smoked juniper presented in two forms at the table: one is a grilled breast that you eat with a fork and knife, while the second features the legs grilled on high heat and intended to be eaten with your hands. Owned by Jordan Kahn of Destroyer, the ambitious, forward-looking restaurant is in Culver City, but also, as one critic put it, "kind of on Jupiter," too. "Everything is bespoke, and everything is connected," Kahn says. "The entire restaurant is a juxtaposition. Often, changing the context or creating a juxtaposition will give the impression that something is very odd or highly unusual, even if it's something as basic as a radish." The end result is one of the most transporting dining experiences you can have. On Earth.
Chicago
Alinea features molecular gastronomy, boundary-pushing presentations, and "clear" pumpkin pie. Also: three Michelin stars. Indeed, Alinea is the only three-Michelin-starred restaurant in the Windy City. Matching elite technique with vast creativity, the Chicago icon maintains its perch at the leading edge of culinary innovation. Chef Grant Achatz's approach is equal parts art and science, and his electrifying menus appeal to all five senses. One dessert option is billed as Balloon, Helium, Green Apple. It's a "balloon" made from inverted sugar and natural fruit essence, infused with helium, and tethered to your table by a string made of green apple poached in concord grape. You can eat the entire thing, and talk like a munchkin afterward (thanks to the helium). In a Michelin-starred restaurant. As Achatz has said, achieving the impossible is frequently his team's guiding creative principle.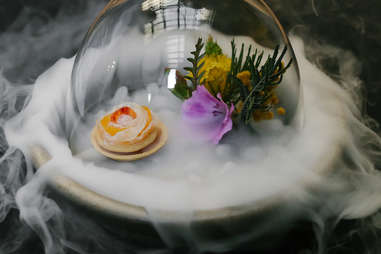 San Francisco
Chef Dominique Crenn's menu at Atelier Crenn is avant-garde, graceful -- and written in verse. Seriously. Each item is encompassed by a line of poetry inspired by Crenn's father, who taught her about art and introduced her to high-end cuisine as a child. Crenn's "poetic culinaria," as she calls it, focuses on first-rate technique, food science, innovation, and most of all, outstandingly delicious food. So while parts of her menu do involve an immersion circulator, a vacuum sealer, and a dehydrator, diners always feel like they're in a warm, modern bistro and not a sterile food lab. Be sure to check out the sensational pastries from Chef Pâtissier, Juan Contreras. Asked for his favorite, Contreras doesn't hesitate: Citrus & Vanilla. "This dessert uses centrifugal force over liquid nitrogen to create a thin citrus shell that is then filled with various citrus flavored components."
Boston
"The two things that really interest me in the future of food are health and sustainability," ArtScience founder David Edwards has said. "But as these things emerge, it's important that they be fun." Edwards, a Harvard bioengineer with a slew of inventions to his name, nails all three elements at his Cambridge restaurant for "food futurists." The decor is sleek and modern, with subtle 'spaceship' vibes. Inhalable caffeine, vitamins, and supplements are available at the hostess stand, and the food prep features centrifuges, flash freezing, and Edwards' signature technology, Le Whaf, which transforms soups, cocktails, and other liquids into "flavor clouds" of inhalable vapor. Notable menu items include their bone-in ribeye featuring pumpkin seed purée, Meyer lemon, picholine olive, lavender, zucchini, and pearl onion; as well as their spiced corn donuts served with chocolate budino, seared peaches, cherries, and cucumber.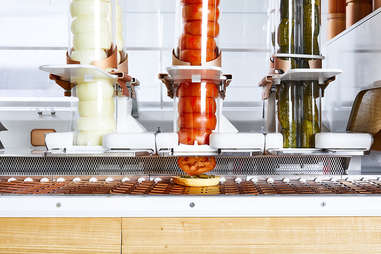 San Francisco
It's not only high-end culinary spots that are forging the future of the food industry. Travelers to San Francisco in the mood for a gourmet burger and an extremely futuristic experience should swing by Folsom Street and visit Creator, where they use a fully-automated machine and quality organic products (with identified producers) to cook a burger unlike any other. However you like yours -- smoky, bright, tangy, savory, sour, or sweet -- Creator's got you covered. They use Chef Heston Blumenthal's "vertical-aligned grind technique," a unique way of making a patty that's "near impossible to perform by hand," according to Forbes (and in fact, not a single human hand touches your burger at Creator). As a result, it's not something you'll typically find in even the most upscale restaurant. The Creator machine was nine years in the making by founder and CEO Alex Vardakostas, and he leaves no detail to chance. As his Culinary and Experience Design Lead David Bordow says, "We discovered that olfactory and mouthfeel experiences can be optimized with placement of sauces and seasonings, top or bottom of bun, because we can test recipes so rapidly and precisely -- with sauces down to the milliliter, seasonings down to the gram." This is a calibrated gourmet burger.
New York
Perched on the 35th floor of the Mandarin Oriental hotel in the heart of Manhattan, with dazzling, floor-to-ceiling views of Columbus Circle and Central Park, the Aviary NYC is the brainchild of Grant Achatz and Nick Kokonas of Alinea fame. While the food is spectacular and progressive (think matcha, white chocolate, and puffed rice ice cream; pork belly curry with banana, cashew, and iceberg), it's the cocktails that really steal the show, as Achatz's team applies molecular mixology and groundbreaking presentations to their program, yielding such singular drink experiences as a deconstructed Bloody Mary and cocktails made with atomizers, smokers, and ginger snow. There's a (literal) ship-in-a-bottle creation called Loaded to the Gunwalls that's inspired by the spice trade and tiki culture. "It uses a technique that extracts blade mace [a cousin of nutmeg] into high-proof alcohol using sous vide," explains Beverage Director Micah Melton. "We then light the alcohol on fire by spraying it through a candle. Once the alcohol burns off, it "toasts" the aromatics of the blade mace, which complements the flavor of the cocktail and adds a nutmeg-esque element. The rest of the drink is meant to elevate those nuances." Do not try this at home. That's what Aviary's there for (and the views are so much better).