Cole Saladino/Thrillist
Cole Saladino/Thrillist
If You Aren't Eating 7-Eleven Chips, You Aren't Living Your Best Life
There are seven to 11 reasons that I seek out 7-Eleven, and they are all chips. Except for the occasional and highly specific Slurpee craving, most people don't necessarily go out of their way to visit the convenience store. It's there when you need a bottle of water, when you're grabbing bags of Haribo gummies to sneak into the movies, or when you just really want a lukewarm taquito.
But it is also quite possibly the best chip store in the country.
While it does carry a decent selection of the standard brands -- Pringles, Ruffles, Lays -- the chips I am most interested in are those made by 7-Eleven itself. Called 7-Select, the brand introduced its in-house line in 2011 and it has a breadth of flavors and textures unlike any other company. Whatever kind of chip you are in the mood for, 7-Select will probably have a corresponding bag.
The chain -- which serves up 27 flavors in total -- makes excellent versions of more standard flavors like a kettle-cooked jalapeño, wavy Cheddar and sour cream, and a classic and smooth barbecue chip. It has also gotten on the spicy foods trend by whipping up bags of Fiery Hot and Sriracha if you need flavors that will gently burn your tongue off. But the real magic happens when 7-Eleven decides to get a little weird.
You probably never knew you needed a bag of Buffalo chicken dip wavy chips, but you do. It's a wonderfully self-contained snack that has all the flavors of the dip but none of the mess (or meat). And if Buffalo chicken isn't quite your flavor, there are also bags of prime rib chips, as well as hot Italian sausage chips.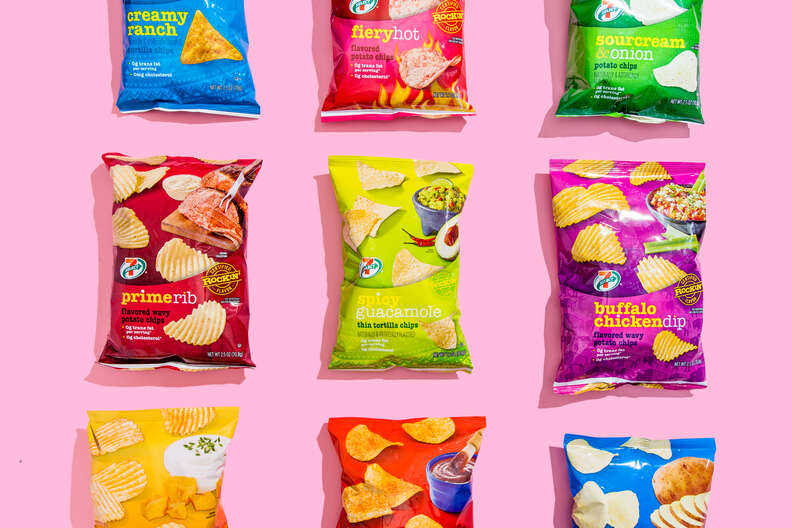 The brand is constantly willing to experiment: This past Thanksgiving, customers could also purchase bags of turkey & gravy-flavored potato chips. And in case that wasn't enough, the chain also tried to figure out how to convert pumpkin pie into a kettle chip flavor as well. While the dessert chip didn't quite work out well -- I saw remaining bags lurking on shelves well into March -- the fact that 7-Eleven is willing to test it out is to be respected.
Personally, I am most partial to the bags of smoked Gouda chips, which I learned about from a potato chip fan club Facebook group in which I participate. 7-Select nails the flavor: It's smokey with a cheesy-funk. It's like eating crispy shards of cheese sliced straight from a deli counter. It's obscenely easy to crush a bag, so definitely get yourself two.
Even the 7-Eleven staff agrees. I recently popped into a location to pick up a few bags and asked the cashier what he thought of the chips. "They are super-high quality," he said, adding that his favorite and one of most popular flavors was also the smoked Gouda, though the Fiery Hot was also a customer favorite. A spokesperson for 7-Eleven notes that the kettle-cooked jalapeño is their best-selling chip flavor, which doesn't seem all that surprising given America's penchant for spicy snacks.
But the real enduring appeal of the 7-Select chips is the price tag. Most bags come in at under $1.50, with the chain frequently offering discounts when you buy two bags at a time, meaning that you will never have to pick between the smoked Gouda and the prime rib. You can just get both.
Sign up here for our daily Thrillist email and subscribe here for our YouTube channel to get your fix of the best in food/drink/fun.
Khushbu Shah is a senior food editor at Thrillist and a potato chip obsessive. Tweet her your favorite flavor @khushandoj.