The Next Ramen: 8 Ethnic Dishes About to Blow Up
While ramen has been a Japanese snack food staple for at least a hundred years, it only recently made a fiery splash in America. Now you can find a bowl of tonkotsu everywhere from Miami to Minneapolis. The dish caught on because it's a simple bowl full of ingredients Americans already know and love -- pork, noodles, and broth. Also, because it's delicious.
So what's the next ethnic dish you'll be eating? We bet it's one that also has the ingredients you're already familiar with, but with a new twist. At least, one that's new to you.
Pierogies
What they are: Polish dumplings filled with meat, cheese, and vegetables (aka potatoes)
Why they're the next ramen: Outside of the "Pierogie Pocket" swath of the US (frozen pierogi maker Mrs. T's describes it as "Pennsylvania, Ohio, Michigan, Illinois, New York, southern New England, and parts of the Mid-Atlantic region"), Poland's finest dumpling isn't a staple food. But that could change if more restaurants take the Pierogies Factory approach, by enabling the customer to customize both what they want inside the pierogi, like potato + cheese and pork, and outside of it, like caramelized onions + sour cream and the fusion-y green chile. And since America already loves it some potatoes and cheese, which also happen to be the main ingredients in cheese fries, it shouldn't take too long for this to catch on.
Places to eat them:The city of Pittsburgh, Mrs. T's Pierogies in your grocer's freezer, Denver's Pierogies Factory
Bánh mì 
What it is: A Vietnamese delicacy on a baguette typically stuffed with pork, pickled cucumber, carrots, daikon, jalapeño, and cilantro
Why it's the next ramen: The sandwich is one of America's favorite meals, right below a can of Easy Cheese sprayed directly into the mouth, and pork is one of our favorite foods -- so marketing a pork sandwich to the masses should not be a difficult task. Taco Bell's parent company believes in the bánh mì sandwich, opening two fast-casual restaurants in Dallas called Bánh Shop to much customer approval. Will Bánh Shop one day be as ubiquitous as Taco Bell? Could happen.
Places to eat it:All over San Francisco, a Yum! Brands spot in Dallas, NYC's Bánh Mì Saigon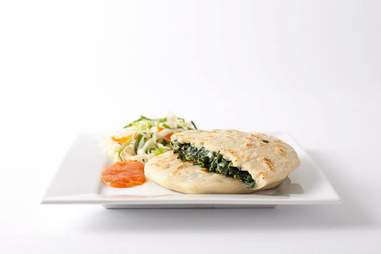 Courtesy of Jen Olsen/Tres Pupusas
Pupusas
What they are: El Salvadorian silver dollar pancake-sized corn tortillas often stuffed with a mixture of cheese, beans, and pork
Why they're the next ramen: Who doesn't love the age-old combination of a corn shell loaded with cheese and meat? Everyone in El Salvador does, and it's not a stretch to believe America could warm up to it soon too. It also helps that you can walk into many Whole Foods and snag a box of four Tres Pupusas (spinach/mozzarella is a personal favorite) in the frozen-food aisle, and prepare them in 10 minutes.
Places to eat them:Tres Pupusas at Whole Foods across the country, one of our favorite food trucks in NYC (El Olomega), Golfo de Fonseca Restaurant in East Hollywood (for $1!)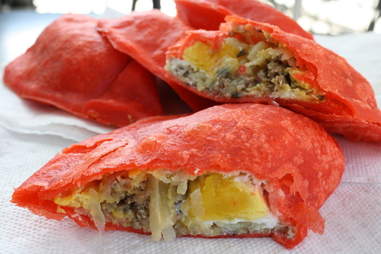 Lee Breslouer/Thrillist
Filipino empanadas
What they are: Papaya, mung bean, meat, and egg wrapped in dough and then deep-fried
Why they're the next ramen: There are 2,000+ Jollibees worldwide and a rabid fanbase for their Filipino fast food in California, which should leave people more open to embracing the delicious deep-fried flavors of a Filipino-style empanada, a tropical spin on the more popular Latin American version. And if there's one thing Americans love, it's Taylor Swift. But if there have to be two things, it's anything deep-fried.
Places to eat them:Denver's The Orange Crunch, multiple CA locations of Gemmae Bakeshop, LA's Nonna's Empanadas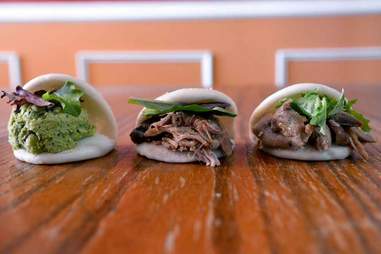 Laura Hayes/Thrillist
Bao
What they are: Buns filled with meat, veggies, anything edible that's popular in China
Why they're the next ramen: Funnily enough, when Momofuku burst onto the NYC food scene in '04, their ramen was almost as heralded as their pork buns. It's about time bao stole the national spotlight. Media darling/chef Eddie Huang made his mark on NYC with buns as well when he opened Baohaus -- especially for dishes like the Chairman Bao with pork belly and peanuts, and the fried chicken-filled Coffin Bao. America can absolutely get on board with tiny, tasty sandwich-like food, especially because you can order three or four in one sitting and cram a variety of flavors into your face area.
Places to eat them:NYC's Baohaus, SF's Chairman Bao food truck, MD's People's Bao
Bibimbap
What it is: Korean dish of rice, veggies, meat, eggs, and chili paste in a bowl
Why it's the next ramen: Chipotle-owned Shophouse is slinging Asian-style bowls to hungry masses in LA and DC, and bibimbap is not far off from that, as it's also a tasty rice bowl filled with meat and veggies. Bibimbap is screaming out for a fast-casual chain to take it to the next level in popularity, and there are signs that this future is not far off. Near where I live, a fast-casual bibimbap-focused shop called Bop & Gogi has been going strong, and Seattle has fast-casual Korean in Oma Bap.
Places to eat it: Your favorite Korean restaurant (and here's top places to eat it in Chicago, Boston, and the Bay Area)
Döner kebab
What it is: Sliced meat typically draped in lettuce, tomato, cabbage, onion, and dill-yogurt sauce, all inside grilled bread that's a staple of German cuisine
Why it's the next ramen: Europe has long been in love with the kebab, a fact that can be proven simply by looking at Germany, where there are more kebab stands "than Burger Kings or McDonald's combined." Back here in the US, there are signs the kebab is catching on. In 2014, we highlighted Texas' VertsKebap as "The Next Chipotle," and they've spent the past year proving us extremely right by opening up location after location across Texas, giving the Lone Star State beef and lamb kebabs covered in veggies and anything from a garlic sauce to a hot one.
It's easy to see why Verts has been successful and why döner will continue to grow in popularity. It's deliciously spiced, succulent grilled meat you can hold in one hand while you drive your car with the other. Or a car you stole, I don't know your life.
Places to eat it:TX's many VertsKebaps, the DC-area's Döner Bistro, Portland's Döner Haus food cart
Smørrebrød
What it is: An open-faced sandwich with anything your heart desires placed on a buttered slice of Danish rye bread (but it must be aesthetically pleasing)
Why it's the next ramen: Copenhagen is one of the world's best food cities, so it's no surprise people are beginning to eat like the Danes, digging into open-faced sandwiches topped with pickled herring and other seafood or a variety of meats (like roast beef), plus accoutrements that make it look so good you have to Instagram it. Maybe Americans will need to take their time before embracing pickled herring, but roast beef on bread? Arby's built their brand on it.
Places to eat it:SF's Bar Tartine, NYC's The Copenhagen, Santa Barbara's Andersen's Danish Restaurant & Bakery
Lee Bresloueris a senior editor at Thrillist and wishes VertsKebap would open a location close to his house. Follow him to kebap dreams: @LeeBreslouer.