All the Ways to Get Your Oyster Fix in Virginia Beach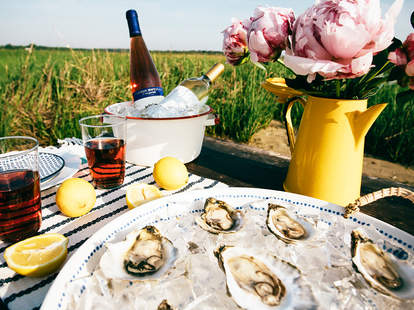 Courtesy of Visit Virginia Beach
Virginia Beach has a lot to offer as a dining destination -- fish caught fresh from the Chesapeake Bay, a surprising number of barbecue joints, a booming craft beer scene -- but oysters can stake a claim as one of the most unique eating experiences for visitors. The local delicacy, Lynnhaven oysters, were renowned by English settlers in the 1600s for their taste and being "as big as dinner plates." After disappearing in the 1960s when the Lynnhaven River was temporarily closed to harvesting, they've made a healthy comeback over the last decade -- and the coastal city really, really loves them.
In general, the state is so famous for oysters (it boasts eight distinct flavor regions) that the governor declared November "Virginia Oyster Month." But you can enjoy these tasty bivalves year-round in Virginia Beach with a host of ways to satisfy your craving. Follow this guide and you'll be eating oysters for breakfast, eating them fried, and eating them fresh from the water. Don't forget your appetite (or your oyster knife).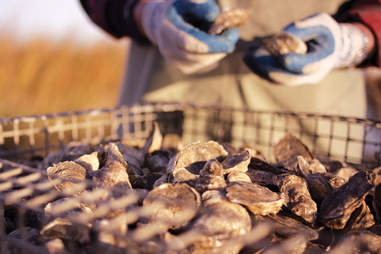 Courtesy of Visit Virginia Beach
Hop aboard an oyster tour
You can't get closer to the pride of Virginia Beach than this: With
Pleasure House Oysters
, you'll strap on waders and jump right into the Lynnhaven River on one of their three
oyster boat tours
. Owned by Captain Chris Ludford, a dedicated oysterman and advocate for conserving the area's waterways since 2010, Pleasure House's educational, on-the-water experiences don't just give you a taste of the local delicacy, they show you how Lynnhaven oysters are harvested. Choose from the four-hour Chef's Table Tour (where guests enjoy lunch or dinner at a table
right in
the marsh, a trip to the oyster farm, and a lesson on the surrounding water and wildlife); the two-hour Tasting Tour (a quick lesson and oyster-tasting on the water); or the four-hour Waterman Tour (a hands-on experience that includes a tasting and the opportunity to handle oysters -- as well as crabs, eels, and fish pots when they're in season). Pro tip: Guests are encouraged to BYOB, giving you an excuse to swing by nearby
Pleasure House Brewing
and pick up a growler of Shore Drive Lager for the day.
Enjoy the ease of a fried oyster
Sure, it's fun to shuck an oyster yourself, or eat them on the half shelf (some might even argue that's part of the experience), but sometimes it's nice to enjoy them without the added work. Aside from the fact that
everything fried
is delicious, fried oysters -- which are shucked and battered in buttermilk, flour, cornmeal, and spices -- are easy to come by in Virginia Beach.
Margie and Ray's Crabhouse
(established in 1964 as a small country store and tackle shop) serves them a la carte, on a Caesar salad, and in a fried seafood platter, while
Dockside Seafood & Fishing Center
offers a fried oyster sandwich (even easier!). Plus, at Dockside, you can choose among several beers on draft from Norfolk-based
O'Connor Brewing Co.
to pair with your meal.
Courtesy of Visit Virginia Beach
Enjoy oysters on the waterfront
The Back Deck
, an eatery on Wolfsnare Creek, wants to make sure you have the perfect view paired with your oysters. Tucked behind The Shellfish Company's market, this cafe's seafood is as fresh as it gets: the owners' fishing fleet unloads its catch at the bar's dock daily. Choose from Bayside oysters (lower in salinity and found on the bay side of Virginia's Eastern shore), Seaside oysters (extremely salty and raised on the Atlantic side of the Eastern shore), and the classic Virginia Lynnhaven (salty and slightly sweet, with a smooth finish). Pair them with tacos (pulled pork, chicken, and, of course, fish), pizza, and an inclusive list of appetizers. Over on Rudee Inlet, the double-decker
Rockafeller's
has been a dining staple since 1989 and is known for their Oysters Rockafeller, prepared with spinach, bacon & cheese, and baked until bubbly. With a view of the marina from your table, you'll want to stay long after you've finished your last plate.
Start the day with a hearty oyster breakfast
Why wait until lunch to have oysters when you can eat them for breakfast? With two locations in Virginia Beach,
Bay Local Eatery
serves up oysters all day -- and it opens early, at 7am. Before embarking on an
adventure-filled day
, stop in for a cup of coffee and a grilled oyster melt: that's six oysters on rye with American, Swiss, and provolone cheese, plus tomatoes, arugula, and cajun aioli. Or opt for something high in protein like the Willis Wharf Special: house Rockefeller mix folded into an omelet, then topped with hollandaise and fried oysters. But leave room for lunch and dinner -- there are so many more oysters still calling your name.
Courtesy of Visit Virginia Beach
Go on a guided oyster and brewery/wine tour
There's no reason you need to have oysters only one way or from just one restaurant -- at least not if you go on this four-hour, three-stop
local oyster and craft brew or wine excursion
with Taste Virginia Tours. For just $79 per person, chef and food historian Patrick Evans-Hylton will guide you to award-winning Virginia Beach restaurants such as Rockafeller's and
Catch 31
to taste oysters from different regions served in various preparations (raw, stewed, fried, etc.). Expertly paired with craft beers from local breweries like
Back Bay
, or wines from nearby Williamsburg Winery, among others, this is the all-encompassing Virginia Beach experience. Your palate won't know what hit it.
Hit up a very happy hour
Everyone, everywhere goes crazy for an oyster happy hour -- and Virginia Beach takes that wonderful time of day to the next level. Remember: the oysters may be cheaper, but they're still the same, fresh delicacy you'd get at lunch or dinner. Stop into
Calypso Bar & Grill
on Atlantic Avenue for a pint from nearby Green Flash Brewing Co. to sip with 79-cent oysters (wings and clams, too) every day from 2-7pm. (Show up at 7:05pm and those puppies go up to $7 for a half dozen.) About six miles away at
Lucky Oyster
, happy hour runs seven days a week at the bar (4-7pm Monday-Friday and all day on the weekend). Stop in and eat your fill; oysters come raw or steamed on the half shell for just 60 cents each.
Stephen Brown
Get fancy with it
If you haven't figured it out by now, Virginia Beach takes its oysters -- and seafood in general -- very seriously. For a fine-dining experience, choose from one of the AAA Four-Diamond rated restaurants around town, like surf n' turf at
Salacia Prime Seafood & Steaks
or
Zoës Steak & Seafood
. At the former, the oysters come three ways: Neptune (fried on the half shell with creamed Surry ham, shallots, and basil); Rockefeller (applewood bacon, spinach, jack cheese, and pernod); or ice cold on the half shell (served with cocktail sauce, raspberry mignonette, and grated horseradish). At the latter, it's simply raw local oysters with a seasonal mignonette -- but the in-house sommelier can help you find the right vino to pair. Looking for something more adventurous? The menu changes daily at
Terrapin
, where the oysters are always market-fresh; varieties include Sun Hollow and Kumamoto (both from Washington state), and, of course, the local favorite, Lynnhaven, from Pleasure House Oysters.
Courtesy of Visit Virginia Beach
Prepare them however you please
Once you're sufficiently inspired by what you've tasted, buy a sack of oysters at
Bonney & Sons Seafood and Produce
and try preparing them yourself. (On your way, swing by
Reaver Beach Brewing Co.
to pick up a six-pack to enjoy with your meal.) Since you can eat oysters raw, you can totally make a tasty lunch at your Airbnb rental -- if you know how to shuck them properly. To start, clean the oysters well with a scrub brush and cold water. Next, hold the shell in a towel (to protect your hands) with the flat side up and its hinge exposed. Using an oyster knife (which is short and pointed to break open the shell, but dull enough to not cut up the entire oyster), poke into the hinge and twist it back and forth until the top pops open. That's it. (Come on, you've seen it on
Top Chef
a million times, right?) Serve the half shells over ice with a traditional mignonette (made by mixing white vinegar, minced shallot, and freshly ground pepper) or flavor of your choice. Bonus: you've now got a signature dish for every potluck you attend.