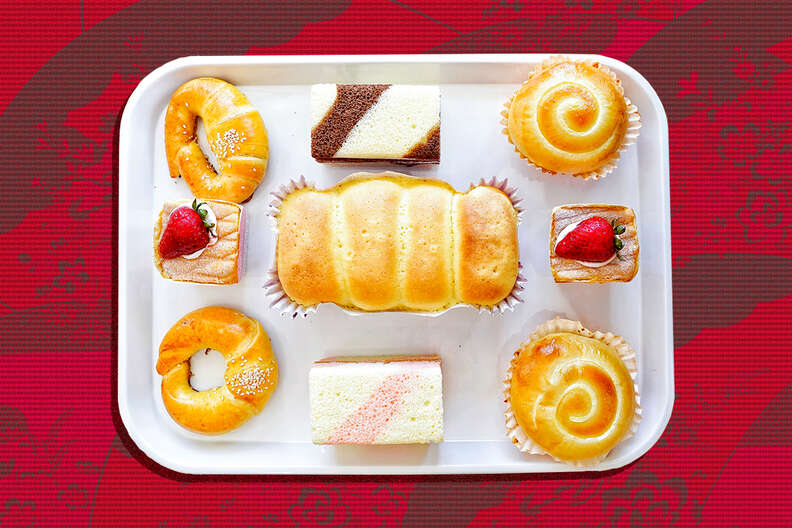 Meet the Taiwanese Bakery Chain Taking Over the US
If you spend any time in a car in Los Angeles, inevitably you will drive by an 85°C Bakery Cafe. The awkwardly named store is a Taiwanese bakery that is making major inroads into the US and has quickly built a loyal fan base -- and it's understandable why.
When you first enter a 85°C Bakery Cafe you are overtaken by the smell. The scent is intoxicating and inviting -- a harmonious blend of fresh baked bread, brewing bitter coffee, and buttery pastries. Following that are the sporadic calls of "fresh bread!" that emanate from staff who carry out trays lined with potato and cheese stuffed turnovers, hot dog rolls, and black squid ink garlic bread called "calamari sticks."
85°C is a place where carbs are celebrated, and a location is likely to pop-up in your city in the near future, so it's worth getting to know the chain now.
What exactly is 85°C? Sounds like a sauna.
85°C began in 2004 as a self-serve bakery that provided steaming cups of coffee and toasted buns. The Taiwanese shop specifically specialized in sea salt coffee -- a unique beverage that found balance between notes of bitter, sweet, and salt -- which instantly became a fan favorite.
Why is it called 85°C?
The name itself is inspired by coffee; the brand purports that 85 degrees Celsius -- or 185 degrees Fahrenheit -- is the optimal temperature to brew an ideal cup of coffee.
Cool, so what should I eat there?
Much of the appeal of 85°C has to do with the unique flavors of pastries and beverages they provide. The sea salt mountain green tea is topped with a creamy and salty foam, which pops against the backdrop of honeyed tea. Cakes are filled with mango custards or taro and crowned with fresh tropical fruits. There are Macau-style egg tarts that line the shelves, as well as lighter and fluffier cheesecakes that are standard fare throughout East Asia.
"There are so many options and the sea salt cream jasmine tea is good," shared Ying Fry, a San Francisco native who often ventured to 85° in college for bread and sweets between studying. Her favorite breads are the basic egg roll and the chocolate chip bowl, a dome-shaped bun the size of a melon loaded with chocolate chips.
Is it affordable?
The price point is very accessible -- with breads and pastries ranging from a mere dollar to $3. A whole 8-inch cake, which can include custom messaging, can be acquired for as low as $27. Customers frequently buy entire trays of taro bread and milk buns.
So where can I find a location?
85°C opened their first store abroad in 2006, away from the small island of their native Taiwan to a much bigger island: Australia. Sydney to be specific. It was only a matter of time before the baked bread gained a cult following, expanding to the United States in 2008 where crowds of Asian Americans and other pastry enthusiasts gathered, waiting at times hours for a chance to fill their own trays with steaming buns at what has been the "Starbucks of Taiwan." Today, the bakery chain operates more than 1,000 stores worldwide, with locations in China, California, Texas, and Washington. They also have several more locations in the works, according to a spokesperson for the chain.
Are they everywhere in Taiwan?
A surprising fact, however, is how 85°C is received in its home country of Taiwan. Fry went on to become a Fulbright scholar, completing two years as an English teaching assistant in Taiwan, and was surprised to find that consumers are not as enthusiastic about the bakery there as they are in America. "It didn't have the same hype. [There's] not as much bread in the shops in Taiwan; I don't think it's a destination like people make it in the US."
Frances Lee, a New Yorker who spent her childhood years in Taiwan and returned to the island for college, echoes this claim. "I think it's doing well overseas because the trend of bubble tea, Asian cafes, and Asian sweets are becoming more popular abroad," she said. "[But] in Taiwan, Starbucks cafes are taking over, [as well as] more hipster and unique cafes."
The selection and range of cafes in Taiwan is immense. There are specialty shops that offer different types of bubble tea. Others craft a cuter space that draws in the consumers looking to expand their Instagram portfolio. In other words, 85°C is old news.
"There isn't really room for a chain like that unless it's Starbucks," Lee remarked. "People go to Starbucks for the expensive, fancy coffee and [to get] the 'American' experience." In this instance, this common proverb rings true: the grass is always greener on the other side.
That doesn't mean that 85°C is completely out of the minds of Taiwanese consumers, though. Fry remembers the 85°C Cafes in Taiwan as a common place to meet up, sit down, and chat -- especially if the weather was good, because a lot of the seating at the 85°C's in Taiwan are outside. For Lee, she believes a big draw that keeps 85°C going is the nostalgia that it provides. "It's still a classic brand that's known and recognized," she said. "Like, even though I haven't had stuff from there in awhile, it definitely brings back memories."
Sign up here for our daily Thrillist email, get Eatmail for more food coverage, and subscribe here for our YouTube channel to get your fix of the best in food/drink/fun.
Kat Thompson is a staff food writer at Thrillist who is obsessed with 85°C's squid ink bread, jasmine milk tea, and egg tarts. Follow her on Twitter @katthompsonn.