These grills are made out of everything from boats, to hot tubs, to R2-D2
Summer's here, and, to ensure you feel bad about more than just your physique, we now present a list of some of the craziest versions of the very things that will make you feel bad about your physique: BBQ grills that look like guns, cars, and R2-D2. They're all better than your Weber.
Woody's Smokehouse
Woody's Smokehouse's Smoking Gun
There're smoking guns, and then there're smoking guns. This is the latter, and it belongs to Woody's Smokehouse in Centerville, TX, where they use it for smoking a ton of meat and for scaring the crap outta Woody's daughter's dates.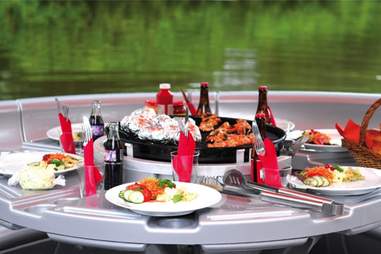 Hammacher Schlemmer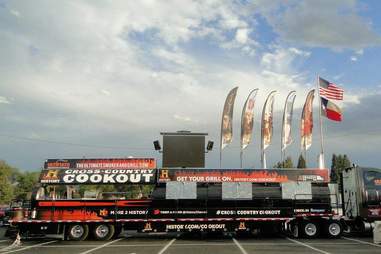 The Ultimate Smoker & Grill
The Ultimate Smoker & Grill
Everything's bigger in Texas, right? For decades, Trace Arnold went about earning the nickname "The Rib Whisperer" and used some Guinness-record-having grills along the way. For this, though, he upped his game with an 18-wheeler that, at any given moment, can smoke up to 2000lbs of meat. The 20ft lid has to be hydraulically lifted, and it's got plenty of TVs and even room for a DJ. As Trace puts it: "Think of us like a Goodyear blimp, but parked firmly on the ground." Also, please don't use heavy flames on a Goodyear blimp. Check it out right here
Dutchtub
Dutchtub
The worst thing about throwing a pool party is when Chaz shows up. The second is that, while you're tending the coals, all the girls in bikinis are over in the hot tub, frolicking without you. So some brilliant folks in the Netherlands put the two together into one transportable grill-slash-hot-tub hybrid. The coals sit inside a series of tubes that flow water through them to heat the tub; simply throw a grill on top and cook your T-bone at the same time. Oh, right -- it also sucks when T-Bone shows up to the pool party. That dude! Get one, like, right now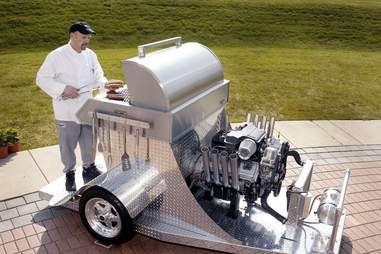 Joe Wilssens
Hemi Grill
A few years back, Chrysler had a competition to see who could build the most badass non-car using a Hemi motor. This entry somehow didn't win, but who cares? It's actually powered by a 5.7-liter Hemi V8, uses over 330sqft of steel, and can cook two hundred and forty hot dogs in three minutes, while the hybrid version can barely cook three Tofurkey dogs.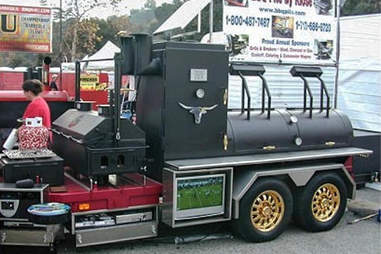 Klose BBQ Pits
Klose BBQ Pits' Custom Rig
Stainless steel sinks with brass faucets, satellite TV, beer coolers, wireless headsets with radio in one ear and TV in the other, knife sharpeners, and solar panel rechargers for all the electrics so there's no generator. In the words of the guy who made it, "It came out nice." He does all sorts of custom ish; check out his works, right here.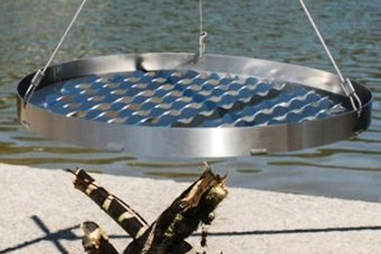 Haseform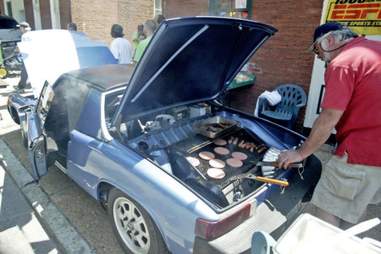 James A. Finley
This Porsche 914 is a classic known for being super-lightweight and having an air-cooled engine... or at least it was, before its owner decided it was a little anemic and set about beefing it up. Unlike other cars turned into grills, this one's the whole frickin' auto, with meat-cooking capabilities not just at the front and rear, but in the passenger compartment, too.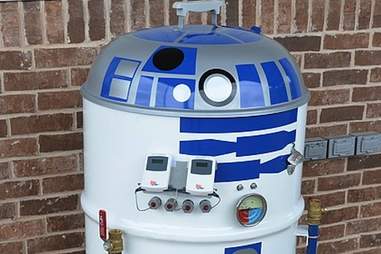 Philip Wise
The R2-BQ
The dude who built this actually runs a couple of Star Wars fan sites, owns an absolutely massive collection of memorabilia, and, um, likes to make things, like this R2 grilling unit made outta a 55-gallon drum, some paint, and more patience than even C-3PO had.