Most of the Internet is devoted to ensuring you never forget -- even for one second -- the years 1990 through 1999. And guess what? We're no different. But rather than tell you to listen to "End of the Road" again (because you're obviously already doing that), we thought we'd focus instead on the decade's best snack ads. The 11 commercials below are bursting with bad vests and cheesy cartoons, but you might just feel a pang in your chest at the sight of Doritos 3D. Or Randy Savage. We still can't let you go, Macho Man.
Recommended Video
Tuna Eyeball with Timothy DeLaGhetto and Ben Sinclair
Raise your hand if you ever tried to use a Fruit Roll-Up money peel-out as legal tender.
 
Scott's first brush with Popsicle Lick-A-Color and first trip to Burning Man look oddly similar, no?
"When pizza's on a bagel, you can eat pizza any time." Never has one brand slogan explained millennials' eating attitudes more clearly. What's less clear is which sport this sassy kid is playing in the GIF above. Karate soccer?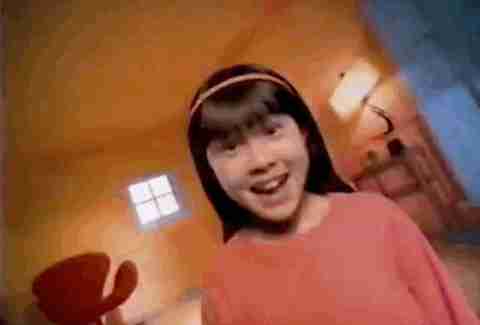 You forgot about the fruit-face children from Gushers' long-running campaign, didn't you? Welcome them back into your nightmares by rewatching this ad for the "all-new" Fruitomic Punch flavor.
A few questions on this classic Hot Pockets ad: are those girls sharing one phone, or ignoring people on two separate lines? Why didn't that couple just make a second Hot Pocket? And did anyone ever actually try Lean Pockets, too?
You'll know this Cheetos commercial as the one in which Chester makes Daffy Duck his stunt double (clearly Daffy's Space Jam money ran out). The late '90s spot boldly ends with Chester smashing his own fake movie's camera, which is fairly meta stuff for a Cheetos ad. But we suppose Chester has always been one hip cat.
The Super Bowl ad that made Ali Landry famous first aired in 1998. It featured Doritos 3D (gone too soon), Sean Hayes, and an impressive display of acrobatics. But contrary to what it would have you believe, the babes at the laundromat will not be impressed by your chip tricks. Or that bowling shirt, Sean.
Pringles has plenty of overwhelmingly '90s ads in the bank -- remember the one with kids walking like Egyptians to "I Want Candy"? (Excuse us, "I Want Pringles.") But in terms of hilariously dated fashion, this beauty for Pringles Ridges takes the cake. So many patterns, so many vests, so much regret.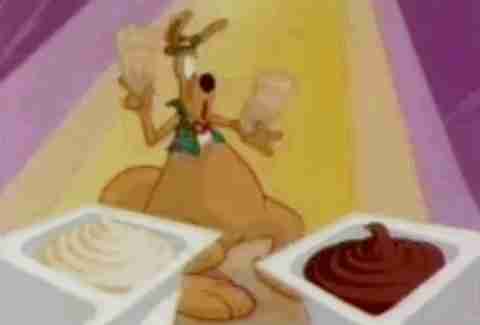 While there's no wrong way to eat a DunkAroo, if you were a proponent of the "long-distance dainty dunk," we have just one question: why?
For a brief, shining moment, Dannon tricked us into thinking yogurt was fun with Sprinkl'ins. And just to drive the point home, the company filmed a Wonka-esque ad where a kid with a kite literally makes it rain sprinkles. Big Dairy has yet to come up with such compelling propaganda for the '00s babies.
We've never felt so many emotions over the phrase, "Snap into a Slim Jim." RIP Macho Man, you magnificent jerky pitchman.
Kristin Hunt is a staff writer for Thrillist, and might start a karate soccer league in that Bagel Bites kid's honor. Follow her to popsicle dance parties at @kristin_hunt.