A brief history of the cheesesteak
Despite what the good people of Philadelphia may tell you, Benjamin Franklin didn't invent sliced breadit is possible to get a Philly cheesesteak outside the City of Brotherly Love. But where did these Philly-born marvels of gut-bustery come from? It wasn't Benjamin Franklin, and it wasn't pure magic -- just two hungry dudes, one characteristically sage-like cabbie, and the magic that is cheese.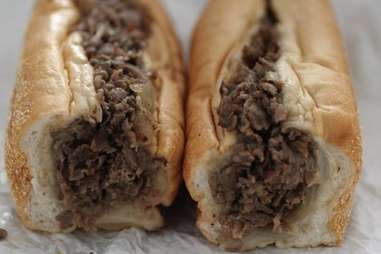 Several centuries after the Earl of Sandwich changed the world thanks to laziness and a gambling habit, two brothers and humble Philly hot dog vendors, Pat and Harry Olivieri, grew tired of plain old hot dogs. Drawing from their family's roots in Abruzzi, Italy, they randomly assembled a combo of bread, seasonings, and "frizzled" beef, which's a term for chopped, crisped meat sadly not invented by the Magic School Bus's teacher. It was the year of our lord, 1930.

As Pat sat munching his creation, a cabby popped over for a dog and liked what he saw. He scored one for $.10. As all cabbies are wont to do, he offered up unsolicited advice: ditch the hot dogs and make with the steak. So the hot dog stand started selling steak sandwiches, too.
Soon, it got real. Demand went nuts because, well, steak sandwich. The cart was ditched for a brick & mortar (a practice now adopted by pretty much every single cart in the world), and Pat's King of Steaks became the first steak sandwich shop in Philly -- nay, the world.
But where was the cheese? Enter "Cocky" Joe Lorenzo, a perhaps overly confident manager at Pat's, who dropped a little Provolone to complete the masterpiece. Later, in 1952, Cheez Whiz hit the market and, again, the world was changed.

Word spread of the beauty that St. Pat wrought, and eventually the now-legendary Geno's popped open and spawned a neighborhood rivalry… both operated 24/7 cheesesteakeries, but now Geno's claimed to have been the first to add cheese. Whoever it was, your soul can rest easy, as hungry eaters and insulin manufacturers owe you a debt of gratitude.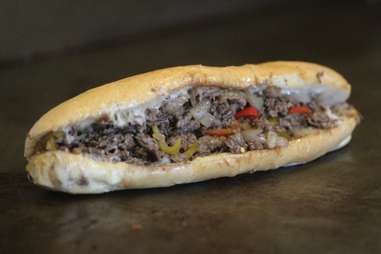 It didn't take long for the sandwich to become a national treasure. Philly's residents claim that it is impossible for a cheesesteak to be created outside the city…. but these people also claim a fictional boxer as statue-worthy, and that Michael Vick can change. Over the decades, cheesesteaks both good and bad popped up across the country, spreading the simple love of thin-sliced ribeye or top round, maybe some grilled onions and peppers, and either American, Provolone, or Whiz. Sometimes, a pizza steak. Nothing more fancy with that. Pat's created perfection. You don't mess with perfection.
Now, every time you chomp into a delicious variant on the original, you have Pat's to thank. The City of Brotherly Love even commemorated this milestone with a plaque outside the original location, declaring: "Using culinary influences from Abruzzi, Italy, brothers Pat and Harry Olivieri created one of the nation's favorite fast foods, the steak sandwich. From a centuries-old recipe used in American homes, Pat's Steaks originated here in 1930 and invented the prototype of beefsteak sandwiches that use an Italian-style roll and seasonings. Since 1930, Pat's Steaks has shown its hospitality to celebrities and politicians known world-wide, and has an important part in the city of Philadelphia's place in the history of American cuisine."

The moral of the story: Always listen to a cabbie when it comes to decisions about meat and bread... and maybe escorts. But nothing else.