Apparently at Buffalo Wild Wings, the variety of wing sauce flavors is in the double digits -- something I didn't know until my editors got fed up watching me routinely order the blandest foods possible and decided it was time I learned something about spice and flavor. I've put together a field guide to my tour of this veritable sauce ocean, in order as I tasted them, through the sweetest of their dips to the most challenging of their mouth-burners. On their menu, these are all ranked with color to indicate how hot it is, and we've decided to duplicate that system here, from green to orange to red and a million gradations in between, so I don't have to write "spicy" so many times it doesn't even look like a real word anymore.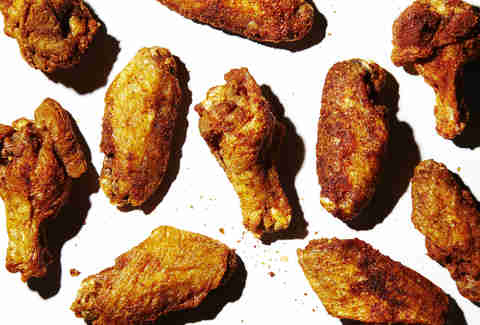 1. Mango Habanero
Heat Index: Dark red, pretty similar to my face after a taste
Wingin' It: Rather than start with the strongest stuff, I eased in with something that sounded sweet. In my defense, it has the word mango casually camouflaging a pepper that regularly clocks in at over 100,000 Scoville heat units. I managed to savor that taste of fruit briefly before the capsaicin dropped, and I suddenly realized I was not even a little ready.

2. Hot BBQ
Heat Index: Burnt orange, but not too burnt
Wingin' It: BBQ sauce always tastes like chocolate syrup with a squirt of ketchup to me, but I was pleasantly surprised by this one. It had a nice bite with a tasty smokiness after. There followed a brief existential crisis over the possibility that I might really dig BBQ sauce, but I soldiered on.

3. Spicy Garlic
Heat Index: Mustard yellow (no mustard actually involved)
Wingin' It: After surviving the Habanero, and enjoying the Hot BBQ (look ma, no tears), I grabbed the first sauce I saw with spicy in the title and went at it. I super loved this sauce. It tasted as I always think sour cream and onion potato chips should. I double dipped.

4. Desert Heat
Heat Index: Orange like a desert sunset… but not as hot
Wingin' It: Sure I had ten-ton taste buds by now, I grabbed a fiery-sounding first dry rub. But instead of pure heat, I got hit with a mouthful of flavor, which tasted a little like nutmeg. Or whatever nutmeg tastes like, since I'm not a lunatic that goes around shoving random spoons full of spice in my mouth, cough, cinnamon challengers, cough.

5. Blazin'
Heat Index: CODE RED
Wingin' It: I got way too big for my britches and jammed a whole GLOB of this in my mouth, and wanted to apologize to everyone I'd ever hurt in my life before I burst into flames. NO ONE MENTIONED THE GHOST PEPPER IN THIS STUFF BEFORE I ATE IT. For those that don't know, ghost peppers, or bhut jolokia, come in at about one million Scoville heat units. Take a second and look back at what a habanero is rated as. Ouch.

6. Caribbean Jerk
Heat Index: Forgiving orange
Wingin' It: Since I was now a certified Khaleesi after surviving the fire walk with Blazin', I threw all caution to the wind and just started grabbing sauces at random. I thought Caribbean Jerk would be a lot hotter from what I know about Jerk Sauce, but what really struck me about this one was how nice and herbal it tasted. Even my bhut jolokia-battered taste buds could appreciate the hints of rosemary.
7. Honey BBQ
Heat Index: Sweet honey yellow
Wingin' It: After trying to dig out the Wild sauce from my cornucopia of cups, I decided to go for the Honey BBQ instead and see if B-Dubs could make lightning strike twice. And lo and behold, it turns out I actually do like BBQ sauce. My dad is crying tears of manly, barbecue-loving joy.

8. Wild
Heat Index: Forgive-me-father-for-I-have-winged red
Wingin' It: It turns out you cannot become immune to spiciness in the span of fifteen minutes. Wild is like Blazin' for people who enjoy spicy wings, but are also fully knowledgeable of their own limits. And mortality. Frankly, I did enjoy this sauce, and though I didn't get as gobsmacked by the heat, the kick hung around my mouth a great deal longer than Blazin's.

9. Zesty Citrus
Heat Index: Calming, wide-open-spaces green
Wingin' It: After basically jumping into the deep end of hot sauces, I took a breather with a mystery sauce, labeled "limited time only." It was a light, lemony haven from the seven or so really spicy flavors I still had left to try, with a tiny bit of tang. And apparently it's made with Mountain Dew? Whatever the mad geniuses at the B-Dubs' Sauce Lab are up to is working, because this is definitely one of the more original sauce flavors I've ever had.

10. Hot
Heat Index: Red but not flaming
Wingin' It: By far, the most traditional flavor of the bunch. This one was a case of "does what it says on the tin," totally classic Buffalo wing tang with a kick in the pants that would ordinarily be enough to send me running for water -- if I wasn't a seasoned (har har) heat taster now.
11. Asian Zing
Heat Index: Orange, but no cause for alarm
Wingin' It: Maybe it's because I had tried so many hot flavors before Asian Zing, but I didn't get a bite from this sauce. I did find it was hands down the most complex flavor I tried that night, due to the combination of chili pepper and soy. And I swear I tasted garlic somewhere back there.

12. Lemon Pepper
Heat Index: Lime green
Wingin' It: I've cooked with lemon pepper before and always, always wanted to dip my finger in the stuff and see what it tasted like on its own. Props to B-Dubs for letting me live out my weird cooking fantasies! Lemony with a little bit of a spice, but not necessarily heat. A great spice to serve your whiny, picky niece. Otherwise known as me.

13. Medium
Heat Index: I-can't-believe-it's-not-green yellow
Wingin' It: Honestly, this is the classic wing sauce I've been missing in my life. I used to be way too much of a baby to even consider getting medium sauce with my wings, but this has just the right balance of flavor and heat to change my mind. Thanks for the character development, B-Dubs.

14. Thai Curry
Heat Index: Orange, but you can take it
Wingin' It: Have you heard of Tom Yum? Putting aside my limited knowledge of Thai cuisine, I dove into this one, and was happy to find that it had a very rich curry taste with a little kick at the end.

15. Parmesan Garlic
Heat Index: Green, like the Italian countryside
Wingin' It: I lost it with this sauce. I triple dipped. I asked it if it was looking for a serious long-term relationship. It tasted like liquid cheesy garlic bread. I had to be reminded that there were like seven other sauces to try before I could be convinced to share it.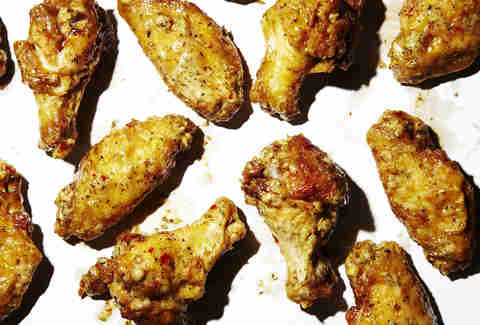 16. Mild
Heat Index: Green on the cusp of yellow
Wingin' It: If you ran through a field full of soft buffalos who inexplicably had wings, and they let you pet their impossible but also beautiful wings, it would taste like this sauce. This one's for when you've overdosed on Blazin' and just want to taste delicious Buffalo wing flavor again.

17. Chipotle BBQ
Heat Index: Family barbecue yellow
Wingin' It: You have a 90-year-old great aunt, you have a snot-nosed brother, and your cousin Lou thinks everyone should be able to shotgun hot sauce like he can. This is what you serve them all to keep everyone happy. A little kick, a lotta flavor, plus some smokiness on the side.

18. Teriyaki
Heat Index: Zen green
Wingin' It: I'm almost as much of a freak for teriyaki as I am for garlic so this sauce was a huge win, not to mention because it was also on the lower end of the heat scale.

19. Buffalo
Heat Index: Mac and cheese yellow
Wingin' It: Curiously, I found that this rub was deliciously cheesy. As a kid, you probably watched your mom make box mac and cheese, and kind of always wanted to taste the cheese powder on its own, and maybe even you did once and it was a let down. This is what that cheese powder should have tasted like.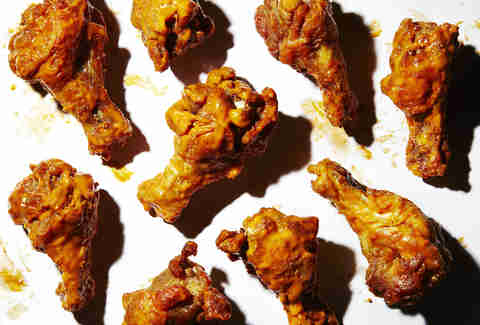 20. Bourbon Honey Mustard
Heat Index: Listed as less hot than mild, but a little kickier than that
Wingin' It: I am not a huge mustard fan. HOWEVER, this is definitely the sauce for people who are (which is a lot since this was once a limited time only sauce that got voted via the Sauce Lab to a permanent position on the menu); it's rich and definitely not too sweet in spite of the honey.

21. Sweet BBQ
Heat Index: A step above salt and vinegar green
Wingin' It: Is it possible to have BBQ sauce that is sweet but not like, diabetic? Yes. It's this sauce. Go rejoice in the streets with your sweet chicken wings.

22. Salt and Vinegar
Heat Index: Redder than Blazin', come on guys, it's green
Wingin' It: After a truly wild half hour, I gave my very, very confused taste buds a break by indulging in some finger licking traditional salt and vinegar. No such thing as too much salt, I say, as they wheel me to the hospital for dehydration, still fighting for another dip of salt and vinegar. This is how I always planned on going out anyway.

And if you're interested in trying these yourself (or contesting my take on them), you can take home almost all of these sauces & seasonings to try at home (and a buck from each sale goes to the charity Team Up For Kids -- win-win).