The historical timeline of the McDonald's menu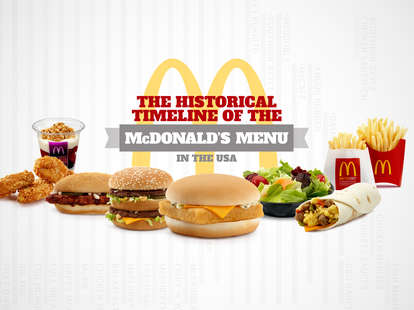 Anita Sukha
Anita Sukha
Like another legendary empire known for their arches (Rome!), McDonald's wasn't built in a day. Before you can serve billions and billions of people, you need a beloved menu. And also a bunch of catchy slogans. But most importantly, a beloved menu, whose glorious evolution is charted below in the form of an infographic that was meticulously fact-checked by researchers from McDonald's Golden Archives, who in addition to being students of fast food history, have a real knack for puns [ED NOTE: those fine folks couldn't confirm a few things, including some regional test items].
So scroll down to take a trip through time and revisit the launches of all of your favorites, ranging from classics like the original 1948 cheeseburger, to limited time offerings like the McJordan Special, and even rarer regional treats like the McLobster.

Dan Gentile is a staff writer on Thrillist's national food/drink team who recently purchased a very nice toaster oven and is excited about exploring the world of crispy reheated food. He also enjoys hating mustard. Follow him to pots of gold/Twitter at @Dannosphere.