A Motorcycle Shop Just Customized the World's Most Badass BBQ Smoker
Courtesy of Cabo Wabo Tequila
Michael Mixon has been gearing up for an epic journey to the 2017 American Royal World Series of Barbecue. Starting all the way back at the cow with highly selective Black Angus breeders, working his way through the butcher shop to understand just how and why brisket tastes so good, and even hunting down exotic spices to find the perfect finish -- the only thing left from this sojourn of self-improvement is if Mixon learned kung-fu on a mountain along the way (although he has gotten pretty lethal with his Drill Bit Margarita Mixer).
But just because Mixon -- son of "The Winningest Man in BBQ" Myron Mixon -- has now perfected his arts doesn't mean he can't add a little flair to his flame-broil. To make sure that he wins the hearts and taste buds of those at the Royal, Mixon is going to have to stand out from the crowd. And that means a final pit stop at a different kind of chop shop -- heading to Greg's Custom Cycles in Clearwater, Florida to trick out his custom smoker beyond his wildest dreams.
Owner Greg Rice is admittedly not a barbecue expert. "I love BBQ," he says, "but I'm not really much into the preparation of it." But one of his work associates knows his way around a barbecue grill, and revealed that not only did he know who the Mixons are, but that he'd competed against Myron in the past. The friend's assessment? "He said he's a pretty heavy hitter," recalls Rice.
Talk about tasteful understatement.
Rice, like Michael Mixon, is a man who's come a long way from his father's teachings. From customizing "pretty much anything from a hot rod car to a drag bike," to creating his own Deepsickness line of motorcycle parts, Rice knows exactly what goes inside a machine -- and what you can add on the outside.
Courtesy of Cabo Wabo Tequila
But he isn't always about bigger and badder in his builds -- he's mainly interested in making things better. A few years back, a one-legged man in his seventies came into Greg's Custom Cycles. As the man expressed his desire to return to riding, Rice found out he wasn't just any old enthusiast -- this customer had raced for professional motocross team Husqvarna. With a sidecar, some creative movement of controls to the right side, and even a holster for his crutches, Rice and the team made a custom ride to get him back on the road and doing what he loved.
When he was approached to customize the smoker, "They thought maybe we'd add some golf cart tires to beef it up," says Rice. He went even meatier: "I built a whole sub-chassis for the grill and it came out to thirteen feet long with 33-inch mud tires." He also decided the prep table could be about four times as big -- and that a fridge underneath would be the perfect place to chill some Caboritas. He and his team beefed up the grill as far as it could go.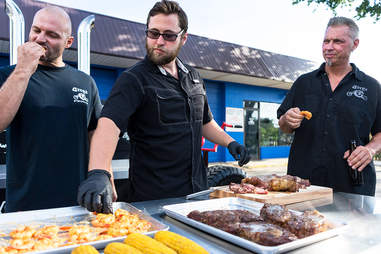 Courtesy of Cabo Wabo Tequila
But as much fun as he had plotting out the external upgrades on this monster, Rice knew that the grill had to still perform -- undercarriage lights and custom spiked handlebars don't mean a thing if this smoker can't smoke. Rice's chassis had to keep the grill at the right height for Mixon to work on, so they had to make sure it didn't literally raise the roof. The smoker's internal water pan (a preferred weapon in the Mixon clan arsenal) needs to also be completely level to work, so each one of the legs needed to be fully adjustable.
Mods like these aren't quite the same as building bikes, but a lot of the principles remain in play: Balance, proportion, and making sure you don't kick out a ton of heat on somebody's legs. But when your work is about improvement, you tend to love a challenge.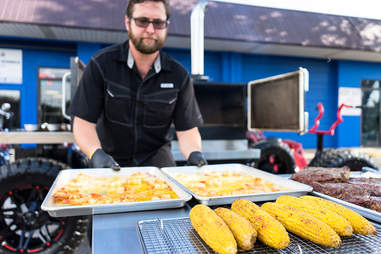 Courtesy of Cabo Wabo Tequila
Other unexpected demands can require a more difficult adjustment. A few years back, Rice's dad -- a lifelong rider -- thought his own riding days were coming to an end as well with a cancer diagnosis.
"I made him a pact," says Rice. "If he'd do his radiation treatment to beat the cancer, I'd build him a custom trike."
With the promise of being able to get back on the road, his father went for treatment, and Rice kept his end of the bargain. He even added a comfier seat for his mom on the back. He also added some Deepsickness ape hangers and a custom paint job -- those didn't add anything in the way of comfort, but sometimes showing you care also means making your dad look like a badass.
Rice clearly cares about making the right changes for each person's perfect ride. For Mixon, that ride turned out to be his smoker. His new hell-on-wheels style is exactly what he needs to draw a crowd. His secret spice blend is going to keep them interested. And that perfectly-raised brisket should seal the deal. With his wood-burning ride, a fridge full of Cabo, and one unstoppable bobble-head pig, Michael Mixon is ready to haul ass to the Royal.