A Pitmaster & a Horticulturalist Created the Perfect BBQ Dry Rub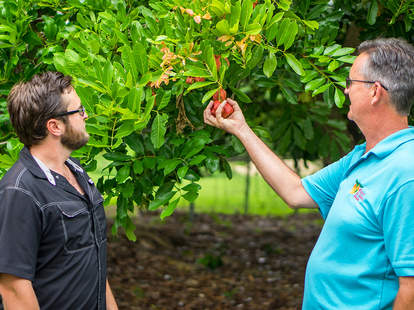 Courtesy of Cabo Wabo Tequila
Nothing is more heartbreaking than a great piece of meat ruined through bad seasoning – whether it's too much salt, too few spices, or the wrong pairing of herbs and protein. It's enough to make you want to drown your troubles in donkey sauce.
Don't give in, meat friend! Oversaucing is overcompensating. A little salt and pepper is half the battle. A good dry rub is often a few essential ingredients singing in harmony, rather than a full chorus out of tune.
BBQ pitmaster Michael Mixon knows the fine line between too much and too little seasoning. That's why he visited the Redland Fruit and Spice Park in Homestead, FL during his ongoing journey to the American Royal World Series of Barbecue. Redland offers the best environment to find that final pinch of flavor. Park manager Jim Stribling and his team help Mixon craft new herbal, floral, and spicy flavor combinations in the quest for a new taste of barbecue -- and the same knowledge is applied to drinks as Mixon and his trusty power drill swizzle a custom Cabo Wabo drink tailored to Stribling in exchange for his sage secrets.
While nobody quite grows food like the good ol' US of A, there are a number of plants that are just a little too tropical to make it work here. Except of course, for a 37-acre park south of Miami with a just-right tropical subclimate that can grow pretty much anything. Founded in 1944, the Redland Fruit & Spice Park is not a commercial seller; it simply shows off what the area can grow, when it flowers, and what your imagination can do with a near-limitless ingredient set. The perfect setting for a barbecue scion looking to reinvent the taste of brisket.
"A lot of these tropical fruits are really ingredients, instead of being used on their own," says Stribling. In Indian cooking, you have the sweet mango chutney that goes against a sour bilimbi pickle, and all the flavors come together like a puzzle."
Courtesy of Cabo Wabo Tequila
Jim also points out that a (much-milder) cousin of the bilimbi is the jackfruit -- which is quickly becoming a vegetarian secret weapon when you want something that tastes like barbecue pork and you just can't go back to seitan again.
With Stribling's help, Mixon's spices for the Royal brisket are set. This winning combination for the rub starts with some habanero flakes -- a little heat never hurt. The second ingredient, bixa, might cause some double-takes. But Bixa orellana is just the classic name for achiote, the source of annatto. If you don't know what annatto is, rest assured you've eaten it hundreds of times -- it's one of the most popular food-coloring ingredients in the world. But aside from coloring properties, the dried seeds also impart tremendous flavor -- sweet, peppery, musky, and a hint of nutmeg. Between the two, Mixon's got a nice one-two punch of sweet heat and savory finish, making us realize we're suddenly very hungry… Time to craft our own dry rub.
But how? Deep breaths, don't panic -- a venerable pitmaster like Michael Mixon is here to help.
Courtesy of Cabo Wabo Tequila
Whether you've picked up a great piece of prime from your butcher, or you went all out and bought a spinalis steak from a pedigreed Angus cow that was sired by a stud named Flavorus Prime, you need to let that thing be true to its bovine self.
Simple salt and pepper on a steak is like a plain slice of pizza -- massively popular, a little standard, but still damn enjoyable. Find an herb and spice combo that brings the meat's flavor out, rather than buries it. And a full-out sauce can be sublime if you get the flavors right.
When you're trying to turn heads at the Royal, you'll need to get a little more in tune with the flavors of your meat and really make it match if you want to impress the judges. The rules are clear: Garnishes have to be from four approved greens, sauces must only be applied to the top of the meat, and any "chunky" sauce can only be as large as a fine dice.
So whether it's sauce or spice, the search is on for the perfect ingredients. When Michael gets to the Royal he's unveiling his new brisket recipe, complete with seasonings based on the wise counsel (and fresh ingredients) he found in Florida. Look out, Royalgoers; nothing's rotten in Denmark, but that won't stop Mixon from going Hamlet on the meat. Get a taste, and it'll make you say "Ay, there's the rub!"